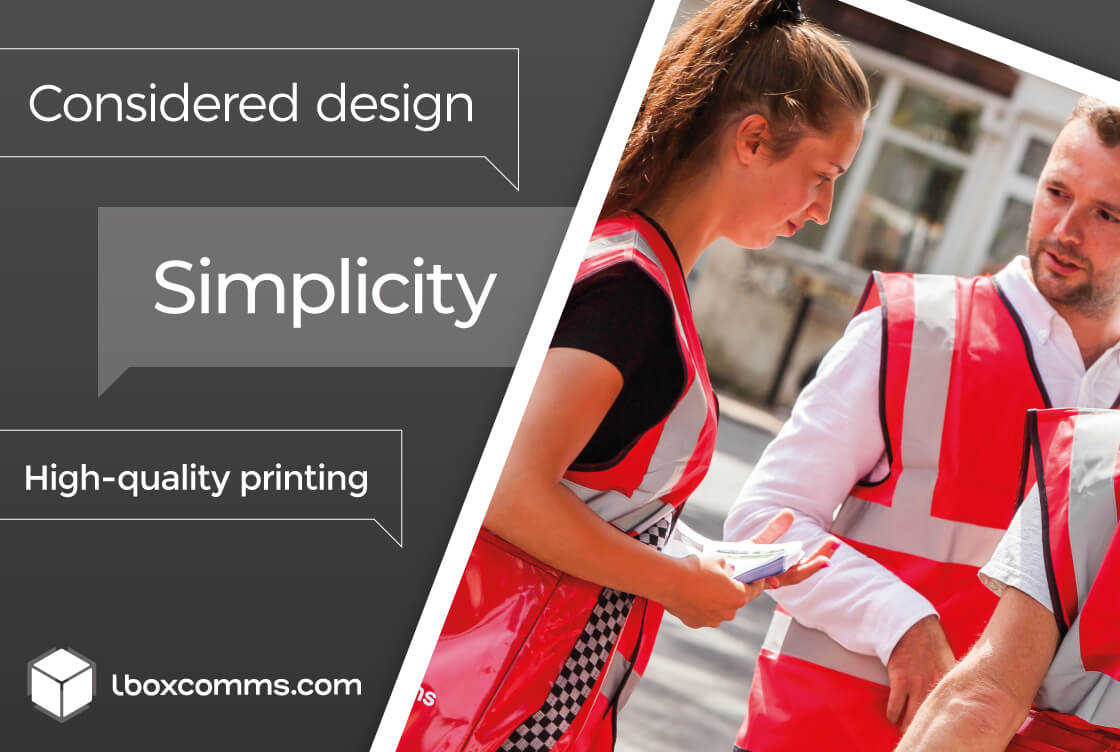 Hand-to-hand or door-to-door leaflet distribution campaigns are tremendously effective at conveying your message. Reaching your ideal prospects and converting customers is one of its many benefits, and leaflet distribution can significantly enhance your brand visibility and awareness in specific areas and sectors.
Depending on your goals, an end-to-end leaflet distribution service – that is backed up with 24-hour print and delivery services and expert mail fulfilment – can go a long way in helping you achieve them.
How effective is leaflet distribution?
Despite the benefits of leaflet distribution, sometimes campaigns don't always go according to plan. Sometimes they underperform, response rates end up lower than expected or the business in question has gone ahead with a campaign with outdated data. There could be several reasons for poor leaflet distribution statistics.
For a leaflet drop to be successful and effective, organisations need to ensure they spend time researching, planning and executing the right strategy. Underneath every successful flyer distribution campaign is a cohesive, structured strategy, which is difficult to get right if this is your first campaign.
At Lbox Communications, we specialise in door-to-door and hand-to-hand leaflet distribution campaigns, managing them from start to finish, for our customers across the UK. Organisations often come to us requiring help with end-to-end campaign management because, for one reason or another, their last campaigns have failed to deliver a return on investment. Here are a handful of examples of why a previous door-to-door leaflet drop may have failed to live up to your expectations.
Ways to improve leaflet distribution
1. Keep it simple
Don't let the message of your leaflet be buried within paragraphs and paragraphs of text. While it's important to get your message across, there is a fine line between this and overloading your leaflet with technical information which overwhelms the reader. A strong headline and simple copy will ensure your printed flyers and leaflets won't immediately end up in the recycling bin.
2. Design and write it well
On the topic of copy, this text needs to be simple but not too simple. It needs to be proofread beforehand to ensure there are no spelling or grammatical errors, and actually makes sense.
What's more, the leaflet design needs to complement the content, and vice versa. It's not a case of sticking an image and some text on a printed flyer; layout, design and typography need to be considered. Slapdash leaflets won't even last a few seconds before being cast aside.
3. Don't settle for low-quality print
If leaflets are printed on poor-quality paper, it'll detract from the sales message, regardless of how powerful that message is. Printing on high-quality paper will cost more, but will be far more effective, particularly if you're selling a valuable product or service. Use high-quality leaflet paper to promote your high-quality services.
4. Be clear
Don't always assume everyone who reads your leaflet will immediately be convinced by what you offer. You need to clearly explain what your product or service can do, in a way that's easy to understand. Don't let your message get lost in translation.
5. Convey your benefits accurately
It's quite easy to get bogged down in a deeply technical explanation of your service or product, without actually telling your readers how your product or service can be beneficial to them.
It's surprisingly common for people to ask, "What's in it for me?" and if you don't actually convince them that you can solve their problem, this will continue to happen.
6. Include a valuable, clear, concise CTA
The call to action (CTA) is probably the most important part of any leaflet distribution campaign. What do you want your customers to do once they receive and read your leaflet? You need to give them a clear action to take next, and this should be something like contacting you by phone, e-mail or visiting your website. Your CTA should be clear and straightforward.
7. Hire a professional leaflet distribution company
Leaflet distribution may seem straightforward. So people could either decide to undertake it themselves without any experience, or hire a company that believes letterbox marketing is a simple case of putting flyers into mailboxes as quickly as possible.
The latter is particularly disappointing as it's quite clearly an attempt to take your business's hard-earned money and not deliver anything of substantial value. This further perpetuates the idea that leaflet and flyer distribution is a waste of time and effort, and puts people off.
The single best thing you can do for your leaflet distribution campaign is to get a reputable, service-driven, customer-focused company.
Expert leaflet distribution services in London
You can avoid 6 of the 7 mistakes listed above yourself, but the last point is particularly poignant as Lbox Communications are that reputable, honest, reliable, customer-focused leaflet distributors that can help you.
With our support, your campaign will be handled professionally and our team will work diligently to ensure you see the true benefits and tangible results of cost-effective leaflet delivery. We aim to support leaflet campaigns with excellent service and our uniformed team will handle your door drop requests, ensuring all your leaflets are delivered promptly.
Get in touch to find out more about our efficient, reliable leaflet distribution service in London.