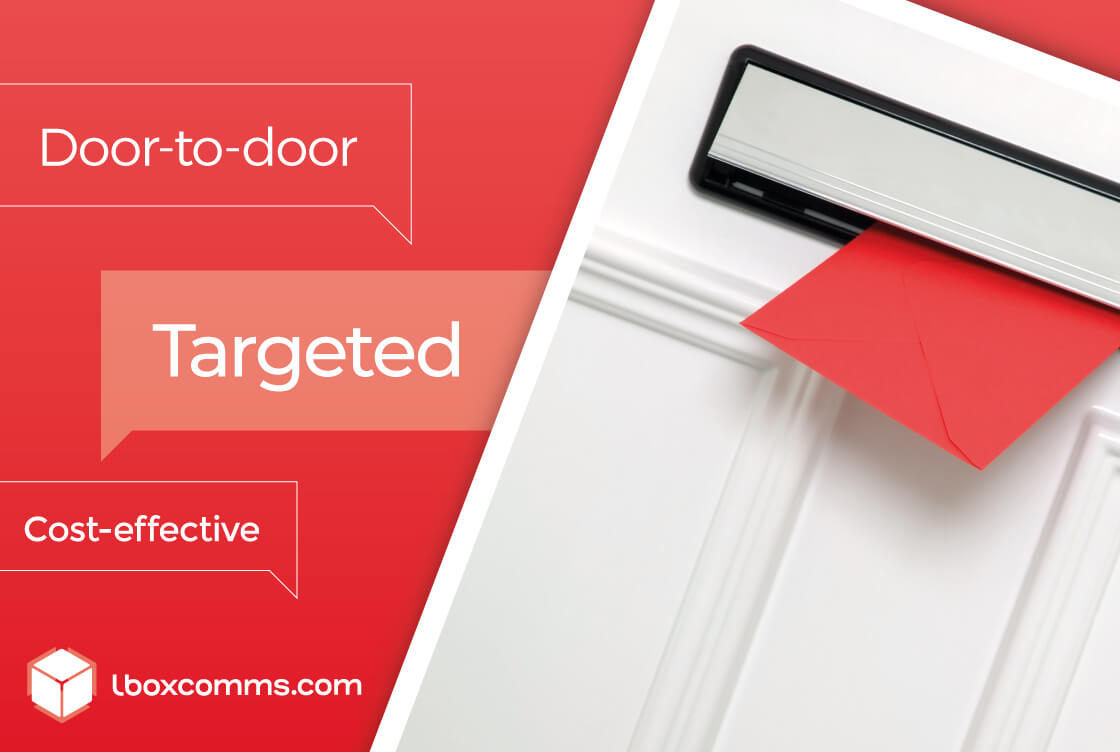 Whether it's a quarterly update or newsletter from the local council, a limited-time offer from a nearby takeaway, or a compelling brochure by a newly-opened shop, leaflets get must-know information in people's hands.
But results don't come by slipping a sheet of paper through a letterbox and waiting. A lot of strategy goes into creating effective, economical and targeted campaigns – and a big part of that is choosing your ideal distribution method.
This guide outlines the different ways you can distribute leaflets based on your goals – so you can take full advantage of this tried-and-tested marketing method.
How effective is leaflet distribution marketing?
In this digital age, it is easy to overlook the advantages of a leaflet in highlighting your business, product or cause. As more and more brands focus their attention strictly on digital, a healthy spread of direct marketing techniques – such as leaflet drops – can help you cut through this noise and speak to your target audience on a more personal level.
Still not convinced? Well consider the following:

Door-to-door distribution can be more cost-effective for businesses of all sizes compared to the resources devoted to paid advertising and other digital methods

In a world overloaded with digital communication, a well-designed, targeted leaflet can resonate with someone for longer

Leaflets aren't bound by the same character and image restrictions as many digital channels, allowing these to be more informative and useful to your audiences

The design, layout and structure of a leaflet, flyer or brochure can be more visually exciting than a templated digital ad or email
Of course, an ideal marketing approach incorporates a blend of digital and physical media. But don't consider leaflet distribution as yesterday's news. Leaflet delivery remains a great option for companies looking for a tangible return on investment when engaging their local audiences – especially when you select your ideal distribution method…
What are the methods of leaflet distribution?
Door-to-door leaflet distribution does not follow a one-size-fits-all philosophy. There are several unique methods available to companies interested in reaping the benefits of efficient, eye-catching door drops.
These vary in several aspects – how targeted they are, how costly they are, and whether your leaflet is standalone or sharing the spotlight. This choice allows you to select the method that best suits your criteria, goals and budgets, and still engage relevant audiences.

Below, we break down the four core distribution processes – all of which are available through London Leaflets.
Network leaflet distribution
Network is an exclusive distribution service from our team at London Leaflets. Over the years we have built lasting relationships with advertisers, publishers and public sector bodies across London, delivering their well-established mailings to dedicated audiences.
We harness this powerful distribution network to attach your leaflets, pamphlets, flyers and more to existing campaigns with regular audiences in a more cost-effective way than sending these out individually.

Leaflet delivery costs are reduced by 'piggy-backing' off established campaigns when compared to the cost of arranging and sending a bespoke campaign

These campaigns already have engaged, consistent readers, so they can be more likely to read other materials attached to them

Our network extends to around 1.5 million addresses in London, putting eyes on your marketing from across the capital
So if you believe your materials would benefit from their association with already trusted and captivating mail-pieces – and are keen to keep costs down – network leaflet distribution could be the perfect fit for your next campaign.
Solus leaflet distribution
If you feel sharing the spotlight would diminish the impact of your leaflets, Solus distribution may be a more fitting approach. A Solus campaign is one where your printed communications are sent individually to your target audience, rather than bundled with other materials.
No divided attention. No distractions. No waste. With Solus delivery you can run leaflet drops completely on their own, maximising the visibility of your marketing materials.
Furthermore, because there is no pre-established campaign that your leaflets have to fit into, you direct Solus communications to any audience you wish. Whether you want to target a particular postcode, council areas or boroughs, or have a pre-established database of addresses for your campaign, this can be arranged without issue.
Plus, as Solus mailings are hand delivered, you have complete customisation over where and when your printed leaflets or flyers will arrive.
Solus marketing is entirely on your terms. You decide the audience, the schedule and the design, and work with a trusted leaflet distribution service like London Leaflets to reach your customers, constituents and stakeholders. Due to this firm focus on your individual materials, we recommend using Solus for:

Important messages and announcements

Campaigns targeted to specific locations or addresses

Large magazines, brochures and similar materials
Many businesses and public bodies, including local authorities, opt for Solus leaflet delivery because they value impact delivery at a time that suits them. Campaigns are highly-targeted and, with the help of eye-catching, relevant and high-quality printed materials, maximise visibility, communication and engagement.
By giving you control of leaflet delivery times and targeted areas, you can really capitalise on an excellent opportunity to reach your ideal audience. Sounds great right?
Absolutely, but this dedicated, targeted leaflet distribution comes at a cost – and that is the price. Planning and executing a bespoke, focused campaign requires more resources than network or shared leaflet distribution, so choosing this method will largely depend on both your budget and how crucial it is to keep your mailings away from other marketing materials.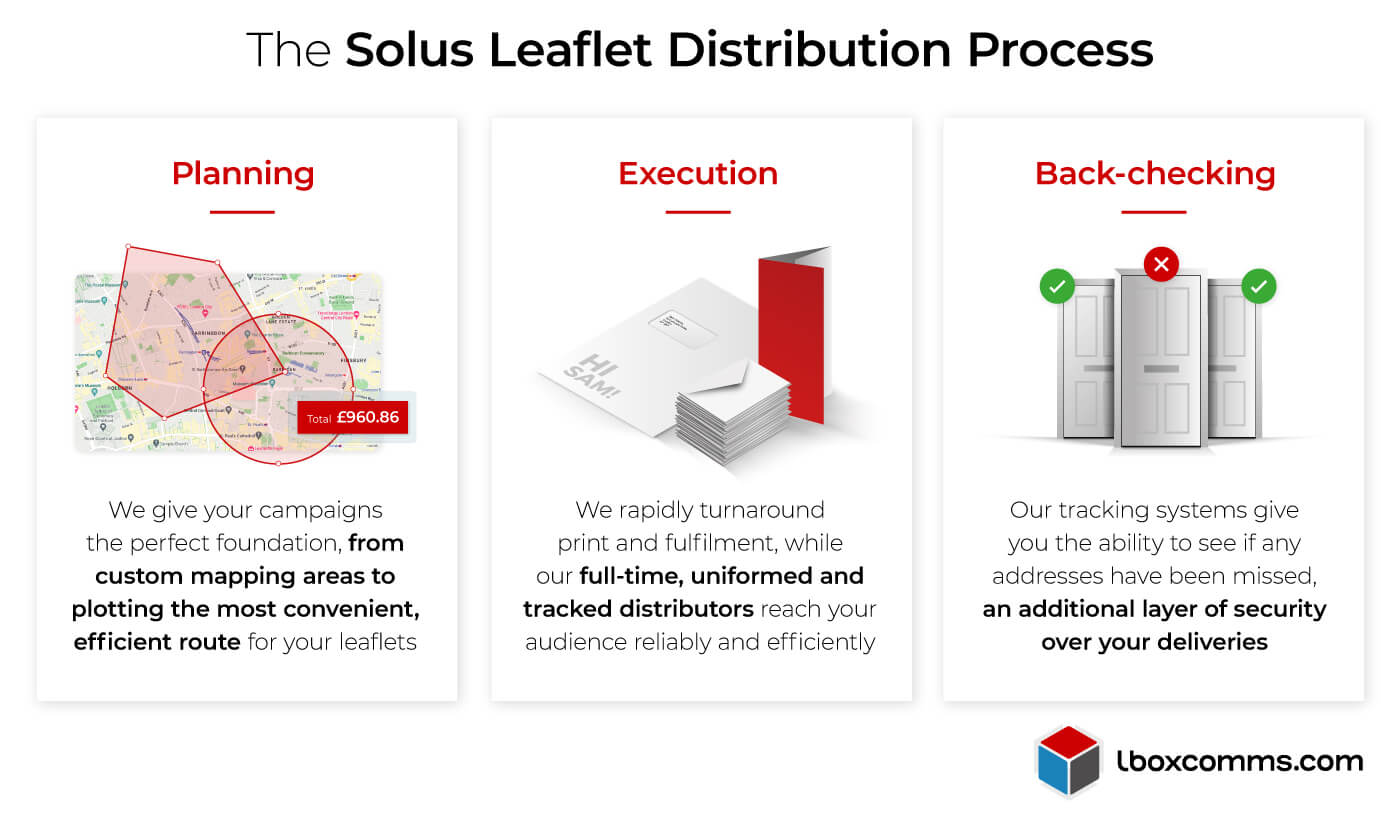 Shared leaflet distribution
If you are working on a tighter budget, but still want to reap the benefits of leaflet marketing, Shared leaflet distribution could present a more cost-effective alternative to Solus.
As the name suggests and similarly to Network, Shared distribution bundles your leaflets, magazines and other mailings with a number of other, non-competing campaigns, all sent to the same group of addresses.
The "non-competitive" aspect is crucial. This means that your mailings would be connected to other brands and organisations, they will not be competing for your market share. They will have a completely unique reason for reaching out to this audience, so they should not take eyes away from what you have to promote.
Thanks to this, Shared distribution provides much the same versatility and reliability as Solus leaflet distribution, and comes in at a lower cost. At London Leaflets, your mailings are distributed with no more than two other non-competing businesses to your target area, and by sharing the same audience and delivery method, you can cut down costs significantly.
Of course, one area Shared does fall short in comparison to Solus is in how bespoke your audience can be. Because you will be matched up with one or two additional brands, there needs to be compromise over the size of audience, location and demographics involved, rather than have it all your own way.
In order to deliver materials using Shared distribution, delivery dates and times could vary, as it depends on the agreed delivery timeframe for the 'base' item.
Nevertheless, working with an experienced and well-connected group, such as our team at London Leaflets, ensures that you're matched with campaigns that both do not conflict with your brand or message, and are aligned to your target audience and campaign goals.
This reduces the negatives associated with not having total control over where your leaflet deliveries may go, making the financial savings even sweeter.
Outside of this, the distribution process behind Shared is much the same as Solus. You benefit from the same focused planning and preparation, the same quality, GPS leaflet tracking and the same stringent back-checking.
Selective leaflet distribution
Interested in Solus delivery, but have the budget and desire for more intensive distribution? Then you might find that Selective leaflet distribution is right up your street…
While our Solus campaigns are tailored to each of our customers' industries, audience and areas, sometimes they are looking for a leaflet campaign that's a little more specific. This could mean pinpointing a specific address, a small group of addresses or even specific property types.
Selective distribution offers this greater level of precision, so you can find your target audience with more accuracy than any other form of leaflet distribution. Using our laser-focused mapping software, audiences can be identified at a near-microscopic level. This can come in the form of specific streets or postcode areas, right down to individual properties or business addresses.
Selective distribution allows you to distribute to many exact groupings, including (but not limited to):

Specific streets

Full postcodes

Databases of addresses

Specific property types

Customer demographics

Properties within a particular council sector
Simply put, Selective is full control and unmatched precision. Variables like start dates, lead times and distribution areas are totally at your whim, so your campaign meets your guidelines, standards and expectations. These are leaflet drops tailored to your exact requirements.
What's the catch? As you might expect, this even deeper level of targeting and customisation makes Selective the most expensive of the four distribution methods, and so might not fit with your budget.
For those with the financial capacity and the desire to put your mailings front-and-centre for hyper-relevant audiences, there is no better option.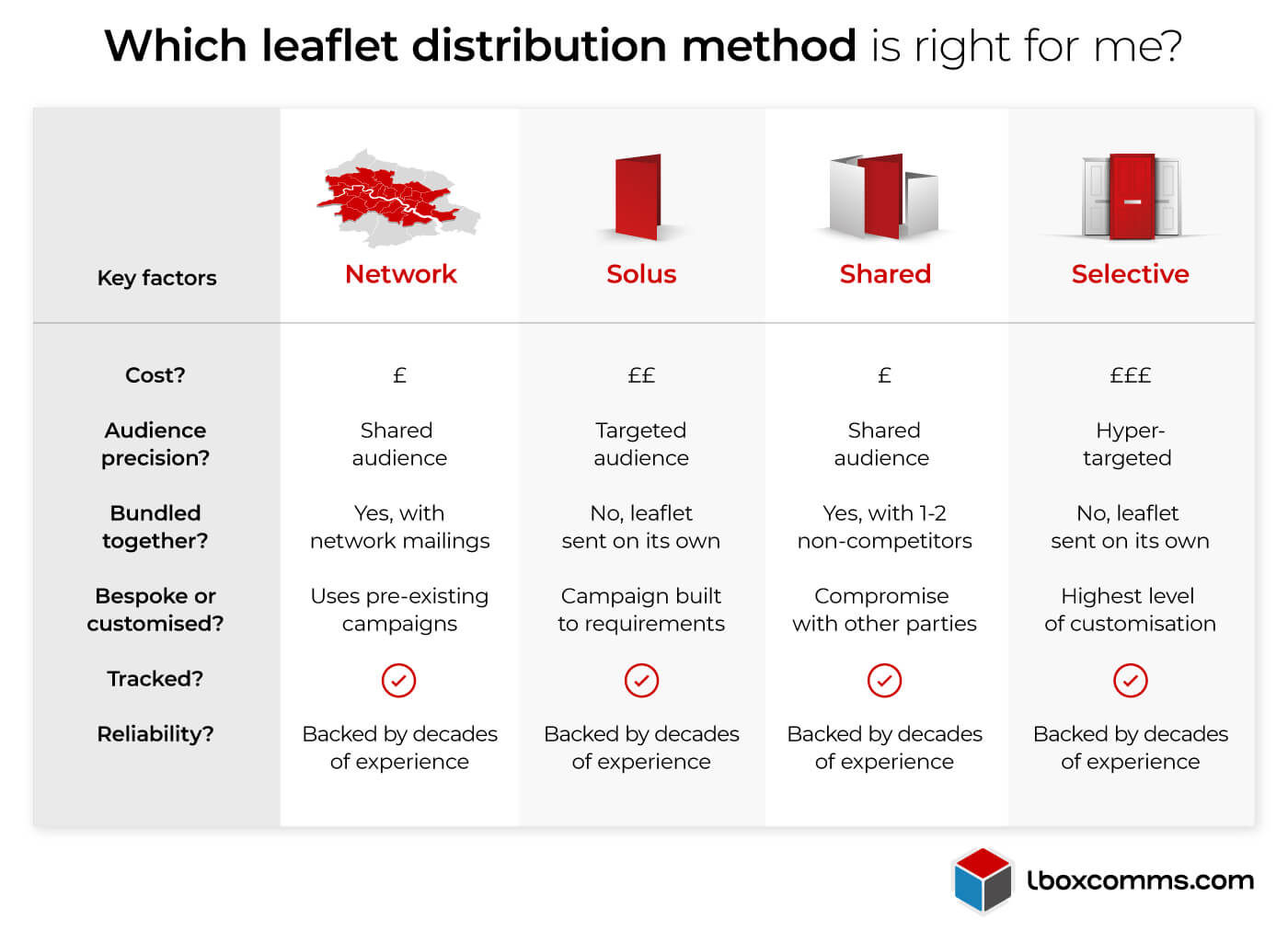 How can I track the performance of my leaflet delivery?
Deciding which leaflet distribution method is right for you and your campaigns will depend on a range of factors. Your target audience. Your mailings. Your budget. So before you commit one way or the other, consider the following:

What are you sending?

Who are you reaching?

What is the purpose?

What are your objectives?

What is your deadline?

What is your budget?
Then, once you have settled on a distribution method and the wider strategy behind your campaign, you will want to measure its performance to figure out whether it delivered the ROI you anticipated.
How do you do this? First, prioritise a distribution service that offers GPS leaflet tracking. At London Leaflets, this is available across the board, and will give you total peace of mind that your deliveries are reaching the designated audience on time. This will remove doubts over external factors that influenced the success of your campaign.
From here, there are numerous metrics on which to judge the success of your leaflet drops. While the ones you hone in on will depend on the precise nature of your campaign and your objectives, some of the most common include:

Generated revenue

Business leads

Cost of leads gathered

Website traffic

Footfall levels

Response times

Brand awareness
Another effective way to track campaign success is to use coupon codes, custom URLs and phone numbers with tracking to give a clear, verifiable account of how many people are taking action as a direct result of your mailings.
By opting for the ideal distribution strategy, you not only give your campaign a solid foundation for your objectives – you'll be much better placed to achieve the return you aspired for.
End-to-end, door-to-door flyer distribution in London
At London Leaflets, getting your messages to every corner of the capital is simpler, smarter and more effective than ever.
With over 25 years of experience in leaflet distribution, delivering over 25 million items per year, we help you identify the most appropriate distribution method to meet your goals, whatever your requirements.
Beyond our four distinct, cost-effective leaflet services, you also benefit from:

Reliable delivery in the hands of our uniformed, tracked and ISO-accredited distributors

Cutting-edge, web-based mapping for incredible accuracy

Fast turnaround print, fulfilment and delivery

Flexibility to select preferred distribution dates, areas and potential customers

Deadlines met, budgets kept for deliveries to any street inside the M25
Find out more about our leaflet distribution services and how we become your doorway to residents across London.