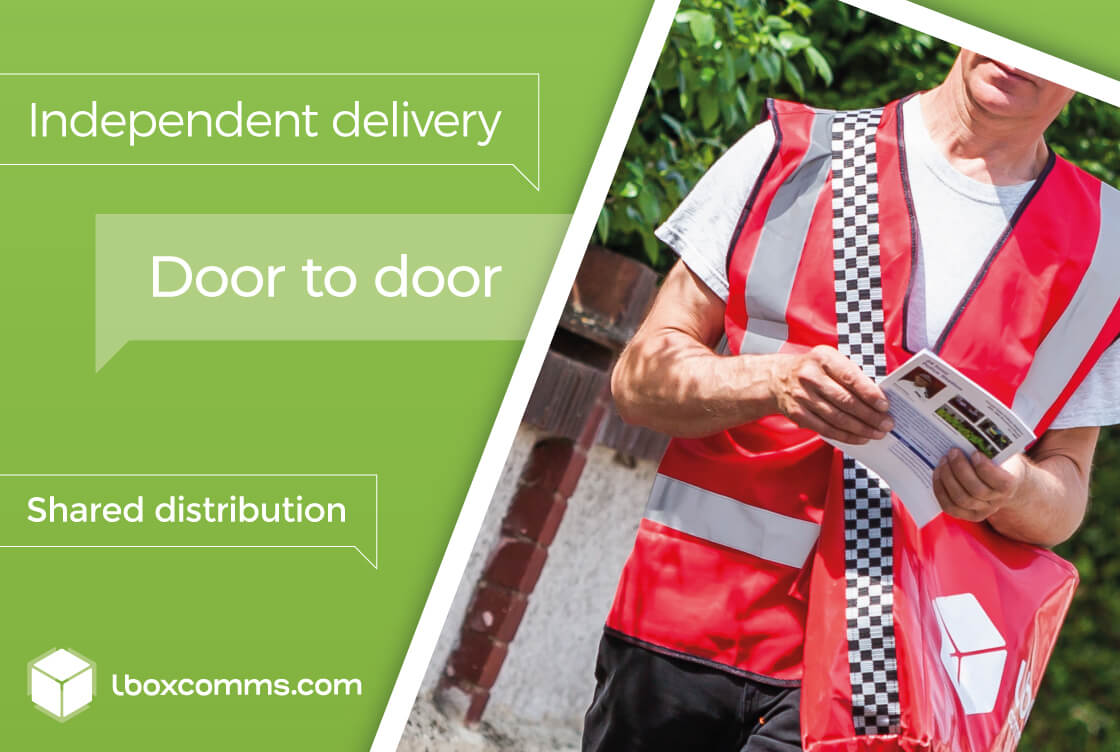 Leaflet distribution – otherwise known as letterbox marketing, flyer distribution or leaflet delivery – has become an increasingly popular and effective marketing tool. Businesses take advantage of hand-to-hand or door-to-door leaflet distribution to promote their products or services, grow (and increase awareness of) their brand, or generate interest in upcoming events.
Organisations across various sectors have entrusted mailing houses like Lbox Communications to help them with leaflet campaigns, distribution and management. Over the years, we have helped small and large businesses such as estate agents, government departments, local authorities, charities and many more increase their return on investment (ROI), generate sales, promote their events and enhance their brand awareness.
Door-to-door leaflet distribution
Leaflet distribution companies are used regularly as an efficient, cost-effective, convenient way of advertising a business. According to the Direct Marketing Association (DMA), 80% of the top advertisers across the UK have capitalised on leaflet distribution services to advertise.
Despite the prevalence of digital marketing, social media, and online advertising, door-to-door leaflet delivery still has a firm place in local business promotion. The DMA also reports that leaflet and flyer distribution has grown significantly since the early-mid '90s. As it stands, the leaflet distribution market is estimated at approximately £1 billion.
There is no one-size-fits-all approach to leaflet and flyer delivery services, as it depends on your business goals, location, target audience and sector. There are several different types of letterbox marketing, some of which can work more effectively than others, depending on your campaign goals.
Types of leaflet distribution
Solus leaflet distribution
Solus distribution is when your leaflets are delivered independently, without any competing marketing materials from other companies.
Solus leaflet drops are more costly upfront than shared or selective distribution, but they do have the advantage of being more noticeable. People are more likely to engage with single leaflets, as with Solus, there is no risk of your flyers being lost in a proverbial shuffle.
Solus delivery also gives you more flexibility with delivery dates, as well as what mail you want fulfilling.
Shared leaflet distribution
Shared distribution is the most frequently-used letterbox marketing strategy. This gives you the option to deliver leaflets alongside non-competing leaflets in specific locations of your choice. This means that Shared delivery prices are lower than Solus leaflet drops.
Having said that, Shared leaflet drops have less flexibility despite being more cost-efficient, so you may have to adapt your campaign and delivery timings accordingly. However, here at Lbox Communications, we always advise on best practices for your specific campaign.
Selective leaflet distribution
Selective campaigns offer a more comprehensive, focused approach to leaflet distribution. With Selective drops, you have a great deal of control over what is delivered and when, and can target audiences based on specific criteria.
We help clients map and survey specific addresses, streets, postcode areas, and property types, suggesting ideal targeted areas for Selective leaflet drops.
What to consider with leaflet distribution
What do you want to achieve with door-to-door letterbox marketing? What leaflet size will work best for your campaign? How can you print and send leaflets to houses that won't be sent alongside other marketing materials from a potential competitor of yours?
If you've asked the above questions at any point while wondering how to market your business through letterbox marketing, then you should bear the following in mind.
With leaflet distribution agencies, you get what you pay for
Saving money by using cheap leaflet distribution services will not be worthwhile. Cheap and budgeted services will not get you the coverage or results you deserve.
There are no 100% guarantees with unaddressed mail
However, if you want to achieve the best results possible, you'll need to use an experienced letterbox marketing company with a proven track record of handling leaflet and flyer distribution on a large scale.
Some companies offer uniformed, GPS-tracked full-time leaflet delivery professionals
This is usually a good indicator that the company takes all of their leaflet drops seriously and can give you peace of mind that targeted door drops are trackable and recorded via a remote portal.
Look at the company's credentials and accreditation.
Is the leaflet distribution agency ISO-certified? Do they hold relevant accreditation to handle Experian data for the purposes of marketing? Are they authorised by the DMA? If they are, this can provide excellent reassurance that they take their work seriously, and are ethical, trustworthy and reputable in their services.
In summary, leaflet distribution campaigns aren't always guaranteed success. There is a lot to consider when planning your letterbox marketing campaign, from ensuring your data is up to date, GDPR-compliant and ethically sourced, all the way to arranging large-scale print runs or hand fulfilment of specially-shaped items. You shouldn't begin the process without adequately considering all aspects of your campaign, as opposed to trialling a method and hoping for the best.
Leaflet Distribution in London
For best results and expert advice, speak to Lbox Communications. We have over 25 years of experience handling leaflet and flyer distribution campaigns from start to finish. Have a look at some of our case studies for some examples, as this will indicate how we work and how seriously we take each campaign.
If you have any queries, we'd love to answer them, so get in touch with our team today and let's discuss how we can make leaflet distribution work for you.