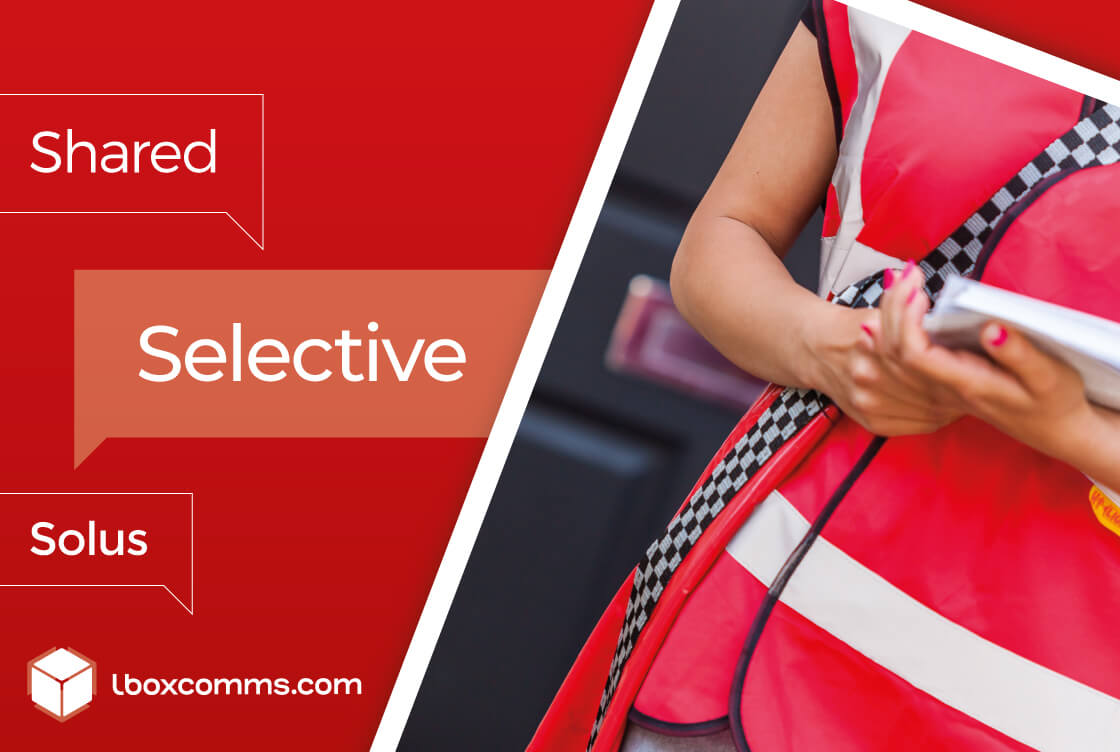 Leaflet distribution (commonly referred to as letterbox marketing) is a type of marketing that can bring tremendous benefits to a business, provided a campaign is executed correctly from start to finish.
As a business owner, it's important to understand the mechanics and procedures behind the leaflet distribution process to recognise your campaign's true potential. At Lbox Communications, we believe in being transparent with our customers and making suggestions geared towards helping them succeed with door-to-door or hand-to-hand leaflet distribution. This is why helping you maximise your return and achieve results with leaflet campaigning are things we, as leaflet distributors, take very seriously.
Statistically speaking, market research shows that roughly 48% of consumers will respond to a leaflet and 79% of people who receive a printed leaflet will interact with it somehow. Whether this is glancing at it, keeping it for a later date, passing it on to someone or taking action with that leaflet, this is where businesses must recognise the true potential and power of targeted leaflet delivery campaigns. That's why we've created this short guide.
How to make leaflet distribution campaigns work
Before getting your flyers printed and distributed as quickly as possible, there are several factors you should consider first. We have outlined, in previous blogs, how to improve your leaflet distribution campaign and what's involved with the process, so it's worth revisiting these tips.
That said, many business owners want to find an answer to the seemingly simple question, "does leaflet distribution work?"
Everyone who has executed a business-to-business (B2B) leaflet campaign will have different stories to tell, so the easy answer is: it depends.
Printed flyer distribution has been proven to work, and overall the success of this type of marketing is very high. However, that doesn't change the fact that sometimes it won't, which is why you should bear the following in mind to ensure maximum effectiveness.
Effective leaflet design
Arguably the most crucial component of your printed leaflets and flyers is the design. Your materials have to be designed in such a way that will interest and engage your target customers.
This means that all available space has to be utilised effectively, where the vital information that your customers may need is easily accessible and eye-catching.
You also need to consider high-quality images, layout, logo, branding and print materials. All of these elements would likely require help from a leaflet design expert (unless you have someone in-house) as well as a mailing house to get right, but as is the case with most marketing services, settling for cheap means your results simply won't be as effective.
Distribution method
Once your campaign target, goals, metrics and flyer design have been finalised, you need to think of how you're going to send them to your target audience. This is where expert advice from a leaflet distribution company like Lbox Communications can prove invaluable.
You may want different types based on your target audience and campaign, such as hand-to-hand leaflet distribution or door-to-door leaflet distribution. Essentially, do you want your leaflets delivered to people's letterboxes or handed directly to people?
Methods of distribution should be considered as this can impact how your campaign performs. Lbox Communications' distribution teams are all uniformed, full-time employees that carry best-in-class GPS tracking devices during their door drops, so each delivery is recorded for you to see first-hand via a customised booking portal.
Which type of leaflet distribution do I need?
Each leaflet distribution type differs slightly in how it's executed, not just from a customer perspective but also from a client one. Before you begin assigning leaflet drops to your team, you need to weigh up whether to use Solus, Shared or Selective distribution.
Solus leaflet distribution
Ensures your material is sent on its own with no other literature alongside it. This comes at a higher cost due to the exclusivity, but companies often prefer the razor-sharp audience and location targeting that Solus offers.
Shared leaflet distribution
This approach means your printed flyers will be distributed alongside a couple of non-competitors targeting the same local area. Sharing this distribution means you save on costs slightly, but your campaign may be hindered somewhat by other print that could steal the spotlight from your leaflets.
Selective leaflet campaigns
Falling mainly in the middle of Shared and Solus distribution, you can refine your target areas, demographics, properties and delivery requirements with Selective flyering. To find out more, read more on how Lbox Communications execute selective campaigns.
Leaflet distribution services in London
It's clear to see how beneficial leaflet distribution campaigns can be, provided they're executed in the right way for your business, audience and goals. You can successfully generate a return on investment, build brand awareness and generate good response rates through printed leafleting. Still, it is time-consuming if you're a busy business owner.
If you need expert, honest, reliable assistance in complete campaign management, from data sourcing, mail fulfilment, and 24-hour, round-the-clock printing, Lbox Communications are here to help. Why not get a no-obligation quote from us today to see how we can assist with leaflet distribution campaigns that work for your organisation?