Direct Mail
5 Ways to Measure Your Direct Mail Marketing Success Rate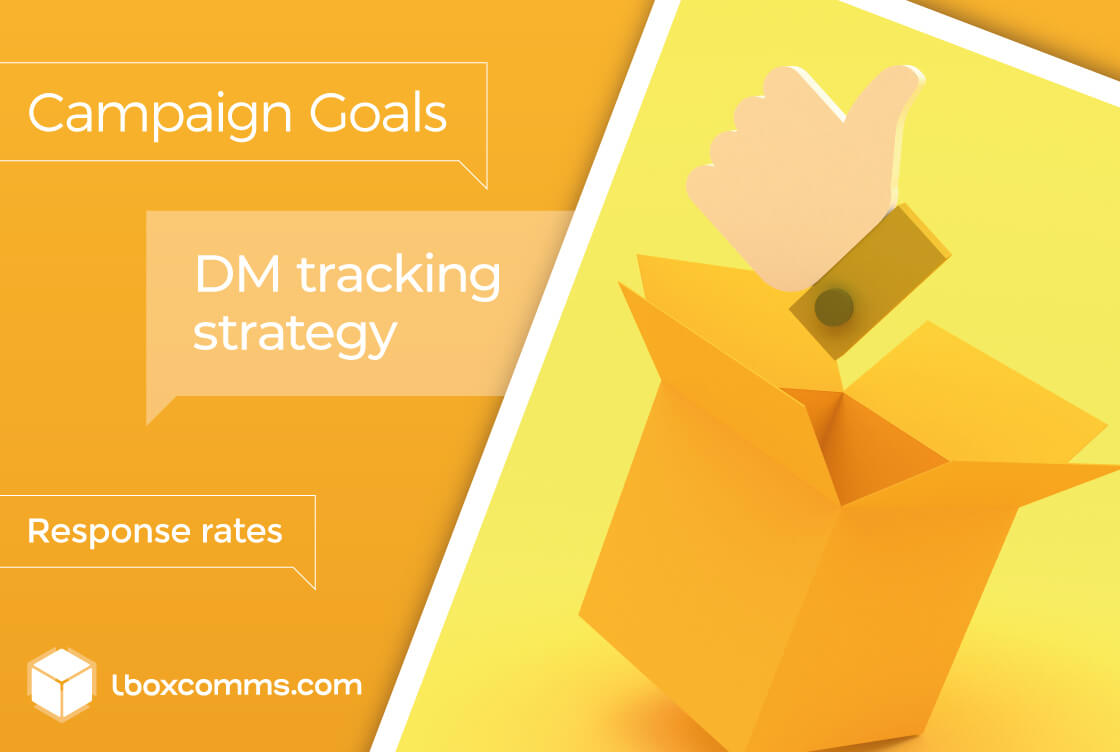 Key takeaways from this insight article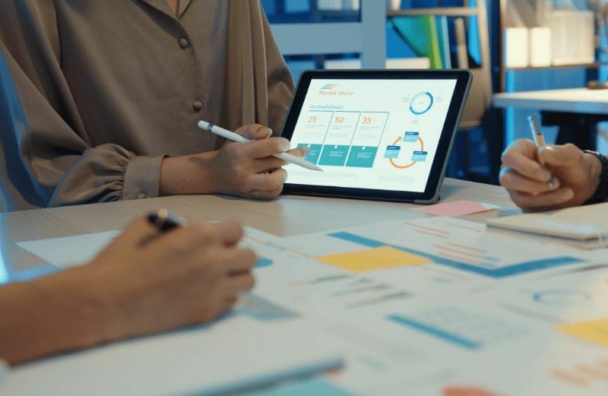 What you'll learn:
The staying power of direct mail in this digital age

The most helpful metrics to measure a campaign's performance

Useful formulas to calculate the success of your direct mail

Reliable techniques to track the effectiveness of your mailings
For decades, direct mail marketing has proven itself as one of the most effective ways to engage target audiences, build brand awareness and inspire commercial actions.
Yet, its naysayers often point to how much harder it is to measure the success of direct mail compared to digital marketing channels. Unless customers were handing over cut-out coupons or telling brands outright about a letter they received from them, it was always tricky to confirm if a rise in website visits or phone calls was due to direct mail.
This may have been true in years past – but times have changed. Now effective tracking strategies exist that allow you to measure the success of direct mail marketing campaigns just as closely as any email marketing or paid media project.
Here we discuss what direct mail metrics you should be following, and how you can track these consistently and accurately.
How effective is direct mail marketing?
But first, we want to address those who still question whether direct mail is worth the investment. Beyond the more intimate, personal touch that mail offers to both existing and potential customers, there is a ton of research out there that will show you exactly why its performance is worth tracking: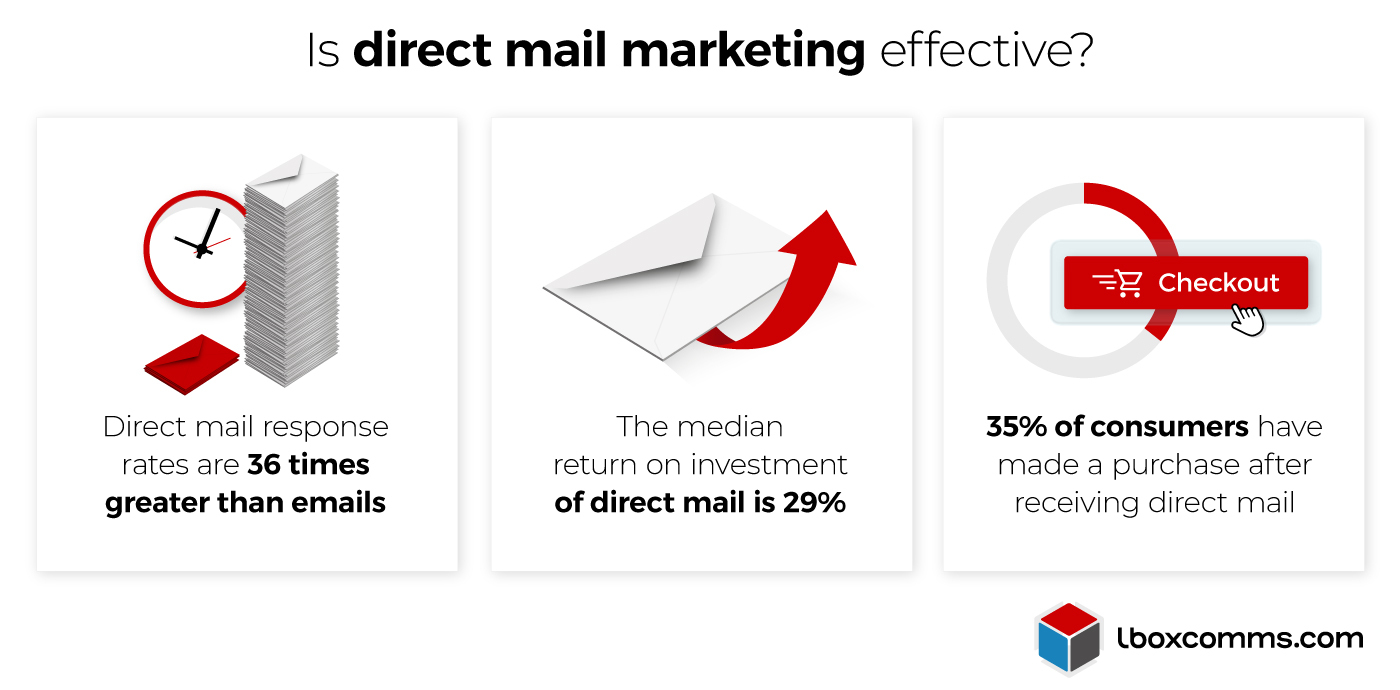 This is just scratching the surface, but it makes one thing abundantly clear: direct mail delivers. Even when digital marketing steals so much of our attention, direct mail continues to generate great results for content marketers worldwide.
Setting your direct mail campaign goals: 5 metrics to follow
Fundamentally, the success of your direct mail campaigns will be based on your unique marketing objectives. Do you want to get responses from prospective and existing customers? Direct people to your website? Increase sales revenue? Raise brand awareness?
Each of these marketing goals – and many more – can be achieved with an effective campaign. Knowing the end result of your marketing strategy will determine exactly what your Key Performance Indicators (KPIs) should be.
Here are 5 of the most prominent direct mail KPIs you can use to measure your success:
1. Response rate
Response rates are one of the most basic benchmarks of a campaign's performance. Just divide the number of responses you receive from recipients by the total number of mailings sent in your campaign.
2. Conversion rate
Going a step further, conversion rate outlines how many of the people who responded to your campaign went on to become customers. This is more appropriate if you are keen to track the financial results of your promotion rather than just engagement and brand awareness.
3. Cost per acquisition (CPA)
The cost per acquisition denotes the overall cost of every customer gained through your campaign, helping assess the profitability of your mailings.
4. Average revenue per order
For a more granular examination, you can calculate the average revenue you gained from each customer you converted. This can help you figure out the buying power of your campaign's target audience, helping guide the focus of your next one.

5. Return on investment (ROI)
Perhaps the most important metric of any direct mail marketing campaign, calculating ROI will highlight whether you have made a profit or loss on your investment. This is key to figuring out if you've landed on a successful formula, or if you need to rethink your strategy.
Tracking these 5 standout metrics will give you valuable insight into how effective your direct mail efforts are, and if they are generating results for your business.
Remember, success for you could look very different to someone else based on your objectives. Make sure that you have your KPIs and ambitions for each campaign set in stone ahead of designing and sending your mailings, so you are fully aware of what you're trying to achieve.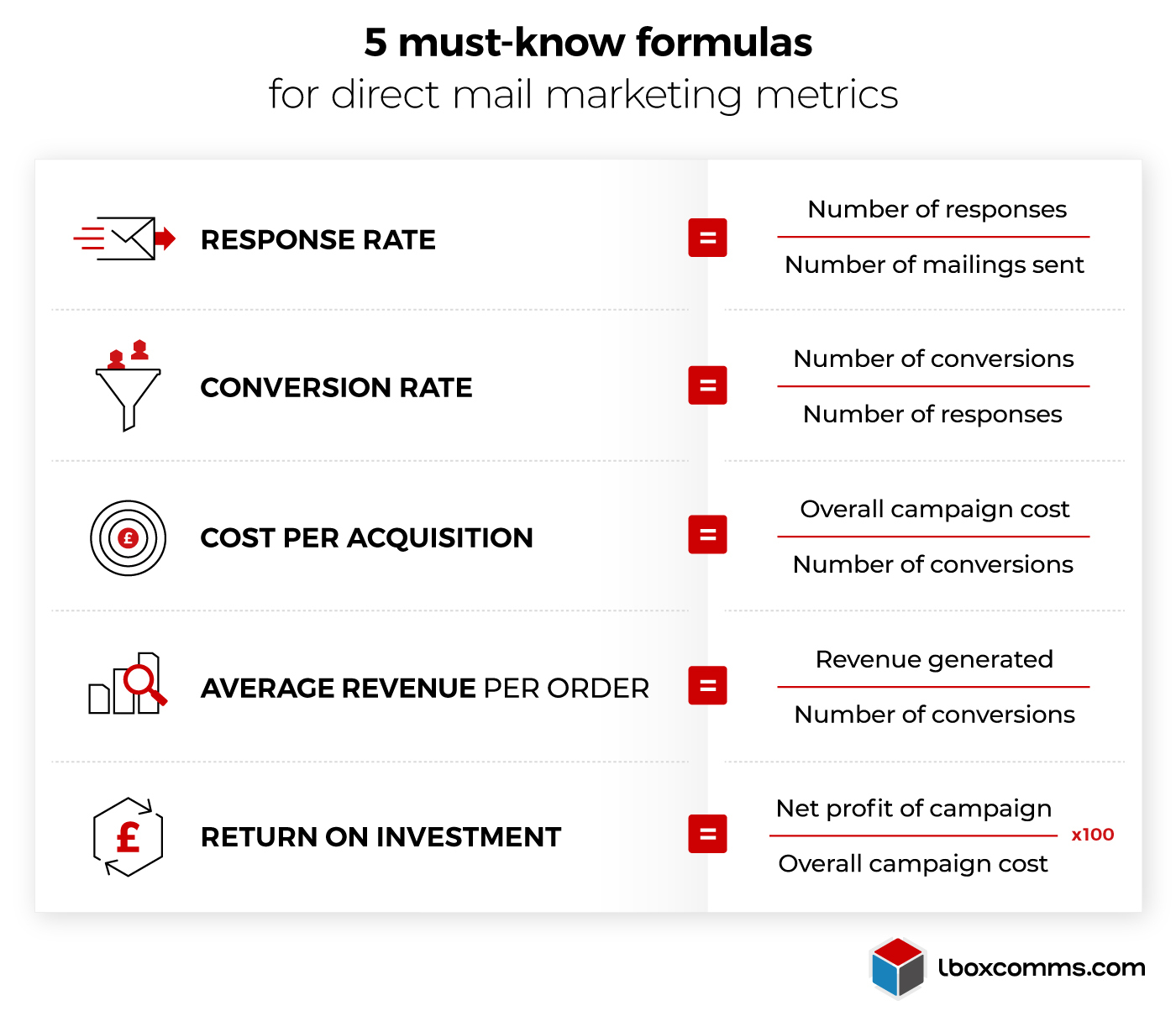 Tracking your campaigns: 5 direct mail marketing ideas
Now you have you KPIs in place, how do you make sure they are being met (and hopefully exceeded)?
In previous years, this could be hard to figure out. If people picked up the phone or searched for a website after receiving a piece of direct mail, there was no way of telling whether this was the source or another piece of collateral. Nowadays, there are much more definitive calls to action that will help track your results.
1. QR codes
A brilliant innovation of the last few years, placing a QR code on a piece of direct mail is an easy, trackable way to transport people from a letter, postcard or flyer to your website or a dedicated landing page.
Recipients simply have to use their smartphone camera to scan the code and they can immediately visit your website through a distinct URL. For younger audiences especially, this a great addition to any CTA.
2. Personalised URLs
For users that may be unfamiliar with QR codes, a personalised, trackable URL can achieve the exact same effect. Creating a unique URL for your website homepage, product page or any other webpage that only appears on one direct mail campaign makes it easy to follow how many people came to your site as a direct result of your mailings.
If time and budget allow, you could go a step further and assign personal URLs for every recipient. For smaller, more focused campaigns, this could allow you to personalise their journey, making them more likely to make a purchase.
3. Trackable phone numbers
Similarly, it is possible to create a designated phone number for your campaign, that then forwards the caller onto your standard business number.
This allows you to count the recipients that contact you via that exact number, so you can see how effectively your direct mail inspired this action. With a large proportion of customers favouring the opportunity to speak to someone in-person, this can be a useful step in understanding your campaign's performance.
4. Coupon codes
A dedicated coupon or discount code to be redeemed on your website, over the phone or in-store is a great way to track direct mail marketing performance. If you have a special offer or sale ongoing, this is an excellent way to inspire consumers and give you a clear sense of how attractive your offering is to them.
For an extra layer of A/B testing, you could trial multiple codes on a single mail-piece or on different mailings in the same campaign. This will help you figure out which is most appealing to your target audience for future campaigns.
5. Dedicated landing pages
Finally, you could take the step of setting up a separate landing page or microsite attached to your mail campaign. While it's more expensive and time-consuming to create and programme these, it can not only make tracking easy, but also help create a more seamless journey for customers.
Rather than going to your standard website or a service page, this approach can help tailor a recipient's next destination around the mailing they receive. Whether this links them to a unique offer, specific product range or a completely personalised experience, this can be an effective way to push conversions.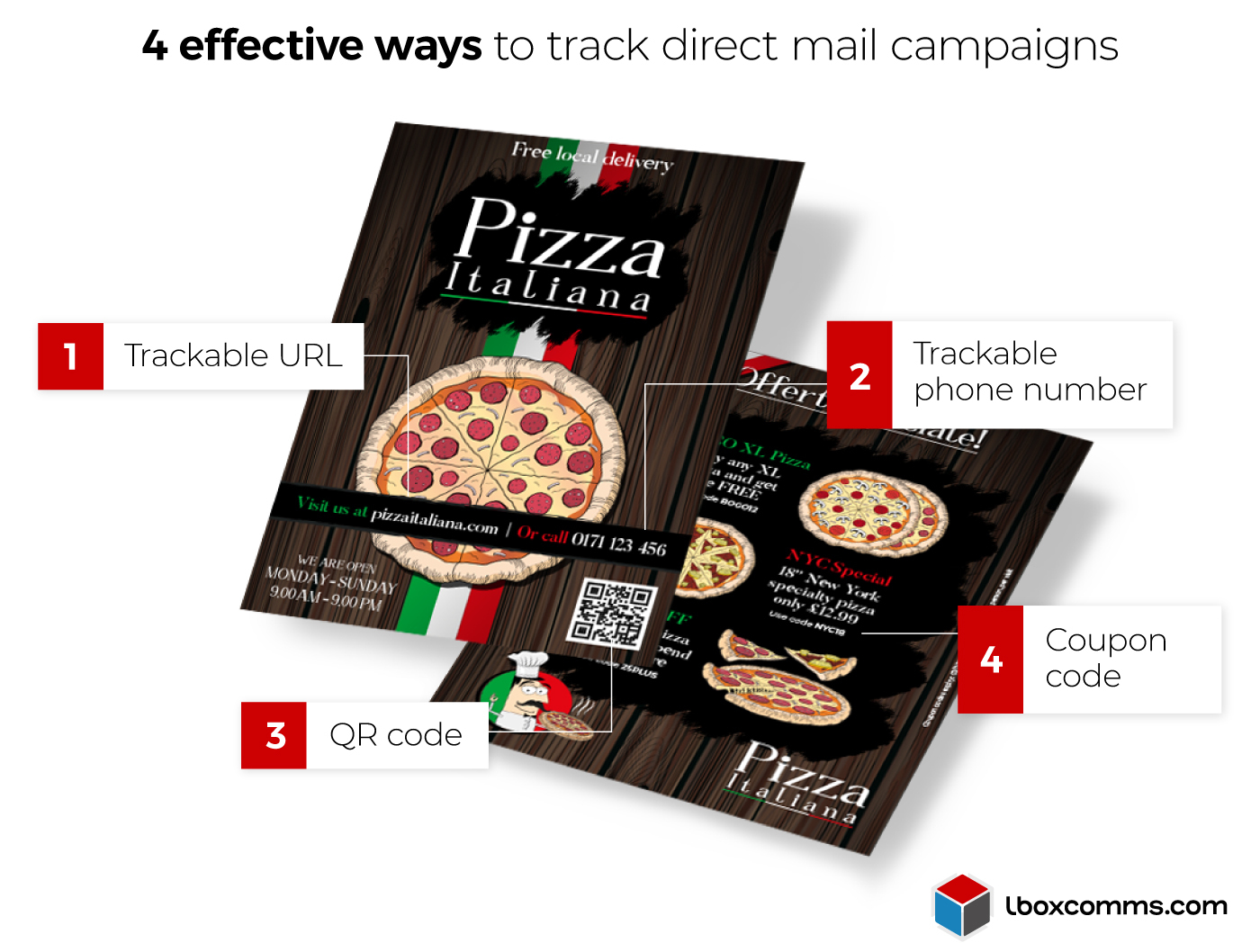 DM360: Unlock the potential of direct mail marketing
Today, tracking the performance of direct mail campaigns is simpler than ever. No matter if you're following response rates or keeping an eye on your ROI, we hope that these suggestions enable you to measure your success and continually refine your campaigns.
Maximising the ROI of your campaigns is something we take very seriously. DM360 Direct Mail provides you with expertise at every stage of planning, printing and sending your mailings. Whether you need help with a specific service, or end-to-end campaign management – DM360 has you covered.

Data sourcing that helps you target audiences with total precision

Design advice that saves you money

Rapid turnaround, high-quality printing

Highly capable machine and hand fulfilment

Finding the quickest, most cost-effective postage service

Returns and suppressions that keep your mailing lists pristine
Get in touch and unlock the true power and potential of your direct mail marketing.