Direct Mail
Direct Mail vs Digital Marketing Campaigns: What's Right for Your Brand?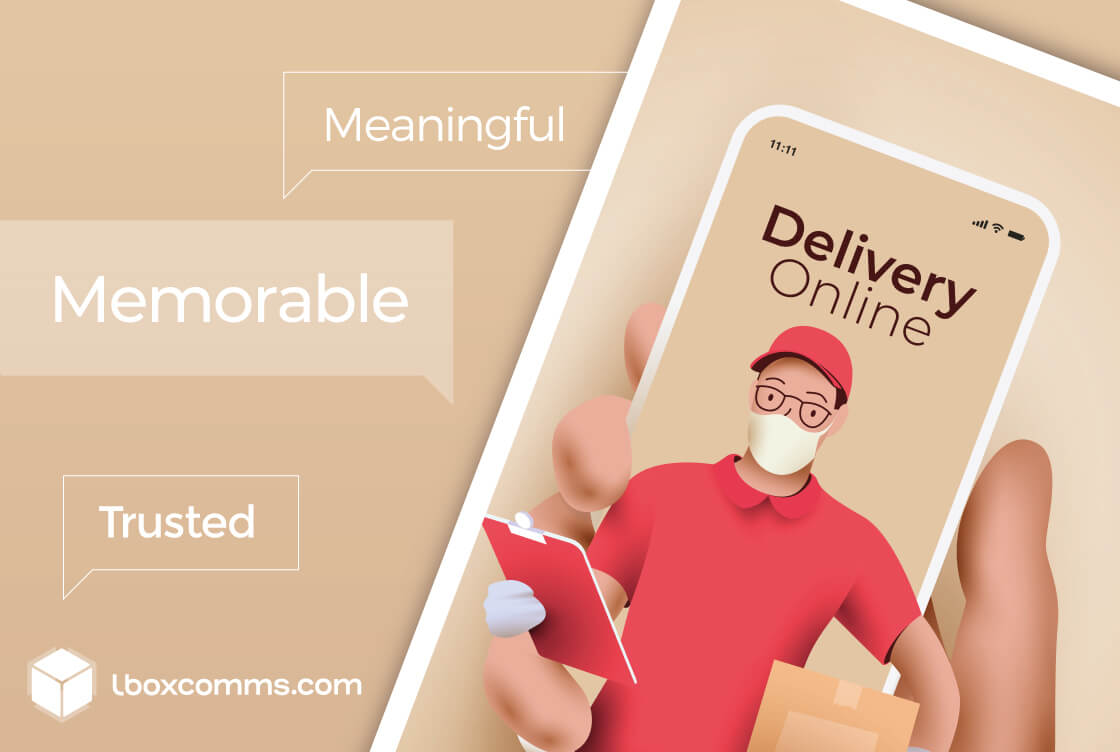 Key takeaways from this insight article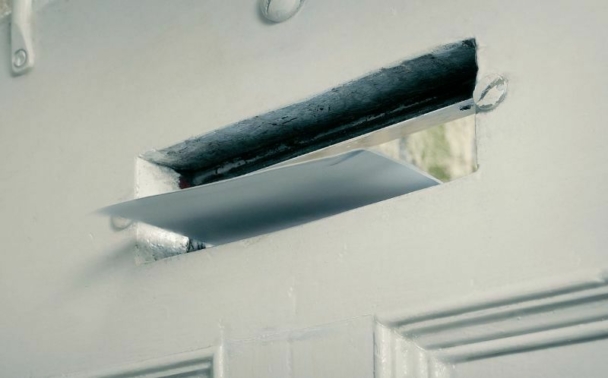 What you'll learn:
The key differences between direct mail and digital marketing

The advantages and drawbacks of both approaches

Why the power of direct mail endures in a digital age

The benefits of combining direct mail and digital in your marketing
In today's fast-paced online world, brands invest heavily in digital marketing to reach the UK's 66 million internet users – a staggering 95% of the nation's population.
But, this unending stream of digital communication has arguably made direct mail a more effective and distinctive way to engage with customers, and it's received a recent resurgence in popularity.
In this article, we explore the advantages and limitations of both direct mail and digital marketing campaigns, helping you determine which approach is best suited to your business goals.
What is a direct mail campaign?
Direct mail marketing campaigns send physical promotional materials, such as postcards, flyers, catalogues and brochures, to targeted prospects through the post.
Opting for physical mail is a productive way for you to grab consumers' attention, build trust and drive action, as the tangible nature of direct mail marketing campaigns leaves a powerful, lasting impression on audiences of all ages.
Of course, the nature of physical post does mean that these materials cannot arrive with the immediacy of a digital ad or email. Plus, measuring the success of direct mail can be a little trickier without the right elements in place, such as QR codes or personalised URLs.
Yet, for consumers inundated by emails and online advertisements on a daily basis, direct mail can cut through this digital noise and achieve great results.
What is a digital marketing campaign?
Digital marketing strategies use channels such as search engines, social media and email marketing to promote your products or services to your customers online. This can include creating blog posts, sharing videos, emailing prospects, and more.
These types of promotions are beneficial, as they can be displayed across the web practically as soon as you create them. This medium also offers in-depth real-time insights – invaluable when looking to optimise your future outreach efforts.
But, online marketing strategies have their limitations. With the average consumer being exposed to 5,000 adverts every day, your brand faces fierce competition to get its collateral noticed.

What are the differences between direct mail and digital marketing?
The differences between direct mail marketing and digital extend beyond the way these mediums work and the platforms they utilise.
To compare both in more detail, let's examine how they perform across a range of key marketing metrics, from response rates to ROI: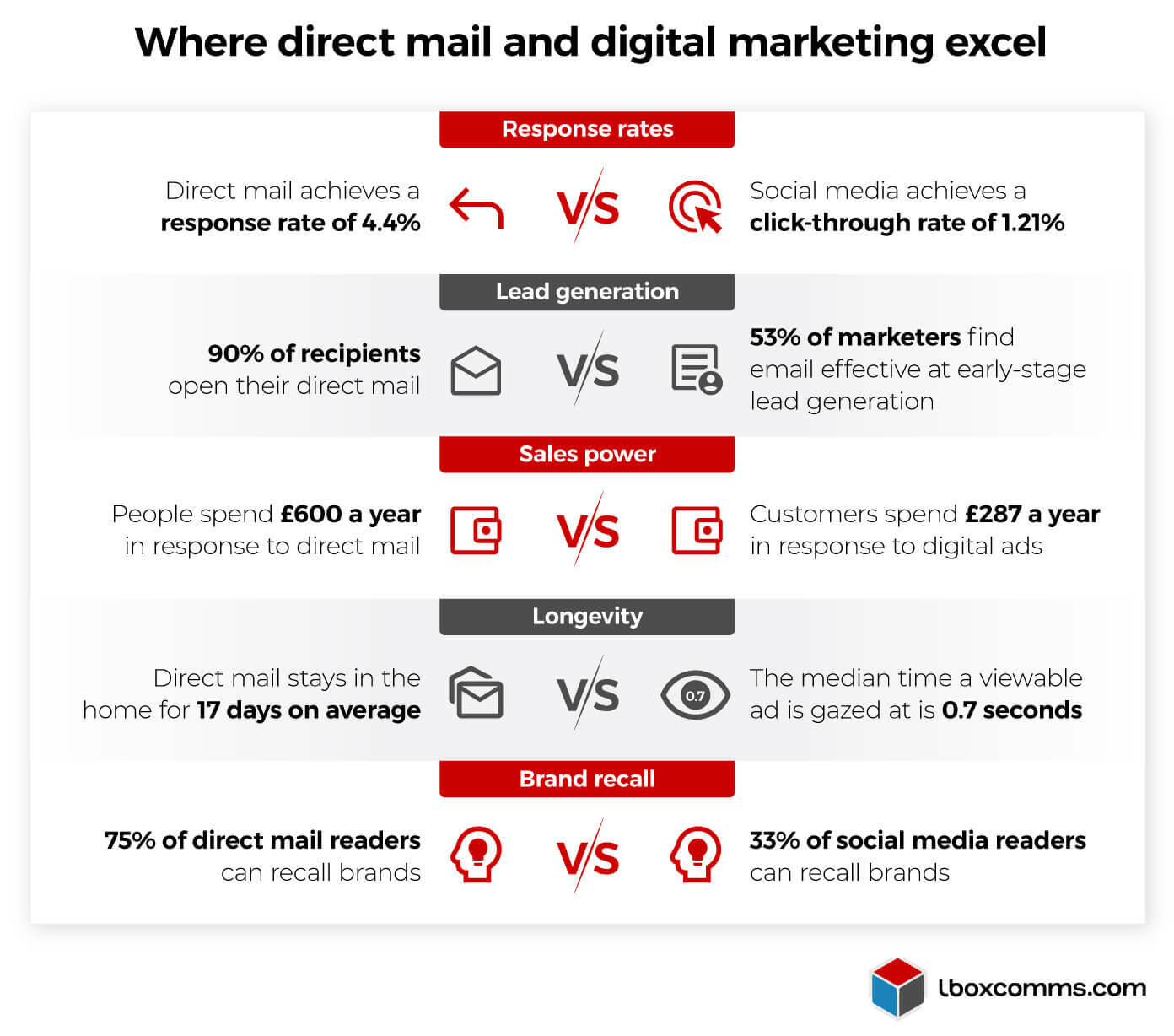 The enduring appeal of direct mail
Many brands rely on digital marketing as it's an exceptionally cost-effective medium, capable of targeting ideal prospects and generating leads with great efficiency. And in a world that's always online, it is increasingly important to have a good digital presence.
But if you look at the impressive statistics behind today's tried-and-tested direct mail, it's also clear that this medium offers real value for your brand.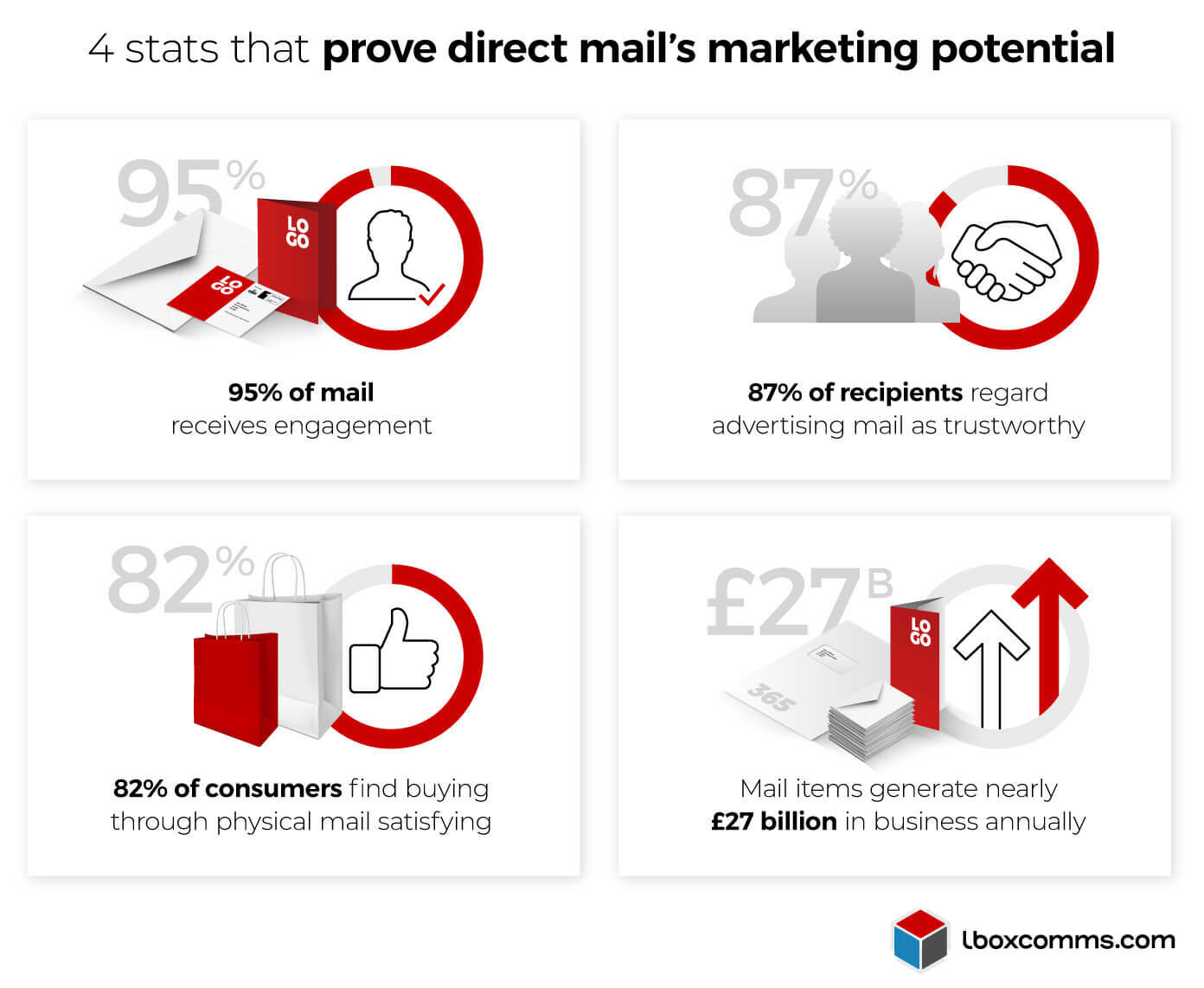 The power of direct mail goes further than these impressive figures. With many businesses shifting to digital-first strategies, physical post remains an often forgotten and untapped resource – a stark contrast to the overcrowded online landscape.
What does this mean in practice? Leveraging the power of post offers your business a significant advantage over your competition, especially if they're laser-focused on social media marketing, digital advertising and other online-only methods.
Mail items are also incredibly flexible. From postcards to catalogues, tailored offers to personalised gifts, the tangible nature of this medium results in items your customers can't resist opening, reading and responding to.
Boost your marketing results by combining direct mail and digital
So as you can see, postage is a timeless medium that continues to inspire strong responses from audiences. Yet, there's no denying the importance of digital marketing, enabling you to reach millions of users home and abroad, all while generating impressive results and returns.
With this in mind, leveraging both direct mail and digital as part of your marketing mix can noticeably lift the performance of your campaigns.
This best-of-both-worlds approach can raise the conversion rates of your campaigns by as much as 40%. Better still, adding direct mail to your efforts can result in a 21% increase in the number of consumers that make a purchase.
As a result, 60% of marketers are very confident that this pairing increases their campaigns' return on investment.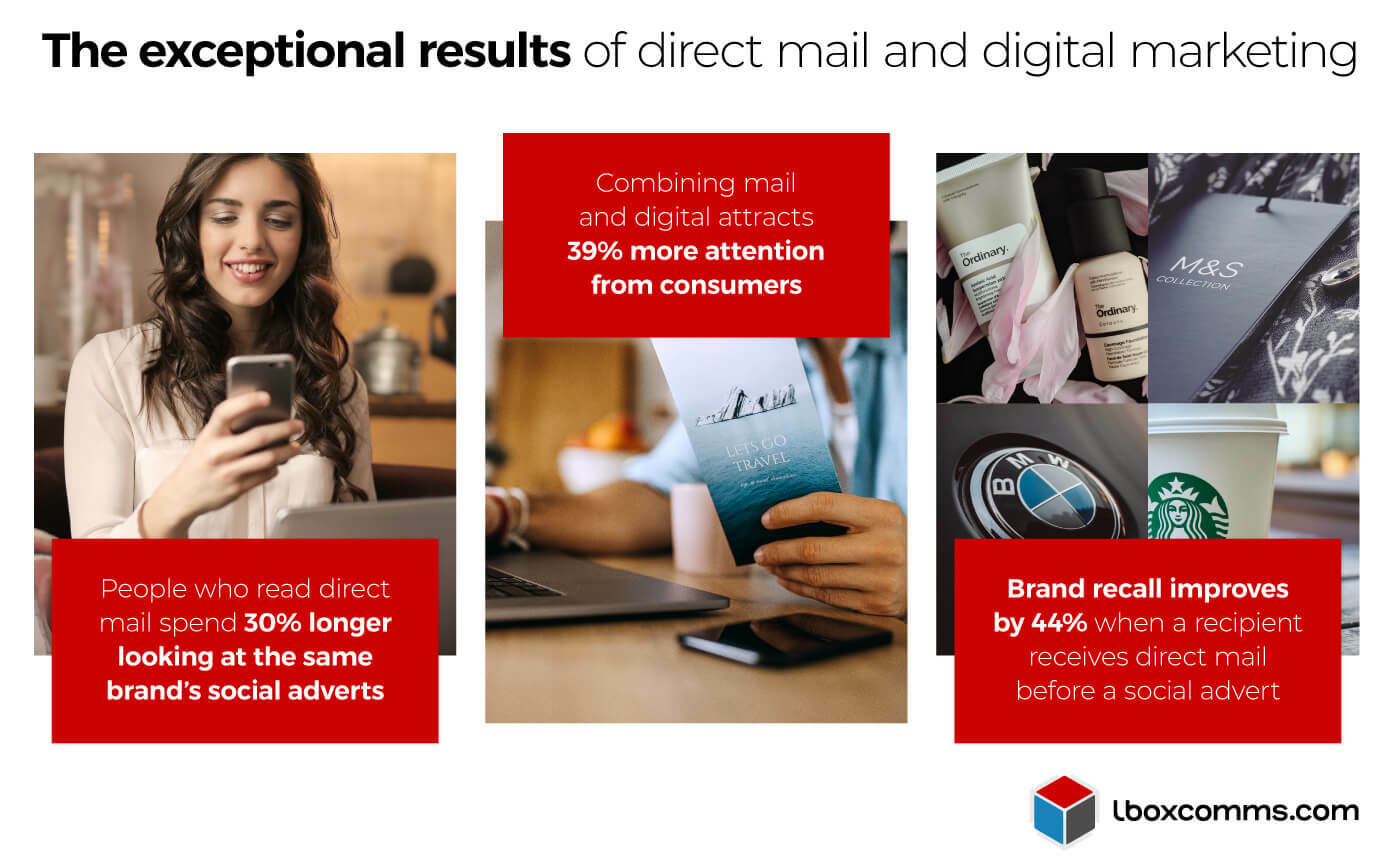 Unlock complete campaign management with DM360 Direct Mail
We hope this has given you a greater appreciation of what direct mail and digital marketing bring to the table. Direct mail remains a highly effective way to get your messages into the hands of your customers. And, combining this tried-and-tested method with the power of digital marketing is a surefire way to boost the performance of your campaigns.
But, like all integrated marketing efforts, careful planning and execution are essential in securing the best results and ROI.
To help you manage the essential elements of your postal promotions, DM360 Direct Mail is our full turnkey solution, offering expertise across all 6 stages of the direct mail journey, tailored to your precise needs.

Acquire the clean, compliant data you need to get your campaigns off the ground

Optimise the design of your mail for the ideal blend of cost and impact

Print your items to an impeccable standard, on your timeline and budget

Prepare your post with fast, precise machine and hand fulfilment

Send mailings with trusted postage providers, to the right people, at the right price

Your returns and suppressions are expertly managed at the end of every campaign
Ready to unleash the potential of direct mail alongside your digital marketing efforts? Get in touch with our team today and let's talk.