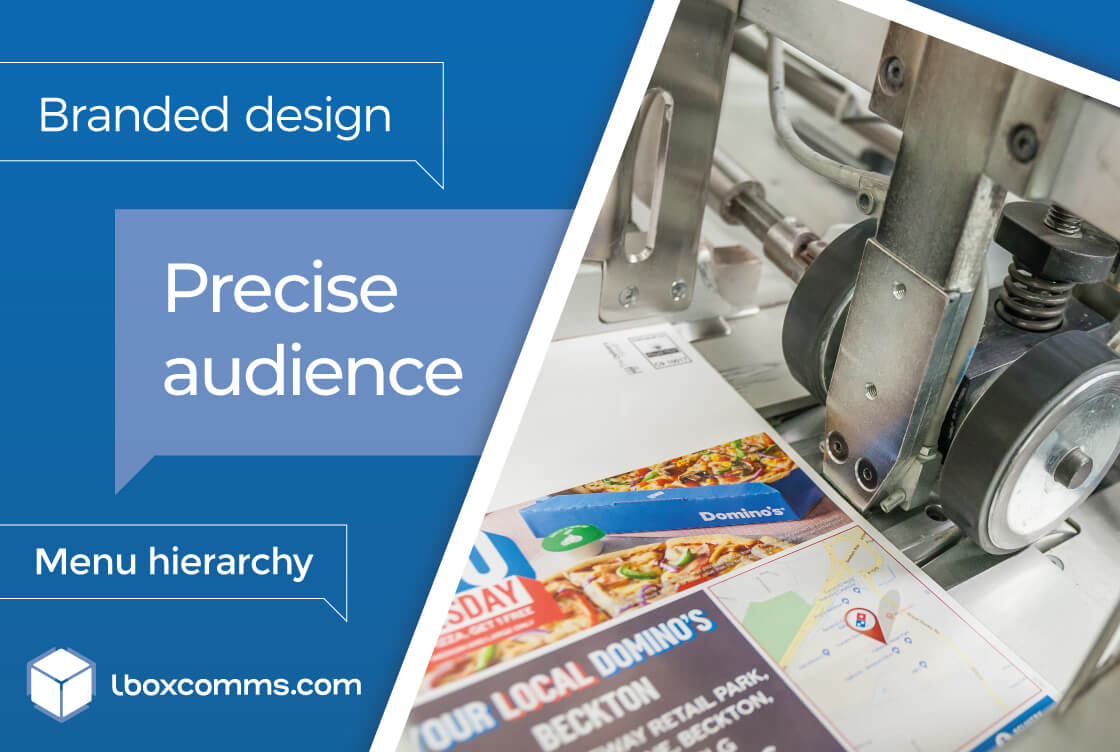 Whether you're opening a restaurant, introducing a new item to your takeaway menu, or pushing a limited-time offer, you want to get the word out to locals as quickly and effectively as possible – and few methods achieve this as well as direct mail and door-to-door leaflets.
Despite the growing focus on digital channels, printed leaflets and menus remain one of the core marketing methods for eateries, from standalone restaurants to major takeaway franchises. The tangible, familiar feel of something coming through the letterbox can leave a much deeper impression on potential customers, and generates real results:

94% of printed mail is engaged with, while 44% is still in the home after 28 days

There has recently been a 60% increase in the proportion of mail prompting advertiser website visits

The average lifespan for direct mail in the home is over 7 days, and 5.5 days for door drops

The average piece of direct mail is interacted with 4.4 times over a 28-day period, Partially Addressed Mail (PAM) 3.7 times, and door drops 3 times
Few sectors showcase the incredible potential of printed communications like the restaurant industry. A tried-and-tested approach that has been at the core of takeaway marketing for decades.
But, not all campaigns are created equal, and some have mastered this essential technique better than others. Here, we lean on our 25+ years of experience helping clients deliver winning direct mail and leaflet campaigns to share our top tips for great takeaway leaflet design and distribution.
Tip #1 – Know your audience
Be it leaflet distribution in your neighbourhood, or a city-wide direct mail campaign, having a firm grasp on your ideal audience is essential to success.
There are many reasons why your restaurant would want to launch a print campaign: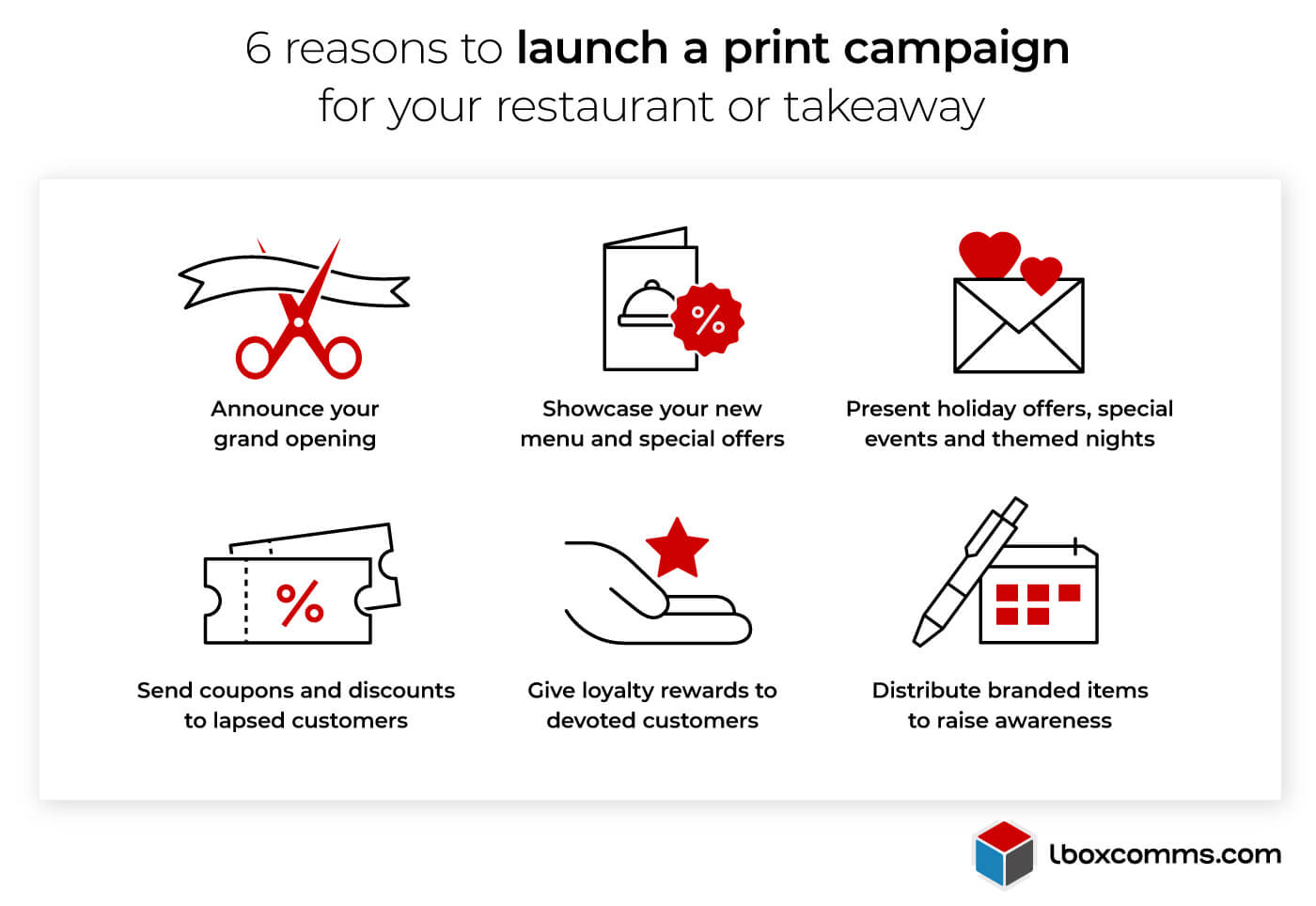 No matter the reason for your campaign, there will be an optimal audience that you will want to target. It could be that you've got a special offer for corporate lunches or parties that you only want to reach local businesses. Or you have a unique discount that's especially for past customers that haven't bought from you in the last 6 months.

Determining the precise audience is critical to the success of these campaigns. You don't want to waste time, money and resources reaching people who won't be interested in or benefit from your offering. Effective targeting ensures your restaurant leaflets, menus and more are only sent to relevant recipients, increasing the odds of attracting the right leads.
At Lbox, you can target specific areas, households and business addresses for your takeaway marketing with total accuracy. Whether this is a full-scale direct mail campaign anywhere in the UK, or highly-targeted leaflet distribution services, there's no waste – just relevant, precise audiences.
Tip #2 – Personalise where possible
Once you have nailed down who your target audience is for a particular campaign, you are in a much better position to personalise your messages to the reader's profile.
Did you know that the response rate for direct mail can increase up to 135% when it is personalised with the recipient's name? People don't want to be treated like strangers – to form strong, meaningful connections to any brand, it is important they are communicated with on a personal level.
For a hyper-targeted campaign aimed at a handful of people, consider putting their name at the top of your takeaway menu, making it appear as though it was made just for them. Even taking the step of imprinting the recipient's name on an envelope can make a world of difference in how likely they are to open and read what you have to say.
Tip #3 – Empower your takeaway leaflet designs
In all forms of marketing for takeaways and restaurants, visuals are all-important. Your printed communications are no exception – the look, feel and presence of your campaign materials will be a vital difference-maker in whether recipients become customers.
Of course, there is no secret formula or standard template for great takeaway leaflet design. But, there are some good rules of thumb to follow:

Keep the text and layout simple – a less is more approach is typically the best way to make sure readers understand your message straight away, with no confusion
Prioritise high-quality photographs – when it comes to marketing takeaways and restaurants, showcasing your food to customers is key to getting them through the door or picking up the phone, so don't neglect this element
Stay on brand – particularly if you are new to the area or intending to use print frequently, you want to build familiarity with your audience, not send mixed messages, so make sure all communications stick to your brand guidelines
Have clear calls-to-action – whether it's a special voucher, phone number or link to your website, make sure that recipients know exactly how they can reach you, as this is how your campaigns will generate returns
Sending out menus to current and potential customers? Here are a few additional tips to make a positive impression on readers with your menu marketing: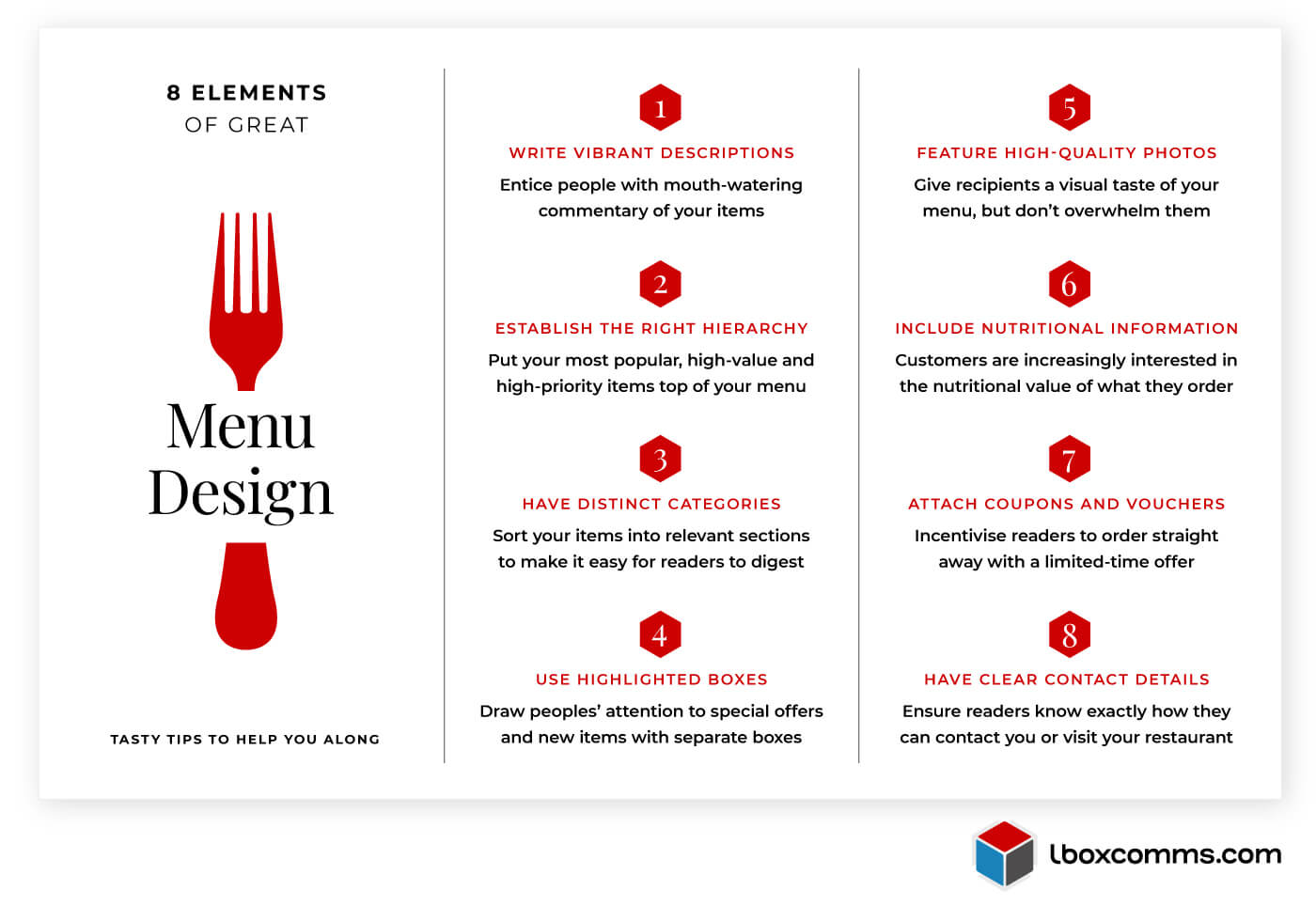 Great takeaway leaflet and restaurant menu design are vital to the effectiveness of your campaign, so keep these tips in mind if you want to make the best possible impression.

Tip #4 – Partner with restaurant leaflet distribution experts
Even if you have a perfectly crafted restaurant flyer, leaflet or menu, it won't reap any results if it doesn't reach the right audience in a reliable, efficient way. While direct mail and leafleting are among the most cost-effective techniques to promote a restaurant or takeaway, without a good process in place you may fail to see a return on your investment.
Don't leave anything to chance. Work with a trusted team that can manage every aspect of getting your campaigns in front of relevant residents, businesses and beyond. At Lbox, we offer comprehensive, flexible distribution services designed to help your franchisee restaurant or takeaway engage local customers.
DM360 Direct Mail
Providing expertise at all 6 stages of the direct mail journey, DM360 Direct Mail delivers complete campaign management for your restaurant leaflets and menus anywhere in the UK.

Target specific audiences with absolute precision, using clean, compliant data gathered from reputable sources

Optimise the size, format, layout and overall design of your materials – maximise impact while minimising costs

High-quality, fast turnaround print and fulfilment, with every order treated with meticulous attention to detail

Our links to leading postage carriers, including Royal Mail, help us identify the quickest and most cost-effective way to deliver your campaigns

All returns and suppressions are taken care of on your behalf
For more on how we help restaurants and takeaways harness direct mail, read about our long-term work with Domino's franchises.
London Leaflets
For restaurants and takeaways based in the Capital, you may prefer our door-to-door leaflet distribution service, London Leaflets. Reaching every street, postcode and borough inside the M25, we have helped clients reach audiences effortlessly and accurately for decades.

Uniformed, GPS-tracked distributors give you complete peace of mind over the progress of your campaigns

Powerful web-based mapping allows you to target the most relevant audience for your campaigns with total precision

We recommend the most effective leaflet distribution method (Solus, Shared, Selective, Network) based on your objectives and budgets

Our leaflet and flyer printing works to the exact dimensions, folds and specifications you require, and rapidly executed by ISO 14001-approved machines
We are committed to making a positive difference to your restaurant and takeaway marketing campaigns, and we would be delighted to discuss options and opportunities with you. Get in touch today to discover the smarter, faster way to send your communications.