Guides
Your 12-Step Guide to Better Leaflet Marketing Campaigns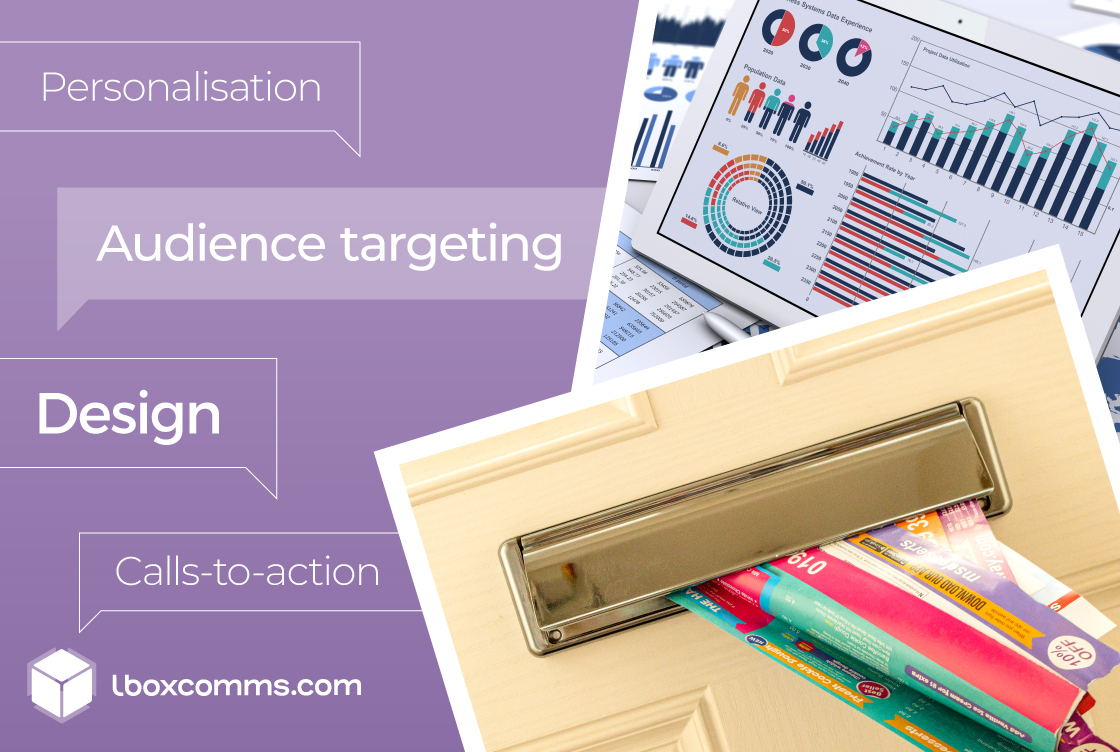 Key takeaways from this insight article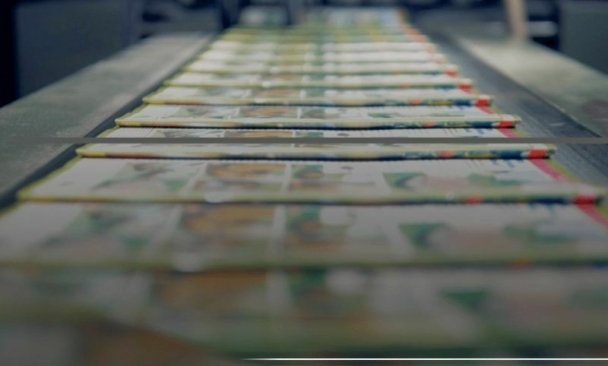 What you'll learn:
The advantages of producing successful leaflet campaigns

Ways to target your campaign audiences for the best results

Top tips for leaflet designs that leap out at readers

Techniques to improve the presence of your calls-to-action

How to choose the most suitable distribution method for you
Some cling to the belief that leaflet drops are a dying practice. Successful marketing professionals recognise that it's still one of the most effective, consistent ways of engaging local audiences.
More tangible and memorable than social media and digital advertising. Stronger response rates than emails. A tangible, lasting reminder to potential customers that your products or services are available right on their doorstep. A well-executed and efficient leaflet campaign is a powerful way to generate new business and build brand awareness.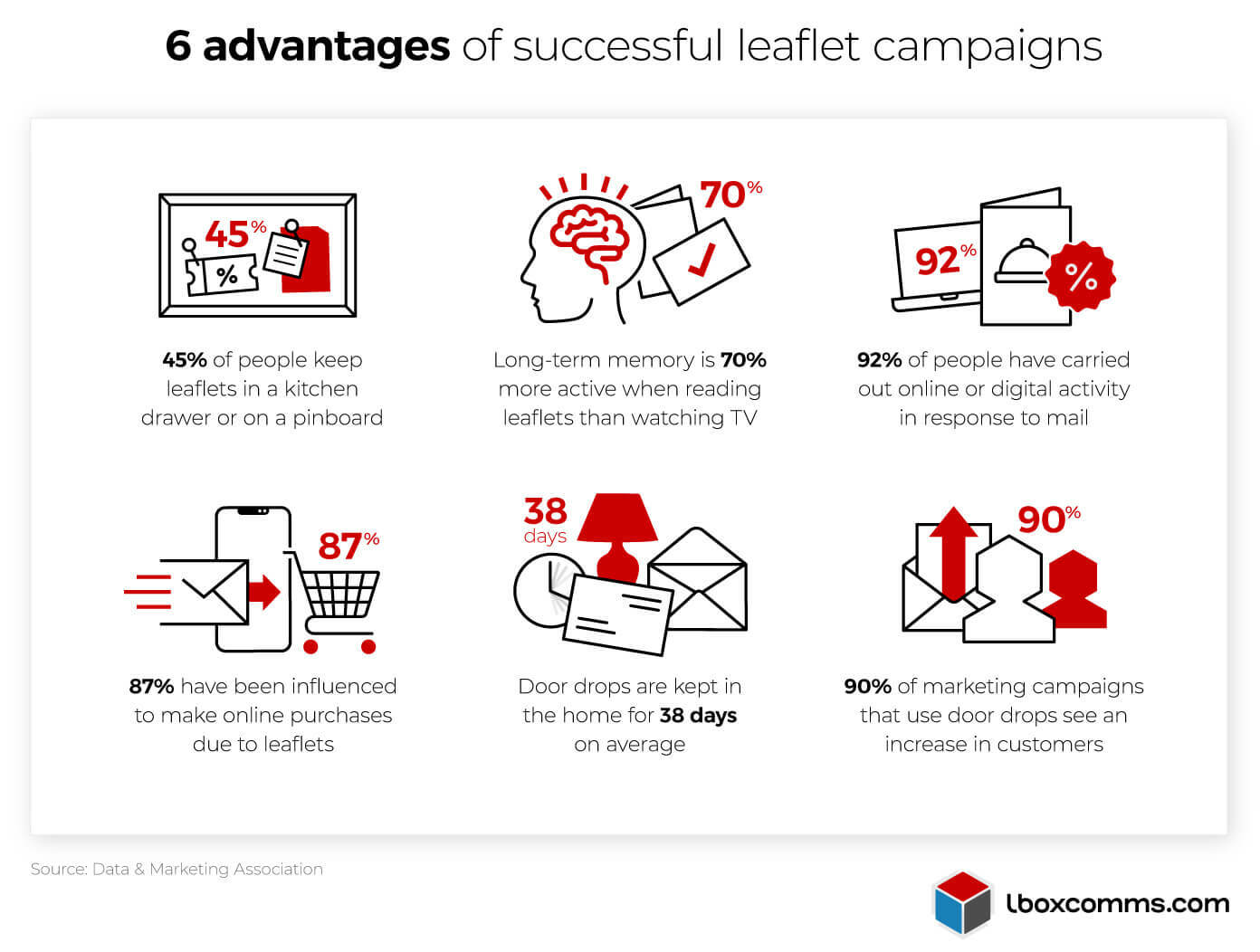 When done well, few things connect with local audiences than a quality leaflet – especially in such a cost-effective way. But what makes a good leaflet? What separates the most engaging, captivating door drops from mailings destined for the recycling bin?
Below we outline our 12 key tips for effective leaflet marketing campaigns, so you can make the most of this tried-and-tested channel.
12 ways to maximise your leaflet campaigns' effectiveness
1. Define the goal of your campaign
First, it is vital to clearly know the purpose of your leaflets. Are you raising awareness with a new target audience? Letting existing customers know about a brand new product or service? Sharing a limited-time offer or discount?
Having a defined goal in mind helps ensure your leaflet drops are focused. You don't want to overcomplicate things by putting too much information in one leaflet. Give your readers one distinct message, and you'll lay the groundwork for more engagement and responses.
2. Target the right audience
Good knowledge of your ideal customers is key to your campaigns reaching the right addresses. This is the crux of planning leaflet marketing, so it's crucial to get your targeting spot on. To achieve this, try the following:

Analyse your existing customer base to understand their main characteristics and demographics

Research where your competitors are targeting, and if this aligns with your goals

Look beyond household income – many London leaflet distributions only use this to segment audiences, but you should think about age, location, background, etc.

Work with a leaflet distribution team with web-based mapping software to find your target audience and maximise accuracy
3. Consider the timing and frequency of your mailings
An effective leaflet marketing strategy will make sure that mailings reach people's doorsteps at the best time. This puts you in front of your audience when they're most likely to engage with your offering and more willing to act.
For example, we manage leaflet distribution campaigns for numerous takeaways in London. They typically schedule leaflets to arrive on Friday or over the weekend because this is when their audiences are probably going to order from them.
Frequency is just as important as timing. Overdoing your deliveries can make you appear spammy to customers, and encourage them to send your leaflets straight to the bin. So think about what the best balance would be – this will differ for every campaign, but a new leaflet every month or so is often a good interval.
4. Grab readers' attention with great design
When your leaflet is competing for attention on a customer's doorstep, great leaflet design is what makes the difference. So what do you need to do to ensure your leaflet leaps out at readers?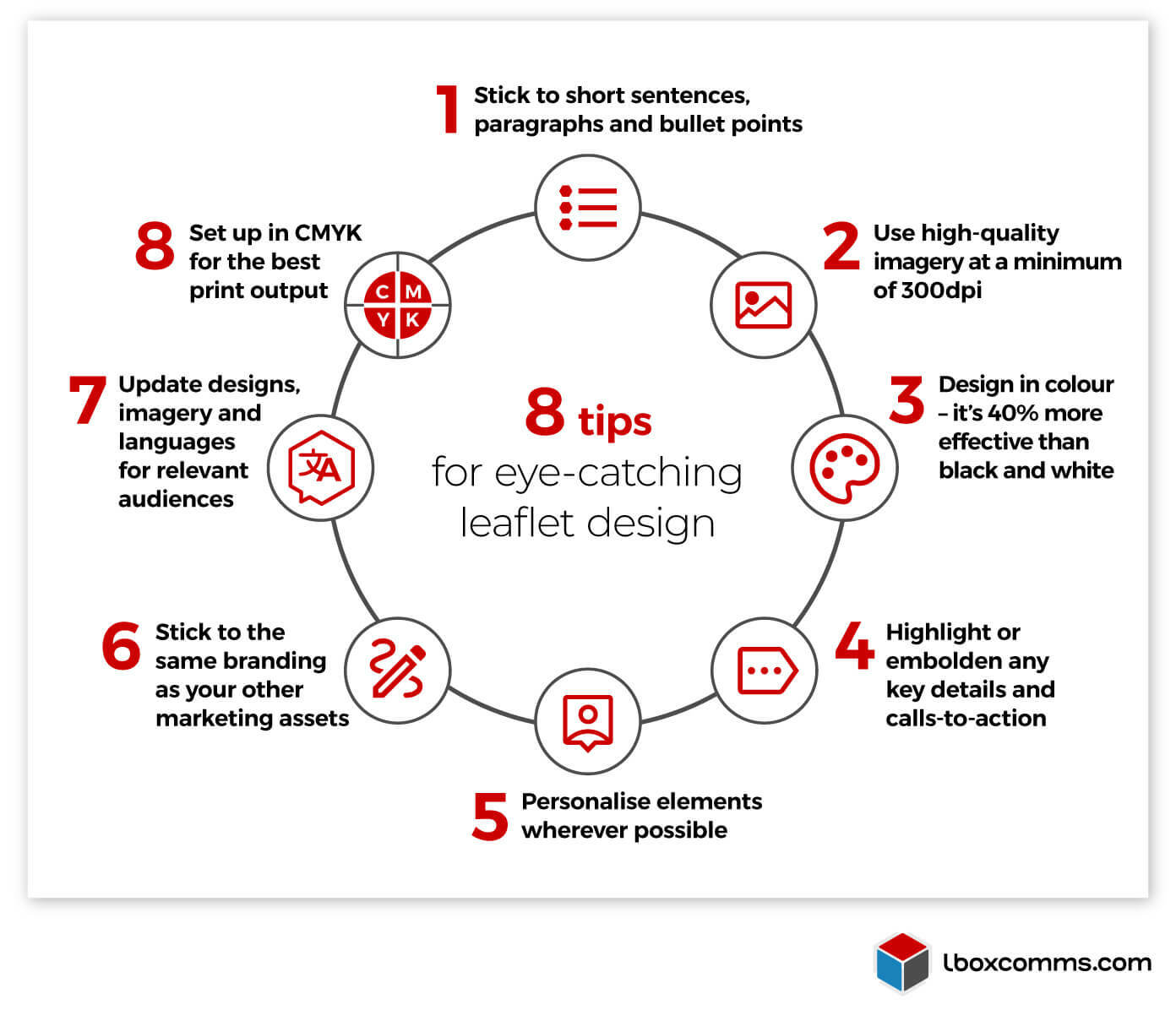 Fundamentally, great design is about making your content digestible, engaging and vibrant for your target audiences. Slapdash efforts will be cast aside in seconds, so don't underplay this vital aspect.
5. Stick with a reliable size
The size, weight and configuration of your leaflets are important aspects. Many companies try to stand out with oversized or elaborate Z-fold formats.
Sometimes these can impress readers, but often it only obscures your message or makes it difficult for people to carry around or keep in the home. So in most cases stick to the classic A5 approach, and devote more effort into designs that grab the eye.
6. Think about the quality of your paper
Paper quality is another important element to invest in. One of the best features of a leaflet over other marketing materials is that it's tangible – jeopardising this with poor quality paper eliminates that benefit.
If you represent a luxury brand especially, ensure the feel of your leaflets is given the attention it deserves. Your audiences will appreciate it, and encourage them to keep yours around.
7. Incentivise readers to keep your leaflets longer
Many great leaflets stay in the home for a long time. Recipients do this because quality marketing gives them an incentive to do so. To encourage the same response from your readers, try:

Including an enticing discount or offer they can use later on

Promoting the date of a special event to put in their diaries

Producing a leaflet that has utility, such as a menu or service list
Incentives keep door drops in your audiences' homes for longer, which can be a big boost to your local brand awareness.
8. Make your calls-to-action stand out
Arguably the most important part of your leaflets and flyers are their calls-to-action (CTAs). In today's landscape, you should do more than leave a phone number, website or physical address.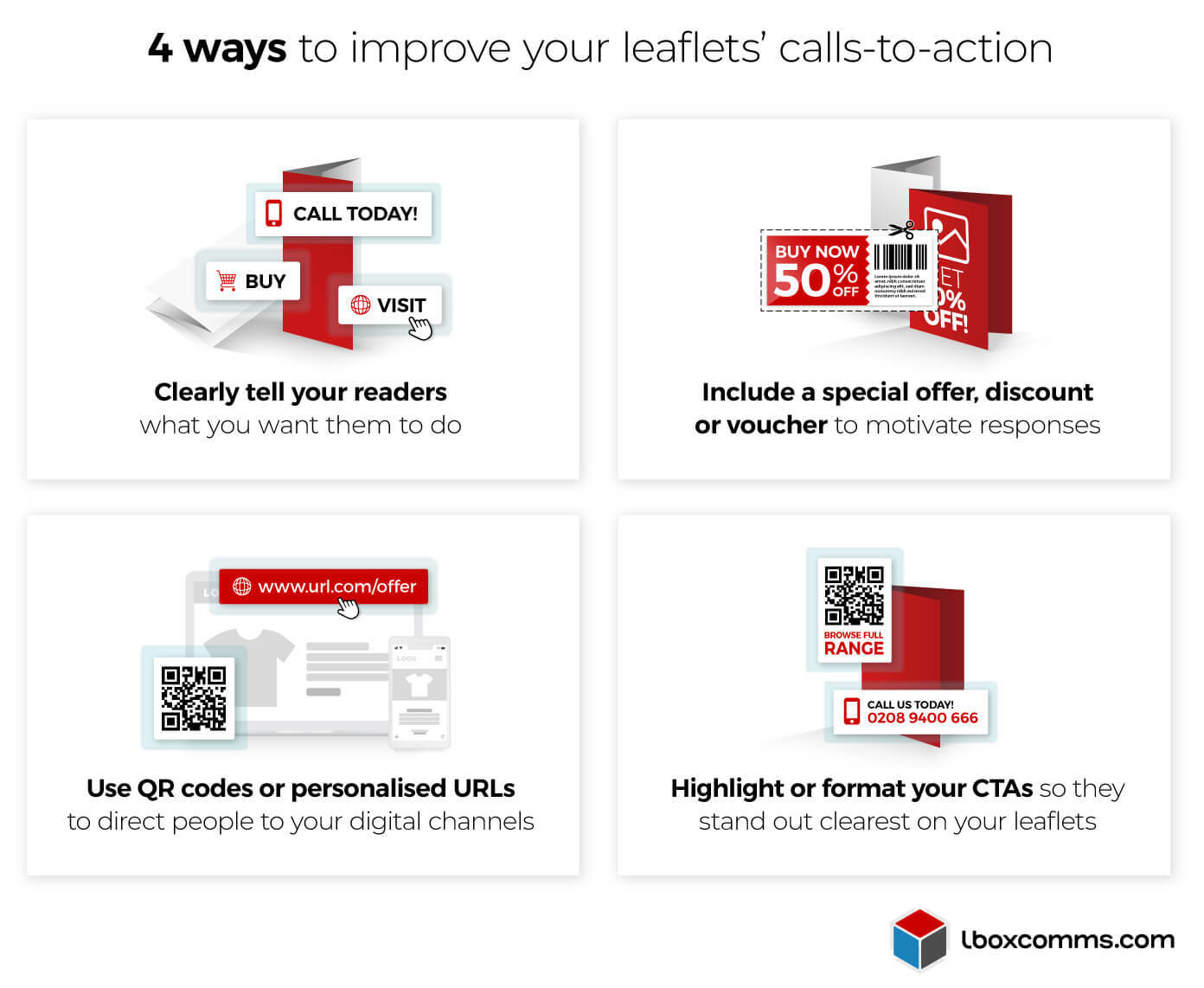 The most effective leaflet campaigns have CTAs that are well defined and inspire action. Push your contact details prominently so your audience knows what their next step should be.
9. Coordinate leaflet campaigns with your wider marketing mix
Leaflet campaigns should be just one part of a more comprehensive marketing plan to achieve the greatest success. Social media, emails, paid advertising, website banners, print adverts – combining these marketing channels in a coordinated effort will help you reach the widest audience.
With this in mind, it's crucial that brand consistency is maintained across the board. Use the same branding and imagery to ensure there is no confusion for potential customers when they interact with your various touch points.
10. Track and measure your campaigns' performance
It's unlikely you'll find the winning formula for your leaflet campaign the first time around. Refinements over time will help you unlock this channel's true potential, and tracking your campaigns' performance will guide these improvements:

Measure success against the goals you set out at the start of your campaign

Use QR codes, PURLs or personalised phone numbers to more accurately track responses to your campaigns

Decide on your ideal measurement metrics – return on investment (ROI), response rates, leads generated, etc.

Remember: leaflet campaigns are a long-term investment; even if they don't achieve immediate results, they could be doing wonders for your brand awareness
11. Choose the correct leaflet distribution method
Depending on your marketing goals, budget and audiences, you might get the best results from a particular type of leaflet distribution.
You may want to invest a little more so that your door drops arrive on their own for maximum attention. Or saving some money by bundling your mailing with others could be equally as effective.
At London Leaflets, we are happy to discuss your requirements and advise you on the most appropriate distribution method for your needs.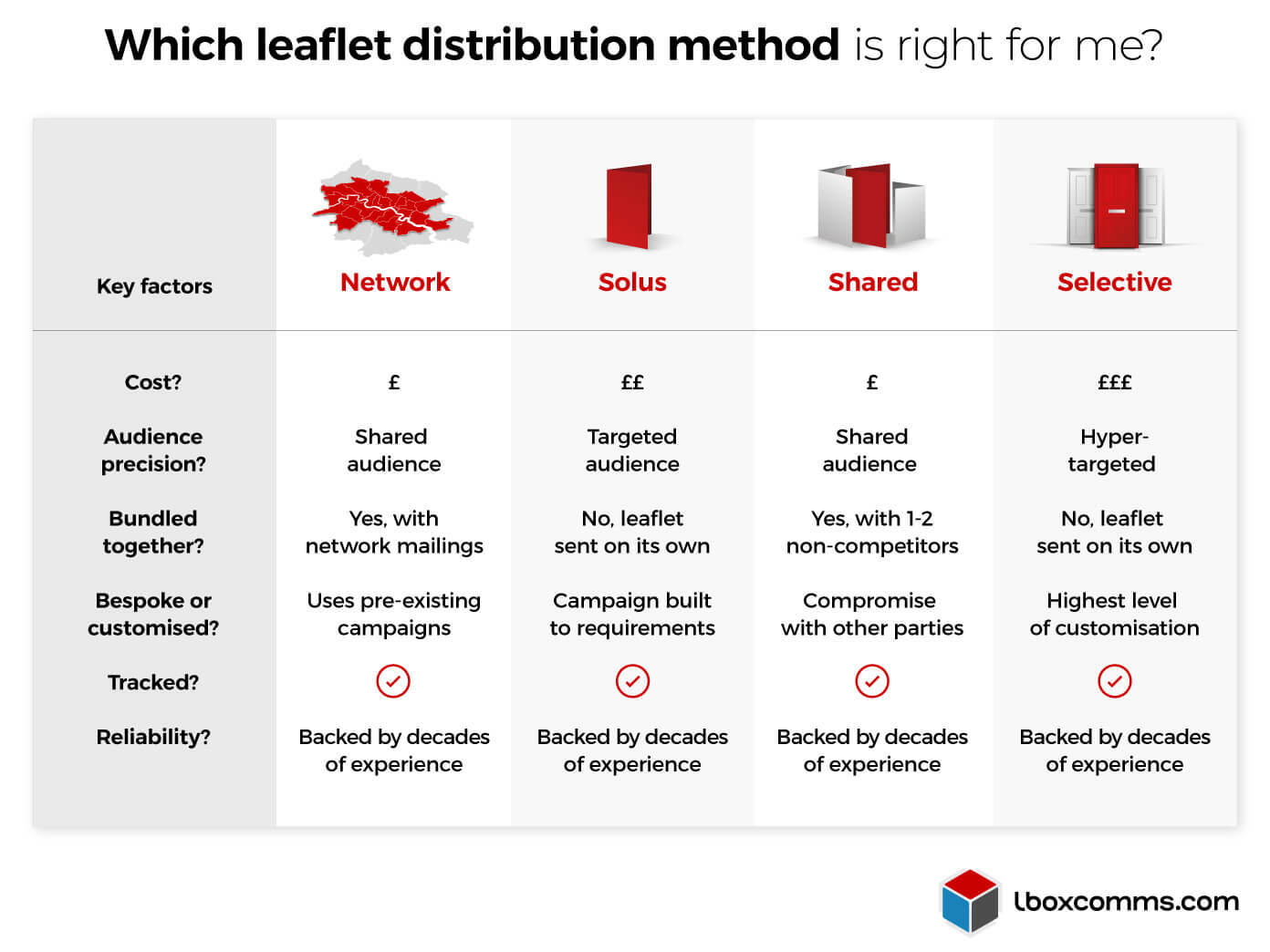 12. Work with a professional leaflet distribution team
All of the above points are powerful ways to improve the performance of your leaflet marketing campaigns – but they all go to waste without the right partner by your side.
Leaflet distribution may seem straightforward, but it's important to take a considered approach with every campaign. If your team only wants to put flyers into mailboxes as quickly as possible, you could be leaving the full potential of this medium on the table, and letting precious time and effort go to waste.
At London Leaflets, we pride ourselves in supporting your campaigns from start to finish, providing the most reliable, accurate service to addresses anywhere inside the M25.

We work with you to plan an effective marketing strategy for your campaigns

Our web-based mapping software targets audiences with unrivalled accuracy

We offer four distinct distribution services to suit any needs and budgets

We print leaflets efficiently and cost-effectively – to an exceptional standard at any scale

Deliveries are handled by our full-time uniformed, GPS-tracked team for total peace of mind
Backed by over 25 years of experience, let us help your door drops reach the right people on time and on budget. Get in touch today to discuss your next campaign.