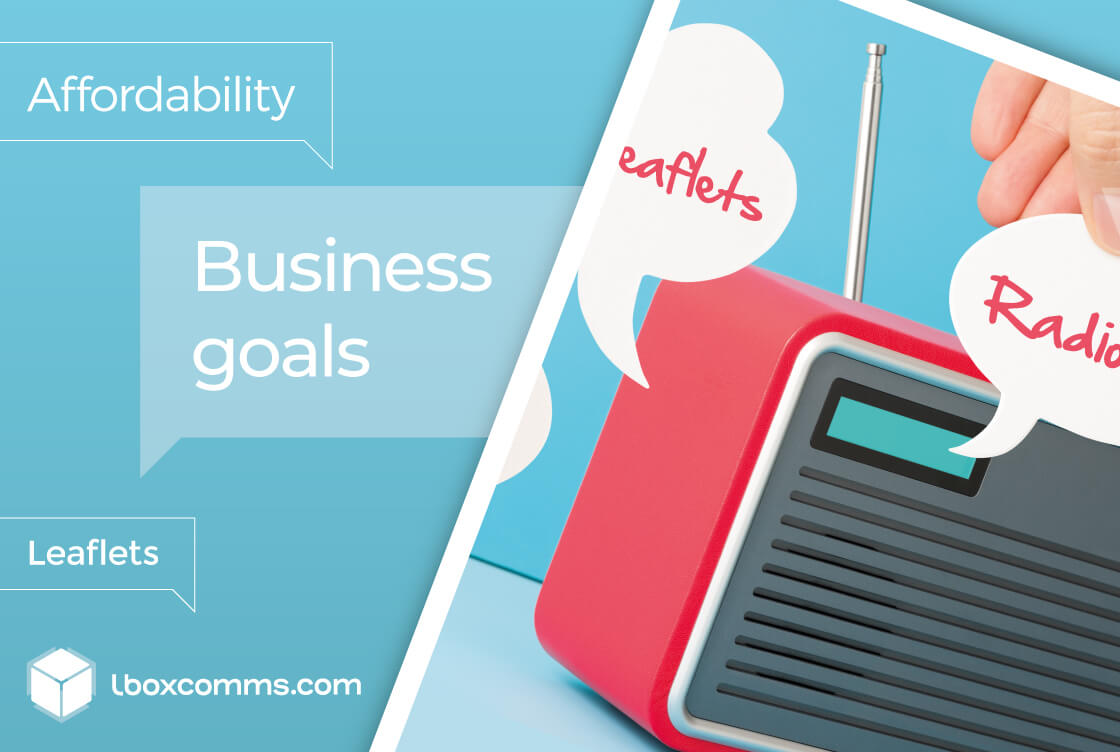 For many businesses, their marketing budget will always be a precious resource that needs to be utilised effectively. Therefore, organisations need to think carefully about their marketing strategies and invest wisely; nothing is more rewarding than investing in a type of marketing that ultimately pays off positively in terms of reputation, brand awareness and returns on investment.
Two popular advertising campaigns that businesses often invest in are local radio advertising and leaflet distribution (otherwise known as door-to-door marketing or letterbox marketing). But which one is going to work best for your organisation?
While our niche lies in leaflet distribution and direct mailings, we're not going to deny that radio advertising is effective in its own right. However, we're here to tell you why a leaflet distribution campaign is more worthwhile, efficient and effective, and how Lbox Communications, as an experienced letterbox marketing agency, can help you maximise your return.
Why invest in leaflet distribution over radio advertising?
Some businesses feel that local radio advertisements are a great help to them, but a leaflet and flyer distribution campaign has the potential to be so much more effective.
Leaflets and flyers cover far more demographics than radio
Printed flyers and leaflets can target a much broader demographic than radio advertising, which is limited in its reach. Unless you have a specific product within a niche market, printing and delivering leaflets to the public can draw more attention to you. What's more, you can position certain leaflets in specific locations, or target them to different regions in a city. In comparison, radio ads get heard multiple times in a day, usually by the same age group or people with similar music tastes.
Leaflets have longevity working in their favour
Radio advertising can quickly feel repetitive to the same consumers. Conversely, leaflets and flyers have far longer lifecycles; once they are delivered, they can remain in the home for days, weeks or even months at a time, acting as constant reminders of your brand, business, products and services.
Printed mailings and marketing materials strike a visual chord
For many people, visualising messages is arguably as important, if not more than, as hearing about them. With printed leaflet distribution, consumers can repeatedly engage with the material and come back to it multiple times, taking in the information at their own pace. Likewise, radio adverts are relayed more than once, but people only have a certain amount of time to take in the information each time. Plus, with the help of leaflet distribution specialists like Lbox Communications, businesses can get their messages across in numerous powerful ways, visually, for maximum effectiveness.
How effective is leaflet distribution?
Many people wonder what makes a good leaflet distribution campaign, and the simple answer is that it depends on your business goals and what you're looking to achieve.
Statistically speaking, leaflet distribution is one of the most affordable and effective advertising methods. 48% of consumers respond to flyer advertisements, while the average time a leaflet remains in a household for approximately 38 days.
At face value, leaflet and letterbox marketing can achieve excellent results for a local business. Leaflet distribution is a worthy investment if they're looking to build their presence and customer base in their local area.
Some of our recommendations for efficient letterbox distribution are as follows (which we will delve deeper into in a future article):
Think carefully about which localised areas you want to target.
Don't opt for cheap or substandard print materials. Low quality and budget materials will simply not be as effective.
Think about ways in which you can elicit a positive, emotional response from your ideal consumer.
If you're offering specific product or service discounts, utilise leaflet distribution to raise awareness of these deals. Discounts have excellent response rates when distributed in print.
Think of ways in which flyer distribution can support any digital marketing efforts you currently have. If your print and digital marketing efforts both have synergy and consistency with each other, they can prove much more effective.
Bespoke door-to-door leaflet distribution services from Lbox Communications
If, after reading the above, you would like to find out more about Lbox Communications' leaflet and flyer distribution services, get in touch with our team today. We have seen first-hand how effective targeted door drops can be to a local business, and our full-time, uniformed, GPS-tracked distribution teams make the process straightforward and timely.
We are always happy to discuss options and how to make leaflet drops work for you, ensuring you get positive results.