Direct Mail
Kickstart Your Fantastic Christmas Direct Mail Campaign NOW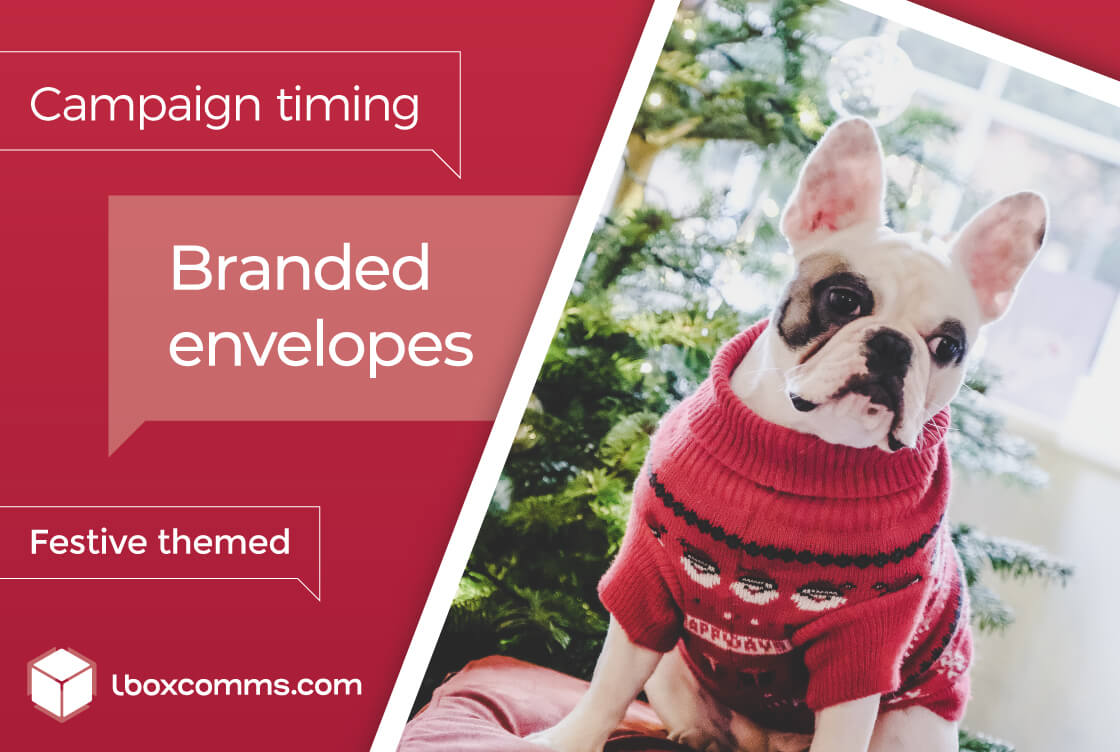 We all know how time flies by in the months coming up to Christmas, so at Lbox our team are busy designing, manufacturing and packaging a huge variety of Christmas direct mail campaigns to be pristine and ready for the festive season. We don't want your business to leave it too late to make the most of a fantastic Christmas campaign, so here are a few things to think about before kickstarting yourself into action:
Timing
So many companies come to us in November looking to create a Christmas campaign, and by this point many of their competitors will have already forged ahead with their own campaigns, and will already be reaping the rewards. Although we can offer last-minute campaigns to be completed within a few days, our best Christmas campaigns were developed in September / October time, to be mailed throughout November and December. If you start your Christmas shopping at the beginning of November, you need to be sure that your direct mail piece is already in the hands of your customers by then! Sending your mail-outs early also means that you can track their effectiveness and tweak your strategy throughout the Christmas period.
Envelopes
According to a report by Royal Mail UK, 92% of direct mail is opened, but with increasingly more companies recognising the benefits of direct mailing at Christmas, you need to ensure your campaign is getting the open rate it deserves. Stand out on the doormat with exciting branded envelopes; custom-made envelopes are like the shop window to your services – they should be attractive! Experiment with reds, greens and golds to highlight your festive message, and if you choose to include copy on your envelopes, make sure it communicates the benefits of the contents as an incentive to look inside.
Personalise
98% of respondents in the Royal Mail survey preferred direct mail that was personalised, so why not make that extra effort? Making a consumer feel targeted specifically will increase open rates. Everybody likes to feel special, particularly at Christmas!
Make it Bright!
Whether you are sending a letter, a brochure or a catalogue, the whole piece should have vibrancy and excitement that represents the celebrations of Christmas. At Lbox we can print with a quality and vibrancy that will stand out against other blander mailings.
Offer an Immediate Reward
A surprise Christmas present is something nobody can resist, so try adding some kind of free gift to your mail campaign. From advent calendars, snow globes and Christmas crackers to gingerbread men and even Christmas trees, at Lbox we have dealt with a huge variety of direct mail freebies!
AND an Offer for the Future
As well as a great freebie, offer your recipients an exclusive Christmas deal on your services or products. This will ensure your direct mail piece isn't thrown into the recycling, and will encourage the potential customer to enquire more about your business, whether that's shopping online or visiting your establishment.
A Call-To-Action
Let people know how to contact you and where you're based. Your call-to-action should point your customers in the right direction, so include as many options as possible. Whether you direct them to your website, your social media pages or encourage them to contact you via email, telephone or in person, the more options that you offer, the more likely people are to actively seek out your services.
Our expert team have experience creating a vast array of very different, challenging, original and innovative Christmas direct mail campaigns and we don't want your business to miss out on what we can offer.
Get in touch now on 01344 481 575 or drop us an email at booking@lboxcomms.com to speak to our team and kickstart your own fantastic Christmas direct mail campaign.