Direct Mail
The Ultimate Guide to Leaflet & Direct Mail Campaigns for Retail Shops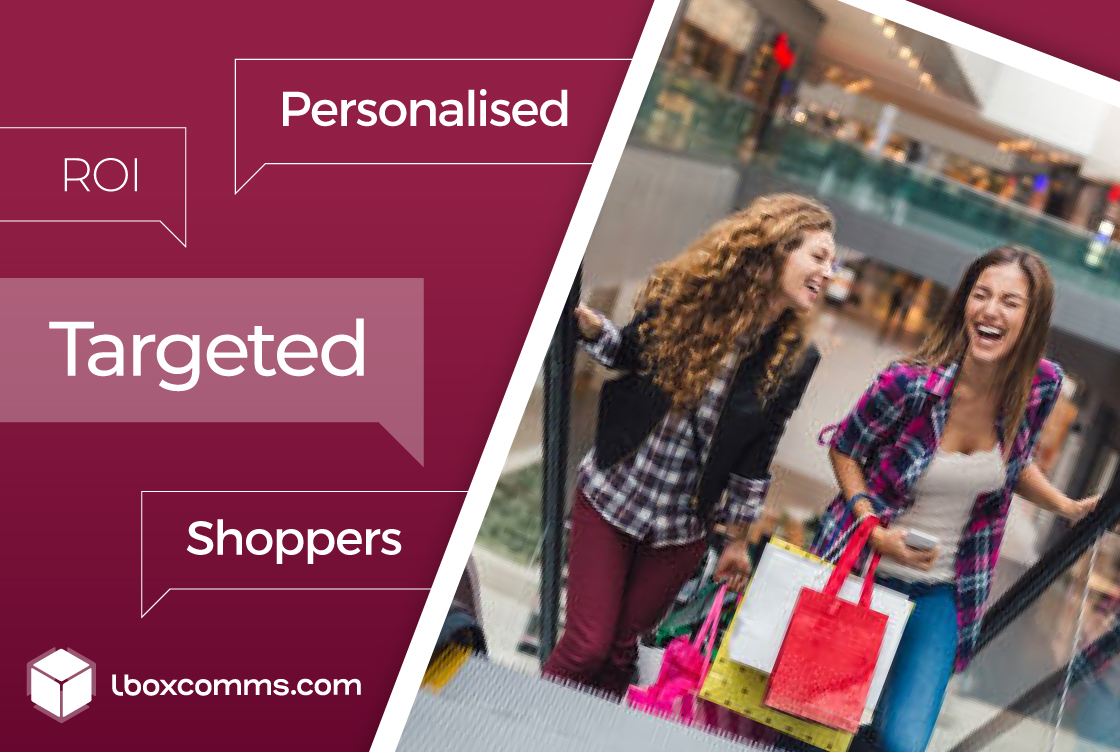 Key takeaways from this insight article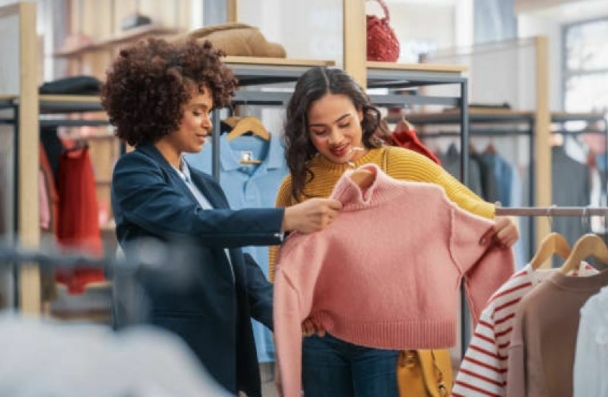 What you'll learn:
How the commercial power of direct mail benefits retailers

When to use leaflets and when to use direct mail

How to define the ideal audience for your campaigns

Helpful tips for personalising and designing your mailings

The advantages of having a dedicated monitoring strategy
Online shopping has seen a massive surge in popularity in recent years, with data suggesting that e-commerce now accounts for 26.5% of online market share in the UK.
Yet, despite the prevalence of digital storefronts, direct mail remains one of the most effective ways of reaching and engaging customers.
Discover the power of physical mail in retail marketing, and learn all you need to know to create and send standout promotions for your store.
What are leaflet and direct mail campaigns?
Instead of flooding your audiences' email inboxes or social media feeds, direct mail and door-to-door leaflet drops are an opportunity to get your message straight into the hands of potential customers. Good examples of these communications include:

Leaflets

Brochures

Catalogues

Postcards

Newsletters

Flyers
How effective are leaflets and direct mail in retail?
While you may see some retailers regard leaflet distribution and direct mail as relics of the past, these timeless methods continue to stand the test of time.
The tangible nature of this medium leaves a notable lasting impression, with 94% of recipients describing their experience with direct mail as positive. Plus, 75% can recall a brand after receiving print marketing – a significant improvement over digital ads' 44%.
The appeal of direct mail and leaflets also extends beyond baby boomers, as 85% of Gen Z and Millennials open the items they receive – making it incredibly effective at producing real commercial results across all generations.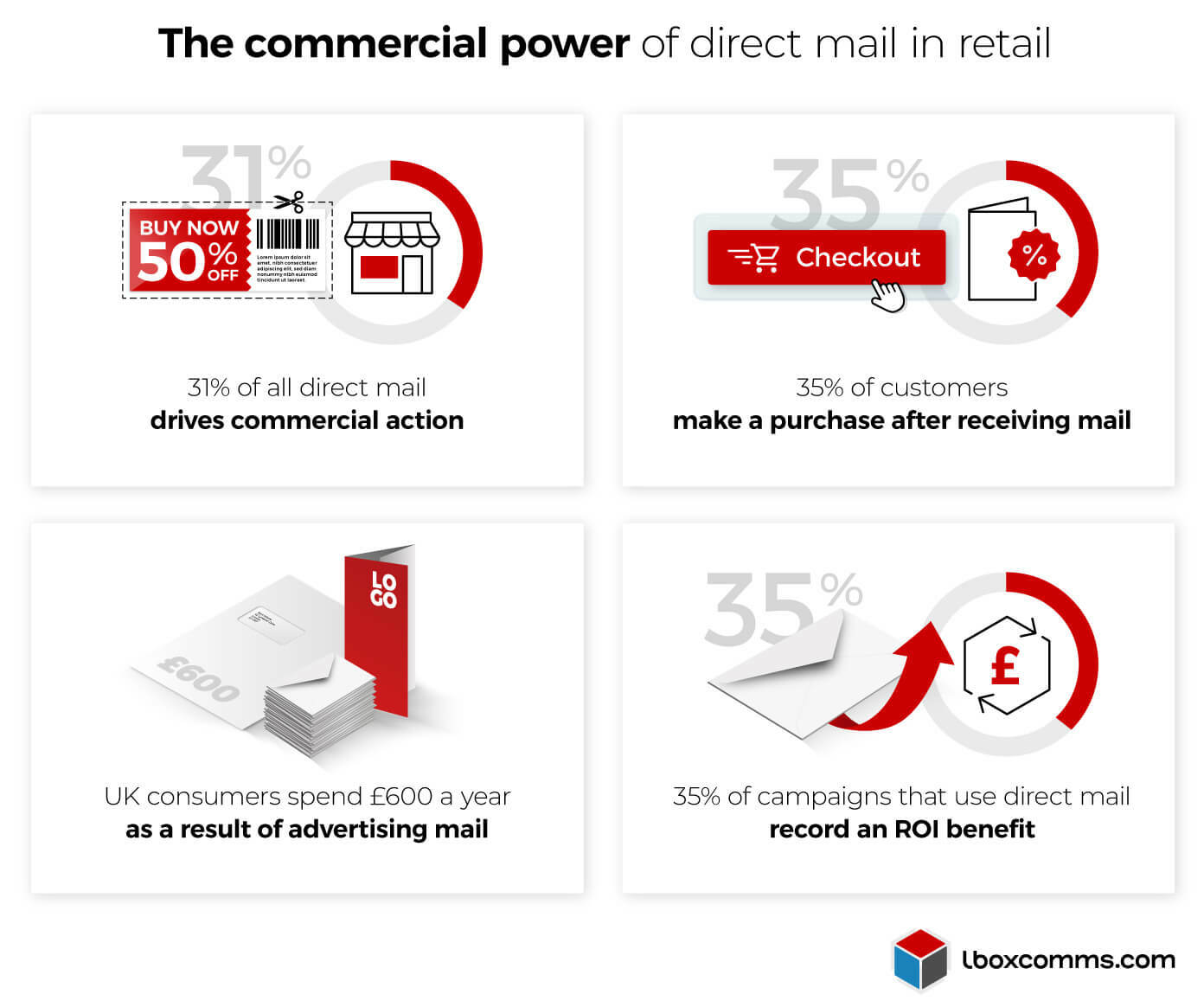 Is it better to use leaflets or direct mail for retail advertising?
If you're a retail store or local business looking for an effective way to drum up interest and entice customers in-store or online, there are few options as efficient or cost-effective as direct mail and retail leaflets.
But if you have room for only one in your marketing mix, it is important to know which method is best for your specific marketing objectives.
Sending leaflets is the option of choice if brand awareness is your primary goal. Kept in the home for long periods of time, these types of mail items help keep your shop top of mind when consumers feel the urge to spend.
On the other hand, you should create direct mail campaigns if your store is looking to promote offers and deals, encourage repeat business or spotlight new products. This is because these pieces are highly targeted and generate strong response rates.
4 essential steps to an effective direct mail retail campaign
Direct mail is a tried-and-tested method of building relationships with local customers – from long-term patrons to new prospects. However, unlocking the full potential of this medium requires a considered, multi-step approach.
1. Define a targeted audience
Your target audience is arguably the most important part of your campaign, informing everything from the messaging within to the offers included. As a result, it is important to establish your ideal audience from the beginning.
Consider the kind of products you sell, and how you distribute them. If you sell luxury garments, you'll want to reach an audience with plenty of disposable income. On the other hand, if you're a digital-only retailer, consider reaching keen online shoppers.
To find the ideal target audience for your shop, also consider:

Identifying common traits in your existing patrons to build a customer profile

Assessing who similar retailers or competitors are targeting

Using geographic data to understand the kind of people living locally
Sourcing trusted, compliant data from a reputable firm can help you craft a mailing list that aligns with your marketing strategy – whether you're drawing locals to the high street or attracting new customers to your digital storefront.
2. Personalise your message
With a target audience in mind, you can then tailor the messaging of your leaflet or mailing to be as impactful as possible.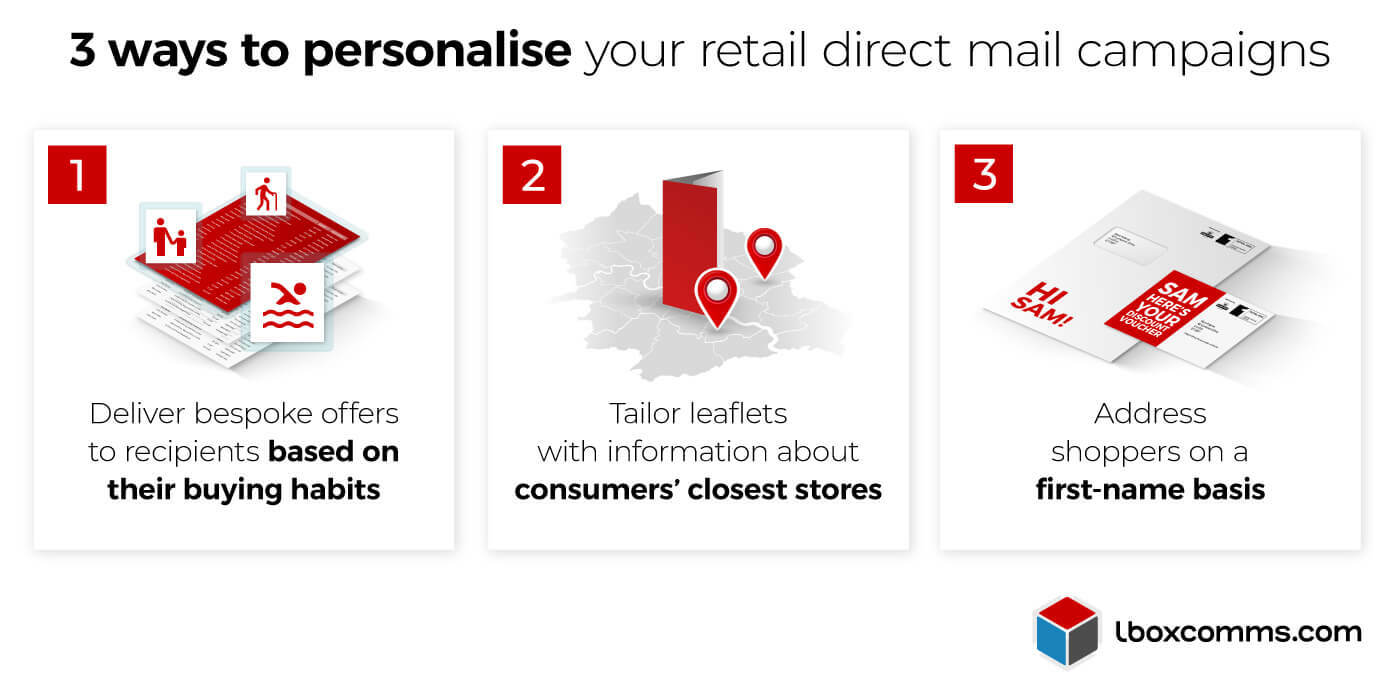 However you choose to incorporate personalisation, if it's done well, it can make shoppers 35% more likely to make a purchase when compared with unaddressed mail.
And remember, the human mind is wired for emotion, so aim to create messages that resonate with people. Language that evokes feelings, such as flattery and exclusivity, can drive people to take action.
3. Refine your design for mail
Any successful leaflet, catalogue or brochure has to stand out and grab the attention of your target audience immediately.
While the specific design of your mailing will be informed by your brand guidelines, the format selected and your campaign's objectives, there are several key elements you should be including in every piece of retail direct mail marketing: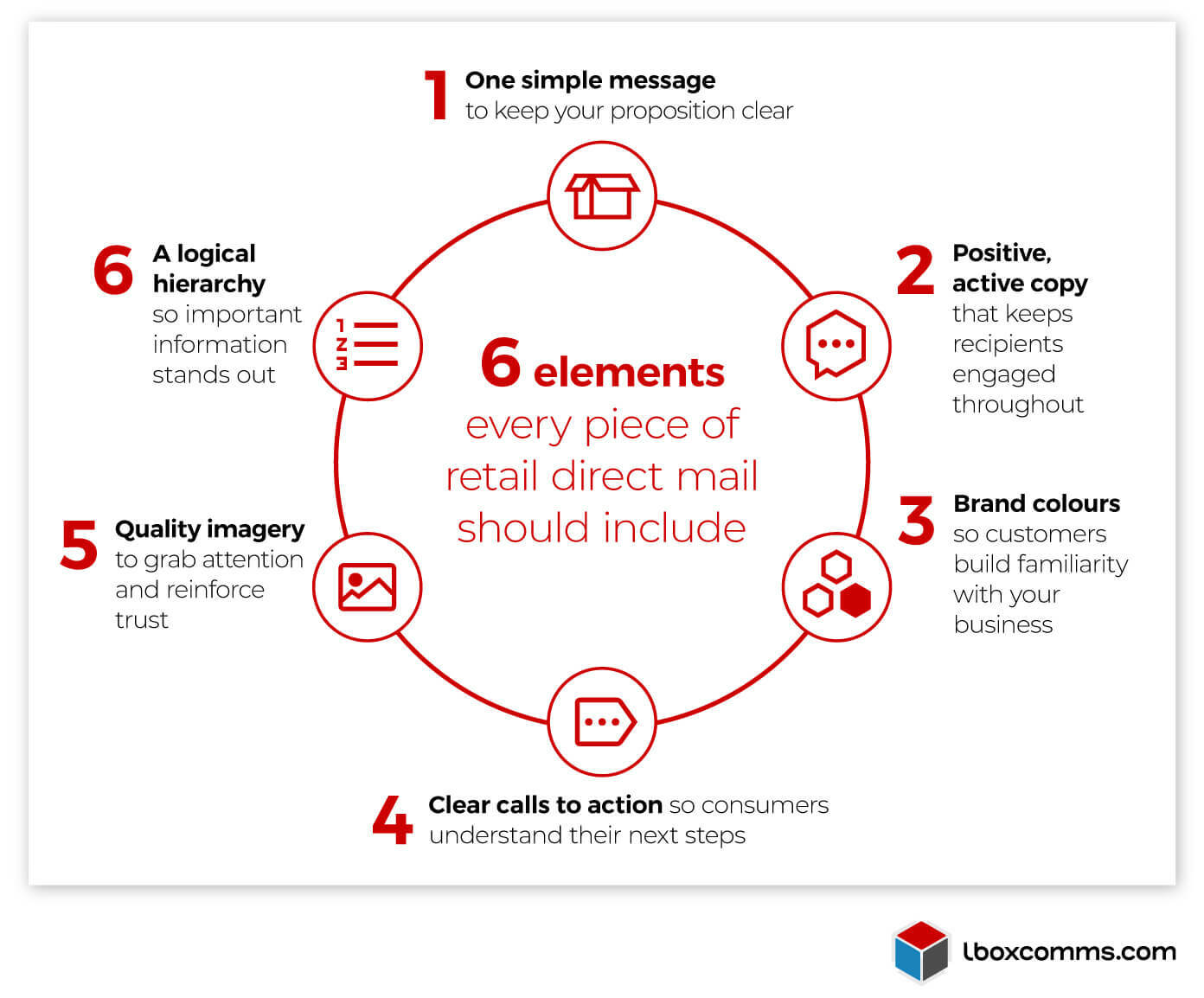 Truly great direct mail design is not just stylish and functional, it also balances impact with affordability. Utilising our decades of expertise, we can advise on the design of your mailings, from page sizes to paper finishes, to identify where you can save money and retain visual impact.
4. Employ a dedicated monitoring strategy
In the past, it was difficult to determine how successful direct mail promotions were. With modern technology and strategies, tracking the effectiveness of your efforts is not only simple, but encouraged:

Incorporate QR codes to direct people to your site and monitor the number of people continuing their journey online

Harness personalised URLs as a trackable way to send readers to your landing pages

Develop digital coupon codes redeemable on your site so you can determine the volume of people engaging with your content
Tracking direct mail performance offers invaluable insight, allowing you to optimise the look and feel of your mailings to have the greatest impact on new and existing customers – bolstering ROI for future promotions.
Discover more ways to measure the success of your retail direct mail marketing promotions – check out our insight.
Campaign management tailored to your needs
We hope this guide has shone a light on the incredible effectiveness of direct mail for retail, and its potent ability to inspire footfall and sales. However, like any marketing strategy, unlocking the full potential of this medium demands careful planning and execution.
As professionals with decades of experience delivering effective leaflet distribution and direct mail campaigns, Lbox can get your message into the hands of your audience efficiently and effectively.
DM360 Direct Mail
Data. Design. Print. Fulfilment. Postage. Returns and suppressions. We provide expertise across all 6 stages of the direct mail journey, built around you and your needs.

Get your promotions off the ground, and target your audience with total precision using clean, compliant data

Optimise the feel and finish of your mailings to strike the perfect balance between cost and impact

Print your mail items in the highest quality on a timeline and budget that suits your campaign

Prepare your mail pieces for distribution with rapid, precise machine and hand fulfilment

Get your message into the hands of new and existing customers in the quickest and most cost-effective way possible

Returns and suppressions handled on your behalf to ensure future campaigns are able to generate the best ROI
London Leaflets
For retailers based in the capital, we also offer targeted, end-to-end leaflet distribution in London. Reach every street, postcode and borough inside the M25 with total efficiency and accuracy.

Multiple leaflet distribution methods to suit any requirement and budget

Trusted, tracked and uniformed distributors for total peace of mind

Easy-to-use web-based mapping tools to specify jobs accurately and quickly

Every aspect of your campaigns handled rapidly – from print and fulfilment to delivery

Ready to unleash the full power of direct mail for your retail shop? Start your campaign today – simply get in touch to discover a smarter, faster future for your promotions.