Guides
Your Essential Guide to Estate Agency Leaflet & Direct Mail Campaigns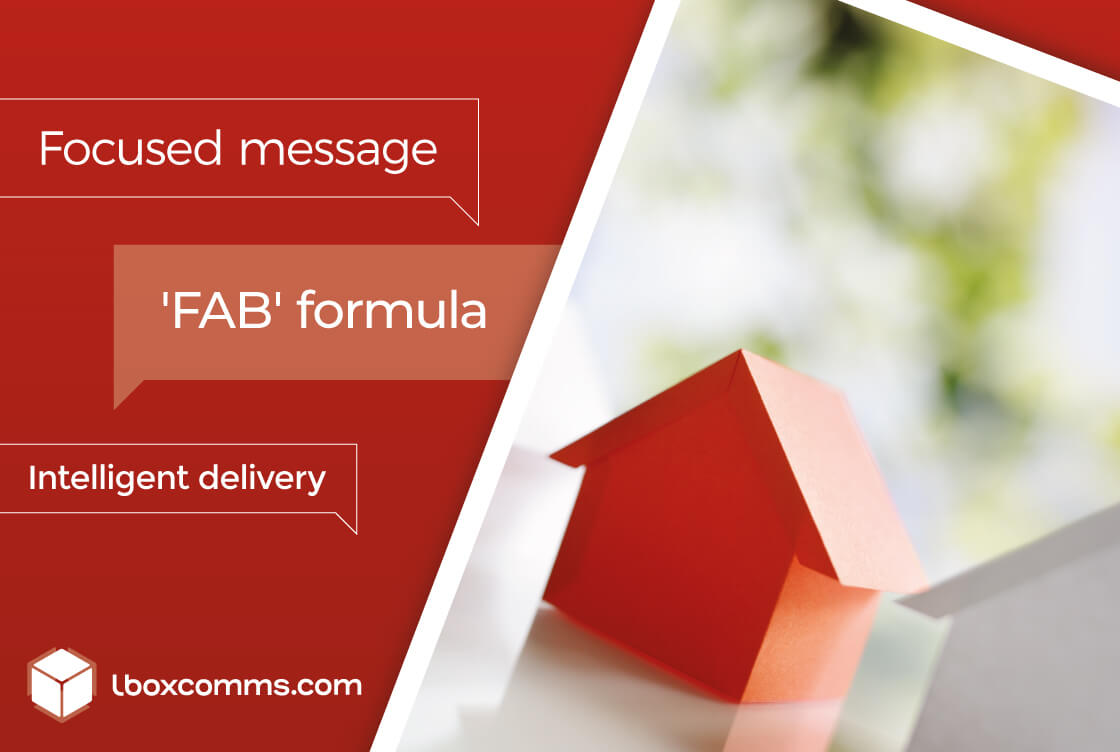 Estate agencies are always looking to attract new listings and promote local branches. There are hundreds of ways to do this, with many leaning into the possibilities of digital marketing.
Yet, in a world that is flooded with digital information on a daily basis, the tried-and-trusted method of dropping a flyer, brochure or magazine through someone's letterbox can be a welcome change – and more likely to capture their attention.
We have over 25 years of experience handling leaflet and flyer distribution campaigns and real estate direct mail campaigns for clients across the UK. And this background has taught us a thing or two about what makes a truly effective mailer.

Here we share our insight to make sure your next leaflet or flyer engages and excites your audience.
Are estate agent leaflets and flyers effective?
In this digital age, it is easy to assume that leaflets, magazines and personalised letters have gone the way of the dinosaurs. This is not the case, and this attitude could mean you miss out on these efficient, cost-effective and reliable ways to gain visibility in an exceptionally crowded market.
With specific apps and services like Rightmove, Zoopla or OnTheMarket gaining influence, direct mail is a viable, impactful option for estate agencies to directly engage audiences up and down the country.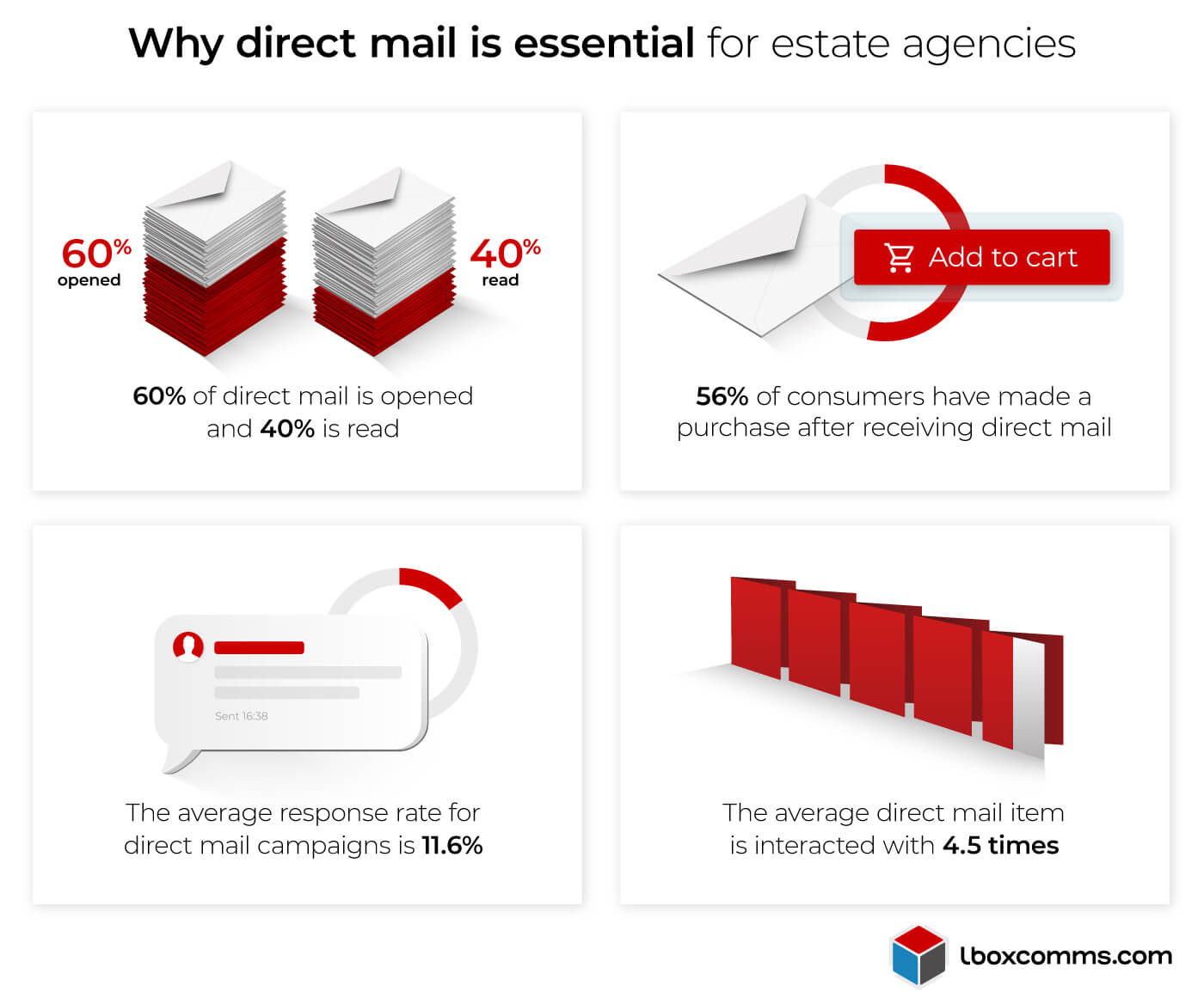 The tangible, direct and personal nature of estate agent flyers, leaflets and brochures can leave a much stronger, lasting impression on someone when compared with the fleeting nature of digital ads and marketing emails.
So, if you're looking to engage with landlords, connect to active buyers and sellers, or simply want your name in the back of their minds when people consider their next property move, direct mail and leafleting are essential channels to explore.
Should I use direct mail or leaflets?
Choosing between a direct mail or leafleting campaign for your estate agency depends largely on your core objectives. Direct mail offers a more direct, targeted option to get your communications to precise audiences. This approach inspires higher response rates, so if you have a definitive call-to-action that you want recipients to take, such as encouraging landlords or prospective sellers to get in touch, this is an effective approach.
Leaflet distribution is better applied for raising brand awareness. By regularly posting leaflets, brochures and similar mailings through the letterboxes of local communities, you help build familiarity in your main geographic areas. So even if recipients don't take a more direct response, the likelihood of them recalling and reaching out to your agency when they require your services can noticeably increase.
No matter the purpose of your campaigns, Lbox can help you achieve results and minimise costs. Whether this is through the comprehensive campaign management of our DM360 Direct Mail service, or the uniformed, GPS-tracked distribution of London Leaflets, we place your brand in the hands of relevant people in the capital, throughout the UK and across the globe.
The foundations of great real estate leaflets and direct mail campaigns
While estate agency flyers remain a powerful marketing technique for organisations of all sizes and locations, crafting one that will turn heads, generate leads and excite potential buyers and sellers is often easier said than done.
Over the years, we have witnessed what has and hasn't delivered results for customers, and have identified 4 key factors behind the best real estate campaigns.
1. Understand the purpose of your campaign
First and foremost, determine exactly why you want your materials in peoples' letterboxes. There are many reasons why estate agents use direct marketing, such as:

Connecting to local landlords to secure properties for your portfolio

Promoting your latest listings and upcoming opportunities

Inviting audiences to attend property viewings

Highlighting your past results, company news or introducing your estate agents

Showcasing area profiles where you have a number of properties available

Simply raising brand awareness with local audiences
Nailing down your purpose is paramount in deciding who your campaign should target, what it looks like and when it needs to be delivered. Without a clear focus, you risk diluting the strength of your communications.

2. Be precise when determining your audience
Accuracy is vital to maximising the ROI of any leaflet or direct mail campaign. Budgets are often limited, so you never want any resources to go to waste reaching audiences that will have no interest in what you're promoting.
For instance, you likely wouldn't send a pamphlet on a property worth £2 million to everyone in your neighbourhood. Likewise you may want to distinguish what you deliver to homeowners, landlords, property developers and other target audiences.
This is especially key if you intend on sending personalised letters as part of your direct mail campaigns. For estate agents, establishing strong relationships with clients is crucial to secure people's trust for important property-related matters. No matter if it's encouraging landlords to advertise their property on your website, or building a rapport with property owners that will one day look to sell, regularly receiving personalised letters from an agency could have a massive influence on their decisions.
Therefore, it is critical that the data behind your campaigns is solid, reliable and compliant, whether you intend to reach a certain demographic, location, or customer profile. This will not only optimise the reach and cost of your estate agency marketing materials, but allow you to tailor and personalise your communications much more effectively.
3. Apply best practices to your leaflet designs and direct mail materials
Any successful estate agency marketing campaign needs to be eye-catching, engaging and easy to digest. The design of your materials, whether you are sending a short leaflet, a quick postcard, or an extensive brochure, is crucial to ensure your message resonates with readers.
Although the visuals, paper and layout of your materials will be steered by the specific purpose of your campaign, here are a few best practices to keep in mind for effective estate agency leaflet designs:

Focus on a single, simple message – trying to achieve too much at once could confuse audiences or lose their interest
Prioritise high-quality photography – this is a core component of property marketing, and that extends to any printed items you create
Use a good combination of text and imagery to keep your readers' attention throughout – nobody wants to sift through a wall of text
Work with your service providers to choose the most impactful, yet cost-effective way, to get your message across – consider the number of pages, paper size, choice of fold, etc.
Utilise your brand colours and design elements to ensure complete consistency across your marketing materials
Follow the 'FAB' formula – Features, Advantages, Benefits – to make sure the content of your leaflet speaks to recipients
Test out different leaflet ideas to see which resonates most with your audiences – do they prefer short and snappy postcards, detailed newsletters or handwritten letters?
Try to create a sense of urgency in your content, to give readers the impression that you are presenting an opportunity too good to pass up
Make your calls-to-action clearly visible – whether it's the date of a viewing, a QR code or simply your phone number, website or email address, it's key that interested readers know what their next steps are
Following these leaflet ideas, estate agents are better positioned to create materials that draw eyeballs and demand responses, rather than encourage a one-way trip to the bin.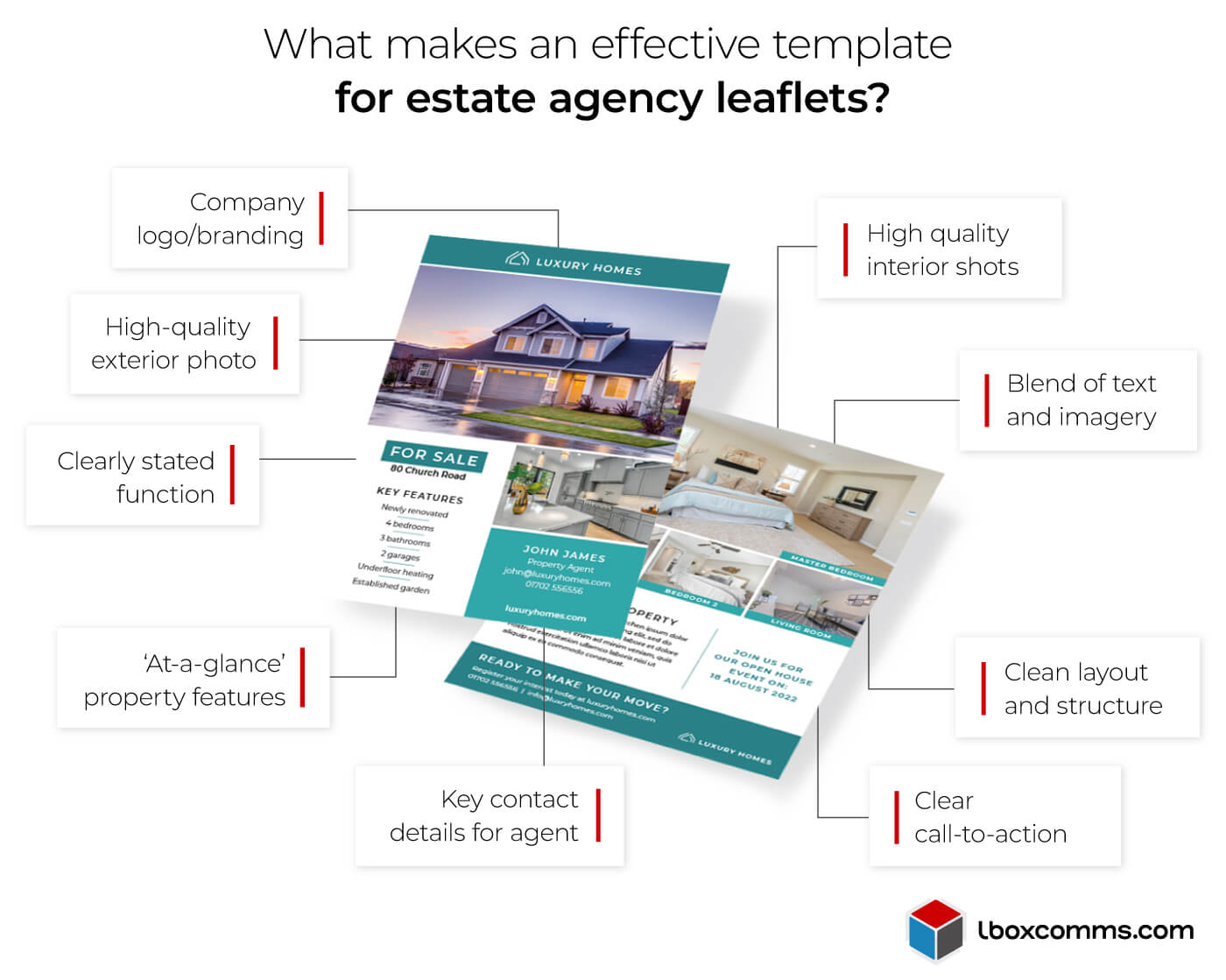 If instead of leaflets and brochures you are taking the step of sending personalised letters and similar mailings to engage property owners, AB testing different envelope formats and styles is essential in making these messages stand out.
You no doubt want people to open and actively read what you send through their door. Choosing the most compelling format for these messages, whether it is a folder A4 document or a more concise, digestible postcard, could be the all-important difference for your audiences when they're sifting through their mail.
4. Select the right distribution method
Once you are happy with the message, design and layout of your materials, it is important to establish how you want these to reach the intended recipients. There are plenty of options for real estate flyer distribution based on your requirements:

Do you want your leaflets to reach your audiences separately, making them the centre of attention? If so, Solus distribution sounds like your preferred option.

Are you fine with bundling your materials with other, non-competing campaigns to minimise the costs involved? Shared distribution would be ideal.

Are you looking for a hyper-targeted campaign centred on a very small, specific audience? Selective distribution would be the best fit.
At Lbox, we can fulfil each of these leaflet distribution methods for estate agents across London, choosing the most fitting option according to your objectives and budgets.
With DM360 Direct Mail, we help clients throughout the UK find the most cost-effective and efficient way to print, fulfil and post all materials. This ensures your campaigns reach your audience in-line with your expectations, and that your ROI is maximised by making smart, considered savings along the way.
Discover the home of intelligently delivered communications
Cutting through the digital noise and presenting a tangible, physical offering for readers, direct mail can often represent a more meaningful approach than digital equivalents for estate agencies looking to leave a lasting impression on potential clients.
We hope this essential guide helps you take your communications to the next level and capture the imagination of your readers. At Lbox, we do everything to help estate agents drive sales, lettings, enquiries and interest, managing every aspect on your behalf, and giving you complete peace of mind, no matter if you are inspiring responses from a highly-targeted direct mail campaign, or raising locals' awareness of your brand with a consistent cycle of leaflets, brochures and magazines.
DM360 Direct Mail provides expertise at all 6 stages of the direct mail journey. Utilise our turnkey solution for total end-to-end management, from gathering data and guiding your designs, to fast turnaround print, fulfilment and delivery.
Alternatively, with London Leaflets, our full-time, uniformed and GPS-tracked distributors reliably reach addresses anywhere inside the M25, delivering the highest standards of door-to-door distribution anywhere in the capital.
Working right alongside you, we:

Establish the right audience for your estate agency

Identify the right leaflet distribution areas

Print on the most appropriate paper

Specify the right size and fold

Deliver the material in the most suitable manner
For more on our range of services for estate agency leaflets, flyers and wider types of direct mail, get in touch today.