Direct Mail
Guide to Building a Mailing List for Direct Mail Campaigns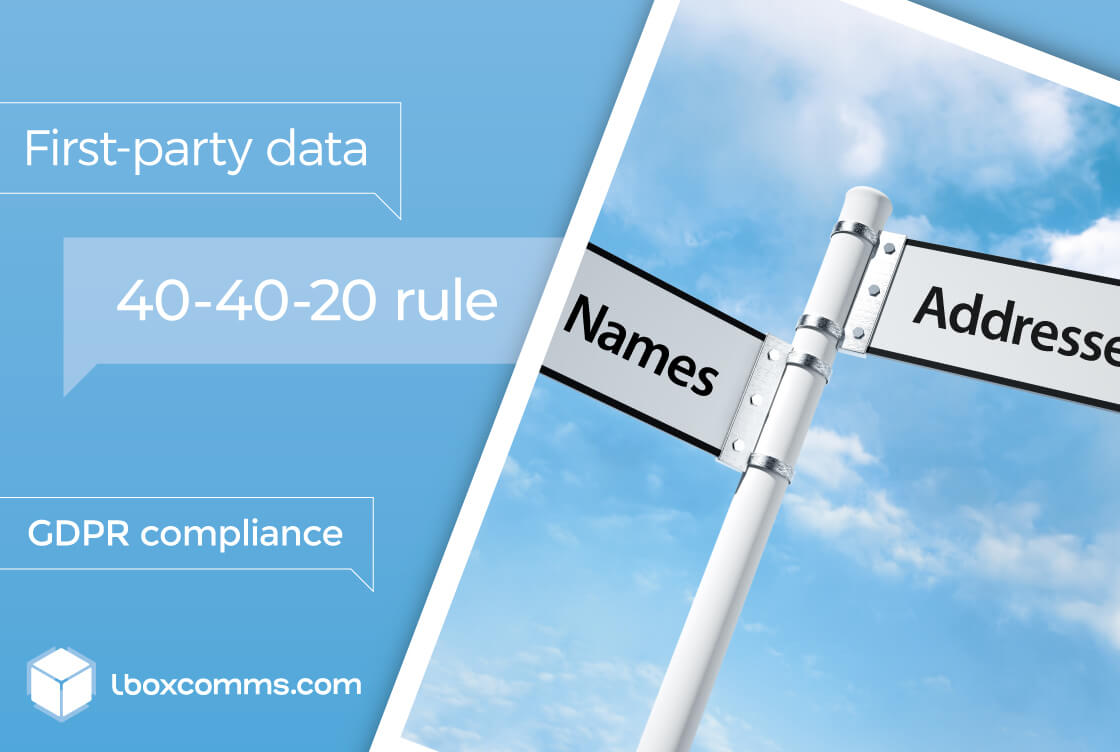 In direct mail marketing, there's arguably nothing more crucial than your mailing list. If you want to get 1,000 clear responses from your target customers, theoretically, your direct mailing list should have 1,000 people. However, you'd need a miracle to secure a 100% response rate from your direct mail advertising.
Realistically speaking, while that goal is nigh-on impossible, the fact that you've recognised the importance of direct mailing lists is an essential first step. How you build and use your mailing list can make a huge difference in your direct mail response rates and your campaign success as a whole.

How to build a list for direct mail
Consumer trust in direct mail is booming currently, with many businesses and charities nationwide recognising the true potential of direct mail marketing campaigns. However, one area which is frequently overlooked or left very last minute and rushed is the all-important mailing list.
The direct mail 40-40-20 rule
For years, businesses have followed the 40-40-20 model when sending mailshots, printed leaflets or flyers. For those that don't know, this rule was defined by Edward Mayer, who explained that direct mail success and performance are based:
40% on the audience
40% on the message and offer
20% on the creative execution
If we're to follow the same logic, it's essential to select the correct mailing list. Not just that, but to continually refine, tweak and improve it. This is so you can target more specific segments of your audience with razor-sharp accuracy, concise messaging and, by extension, greater responsiveness.
In its simplest form, a mailing list is a collection of names, physical addresses and contact information of your customers and prospects. A direct mailing list could also include sets of other demographics, including (but not limited to) shopping behaviour, lifestyle and interests.
Types of direct mailing list
There are several direct mail list types, and the one you use will depend on your budget, deadlines, resources, audiences, and goals for reaching them. The available options include:
In-house lists – Your first-party data is usually a good starting point. This home-grown list should provide insight into your audience's demographics, preferences and buying behaviour.
Direct response lists – Also known as second-party lists. These lists represent actual purchasers of services/products similar to yours, where you can research more specifics like average order size and spend.
Subscription lists – Look through any subscribers to your physical or digital publications or services for fresh additions to your mailing list(s).
Event lists – Events are excellent for finding people to outreach to, particularly in the B2B sector.
Compiled data lists – Third-party data is obtained from external sources. Ideally, they'd be filled with prospect data that would complement your mailing list(s).
Experian data lists – Look to brokers like Experian, who can provide accurate, up-to-date, GDPR-compliant data on people that would benefit from your direct mail printing and delivery.
Best practices for direct mailing services
Each leaflet distribution type differs slightly in how it's executed. If you're currently struggling for responses or want to improve your direct mail campaign list, we suggest you follow the below steps to make it more effective.
#1 Define your target audience

Pinpoint exactly who your buyers are. If you cater for multiple audiences, that's OK, but they may require a different approach as adopting the same strategy for various audiences may waste effort and budget.
#2 Choose your direct mail marketing strategy

Which direct mail strategy will work best to reach your potential customers? You'll need to think about your short-term and long-term goals, budget and timescales. Consider saturation mailing if large quantities of residents in a geographic area would benefit from direct mail. Alternatively, targeted direct mail can be reserved for specific customers that would engage with your material.
#3 Segment your mailing lists
Direct mail segmentation is crucial for creating mailing campaigns that deliver what your customers want. Instead of targeting as many people as possible, focus your direct mailing lists on narrowly defined groups of people. This could include geographic (location), behavioural (buying habits), psychographic (lifestyle), demographic (age, ethnicity, income etc.) and more.
#4 Test your campaign elements
It's crucial to test your direct mail communications and consider alternatives if certain aspects prove ineffective. Test segments, offers, types of print, types of postage, leaflet and brochure formats, amongst others. You can also consider changing your CTA, and seeing whether you have more success getting your customers to ring your phone number, follow you on social media or contact your email address.
Methods to avoid with mailing lists
It's clear to see how beneficial leaflet distribution campaigns can be, provided they're mailing lists are managed professionally.
Some general points to consider avoidingwith direct mail campaigns include:
Prioritising quantity over quality.
Mailing the wrong audience.
Not considering who would actually benefit from receiving a piece of mail.
Sending mailings to old addresses more than once.
Ignoring your analytics and metrics.
Nationwide mailing house solutions
We hope the above guide has provided you with more insight into the importance of direct mail lists. If you'd like some further assistance, Lbox Communications are experts in running direct mail services nationwide, with decades of experience helping clients nationwide achieve an exceptional return on investment with cost-effective, targeted direct mail campaigns.
We can do the same for you – whether this is in sourcing mail campaign data from sources like Experian, 24-hour in-house direct mail printing and mail fulfilment, or securing competitive bulk mail postage rates.
If you'd like to get your campaign off to a flying start, speak to one of our team today.