tellthem
Must-Know Tips for Effective, Efficient Roadwork Notifications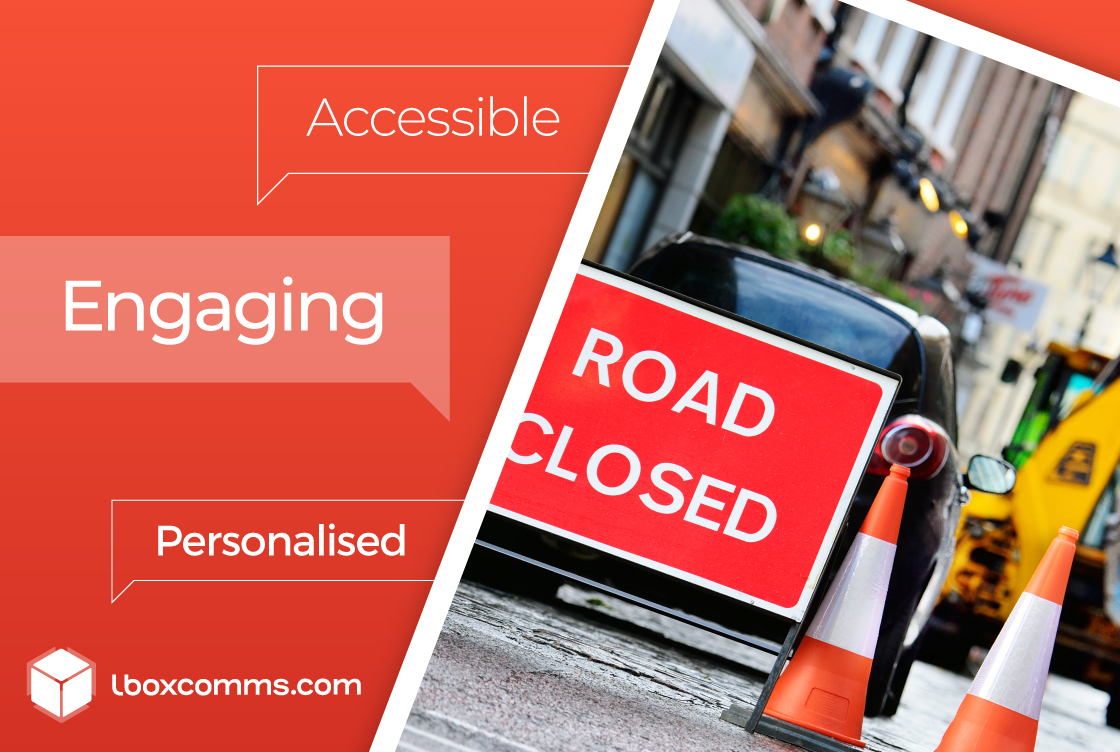 While roadworks are essential to maintaining and improving the vast network of roads across the UK, they are also sources of major disruption. From minor works in small neighbourhoods, to major works on motorways and A-roads, these have the potential to bring traffic to a standstill and provoke a lot of frustration.
Good communication is key to minimising this disruption. Providing timely and accurate information on road closures and diversions to local communities is crucial to our roads running smoothly in all circumstances, and preparing people for any impact on their day-to-day lives.
In this article, we outline the importance of roadwork notifications, and how to deliver these in an effective, efficient way.
What are roadwork notifications?
Roadwork notifications are typically used to inform nearby residents, businesses and stakeholders about projects affecting their community. This may alert them of road closures or disruption to their usual routes, or provide information on the purpose and duration of works.
For works arranged by local and county councils, these communications will often be mandatory. However, when roadworks are carried out by telecom or utility companies, it will be at their discretion whether they send information to nearby neighbours.
Who needs to know about roadworks and road closures?
This will depend on the scope, duration and location of any roadworks. The short-term repair of a pothole in a small residential area may only require a few homes to be informed. For a larger, longer-term project in a town centre, populated urban area or busy A-road, a much wider net may need to be cast.
In the simplest terms, any local residents or businesses that could reasonably be affected by a project should be given advanced warning – especially if it could interfere with travel plans.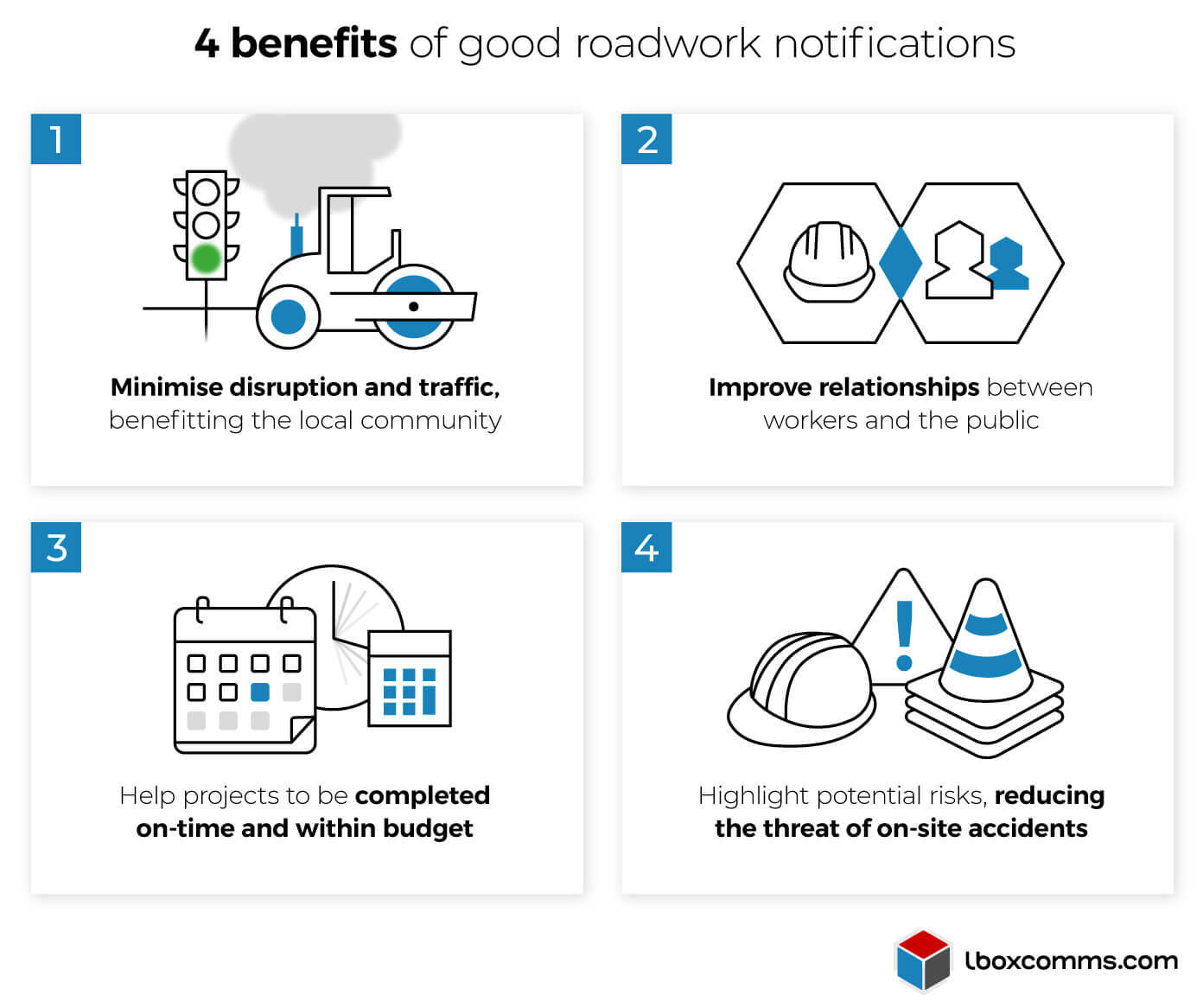 What work notifications can be used for these projects?
Today, there are several communication channels councils, contractors and more use to send notifications to communities, including signs, social media updates, radio adverts and email campaigns.
In addition, websites like one.network offer a real-time display of known road closures, diversions and traffic restrictions UK-wide.
Yet, physical mail remains the most effective communication network for these projects. Despite more modern, digital options, this offers several key benefits: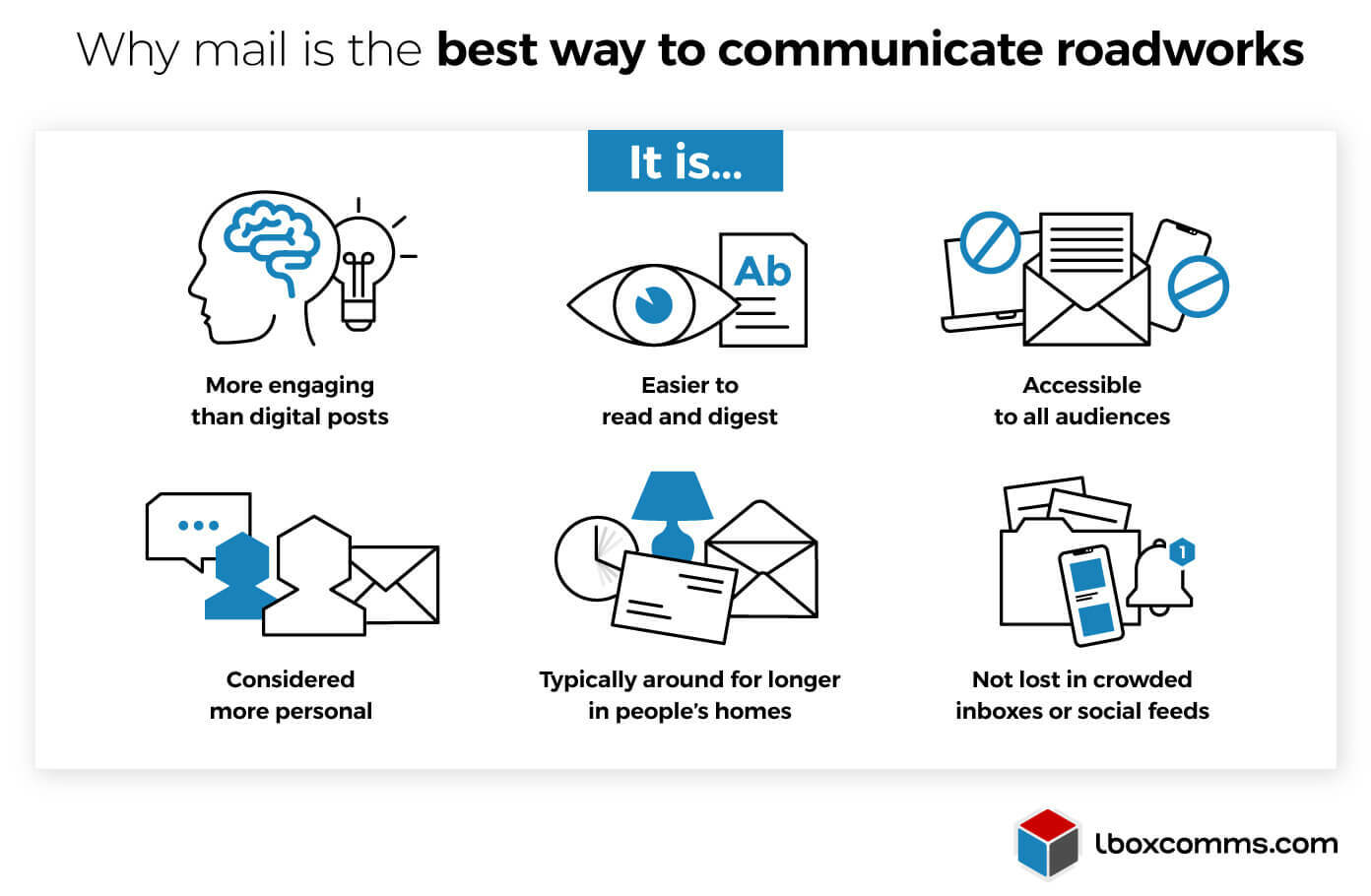 5 tips for successful roadwork notifications
Depending on the extent and location of roadworks, they can cause major traffic management problems, which is why good engagement and communication are so crucial.
If you want to help ensure that your roadwork notifications and communications reach the right people and engage your audiences, consider the following tips:
1. Know the purpose of your roadwork communications
First, nail down exactly why you are sending your mailings to tailor your message with absolute clarity:

Are you warning locals about temporary road closures and their impact on travel?

Are you informing residents of potential noise disturbances?

Are you alerting neighbourhoods of safety hazards on roads or pavements?

Are you trying to explain the purpose of these roadworks to stakeholders?
Being 100% clear on the purpose of your communications will make sure all information is focused and relevant, with no risk of confusion.
2. Accurately target your audience
Accuracy is paramount for planning communications. You want to make sure everyone who needs to know about these works is informed to cut down confusion and fulfil obligations – but only send the necessary number of mailings to minimise the impact on your budgets.
With this in mind, it is vital to evolve beyond using physical maps and highlighters to draw out your delivery areas. This is not only an imprecise way to pinpoint addresses, but also highly inefficient.
3. Include all relevant information
Whether you are sending a single message in the lead-up to a project, or multiple mailings across a long-term development, it is critical that all necessary details are conveyed:

Scheme name and location

Contractor, developer or council name and logo

Description of works

Purpose of project

Outline of site layout

Who is conducting the work

Start and end dates of the project

Daily hours affected

Likely impact on road users/pedestrians/locals

How weather changes could impact progress

Where people can get further information

Contact details
4. Format your mailings effectively
In addition to including all critical details, it is beneficial to lay out your communications in a way that best engages intended recipients. This may include: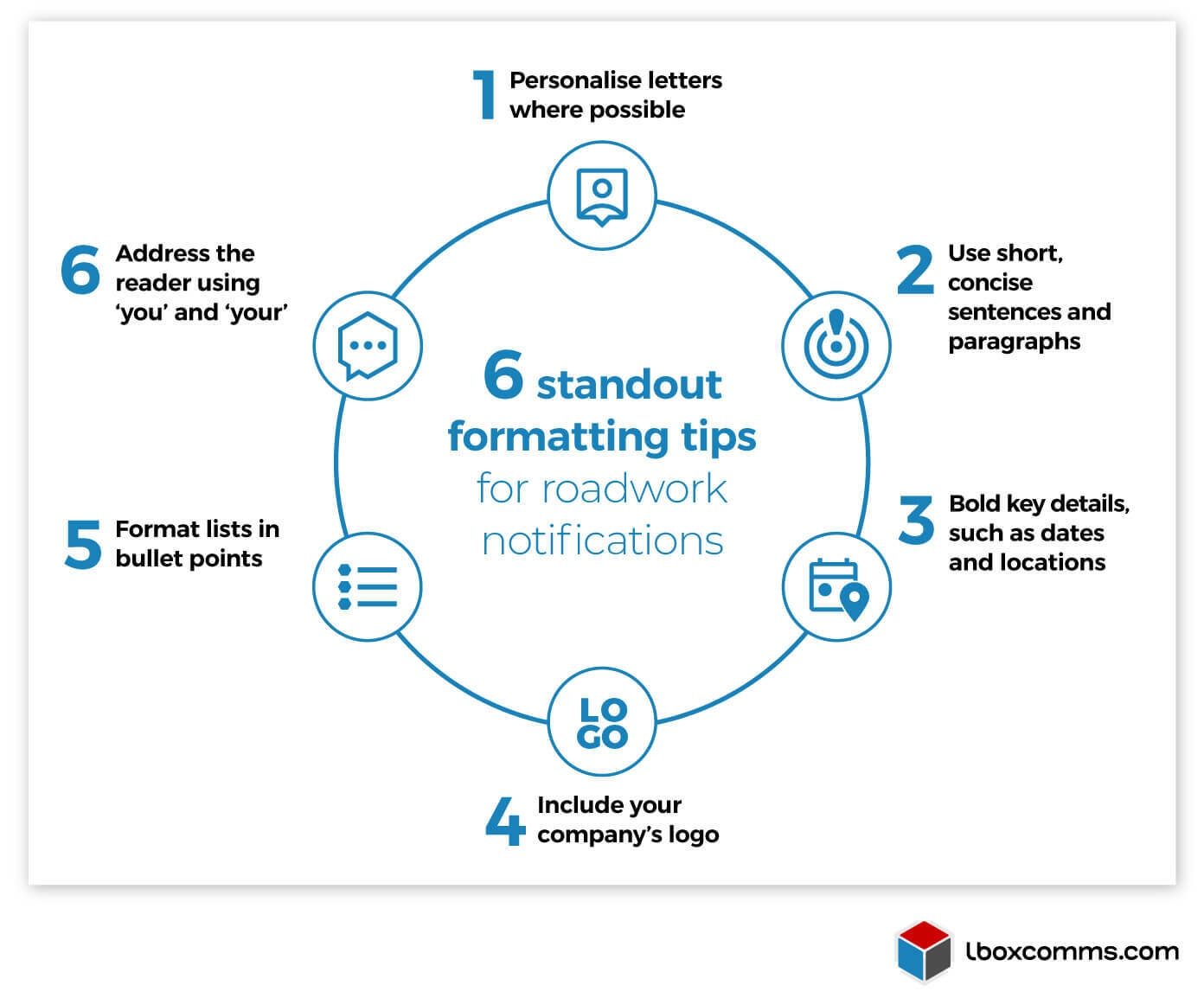 These will improve the likelihood of people connecting with your materials, which in turn could benefit the progress of your roadworks.
5. Use tellthem™ to plan roadwork notifications efficiently
We understand that arranging mail communications ahead of roadworks has long been a tedious, time-consuming process. It must be done, and done properly, but it comes at a cost.
Hours are spent building address lists and highlighting print maps. Time is wasted on phone calls or emails coordinating print and delivery services. You may even resort to sending employees out to deliver mailings by hand, which is neither rewarding nor optimal.
There is a better way. A faster way. A smarter way. With tellthem™, this once-painful process can be taken care of in just a few minutes on one online platform – accessible at no subscription cost.

Instantly find locations with the rapid search function

Draw precise delivery areas in seconds, from whole regions to individual streets

Arrange all print and postage requirements in a few clicks

Produce and send orders of up to 10,000 items at 24 hours' notice

Quotes and address lists update in real-time with every change you make

Track, manage and repeat all jobs in an easy-to-use dashboard
Time saved. Resources retained. Roadwork notifications handled with unrivalled efficiency and accuracy. Informing communities about upcoming roadworks has never been faster or more cost-effective, so even last-minute jobs can be conveyed to locals at short notice.
Is it time you unlocked the smarter, simpler way to mail? Get in touch if you'd like to know more about tellthem™, or start our free, no-obligation demo right now and get to grips with the world's only Targeted Delivery & Mapping Platform (TDMP).