tellthem
Why You Don't Need a Postcode Finder for Targeted Mail Communications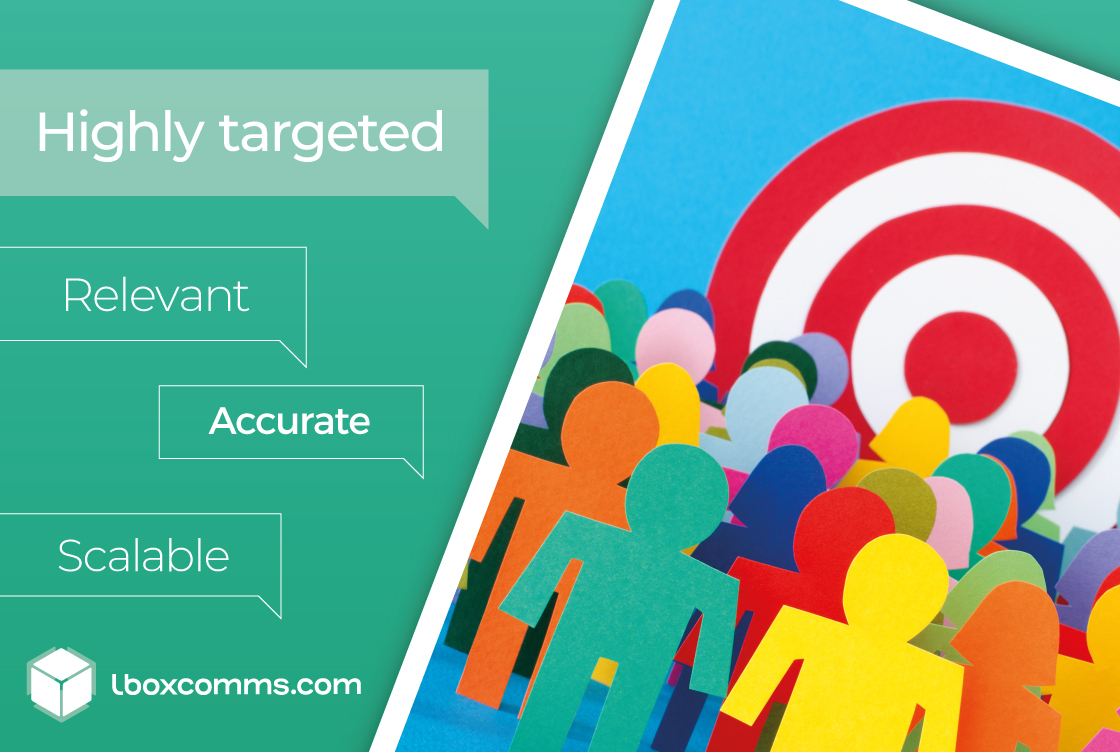 Key takeaways from this insight article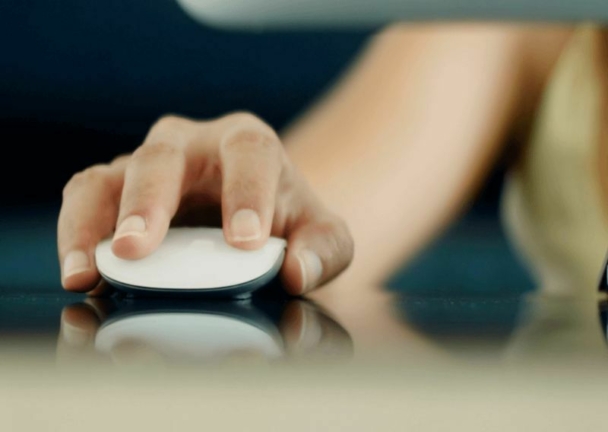 What you'll learn:
What postcode finders are and how they work

The reasons why people still use postcode finders…

…And the major limitations of these tools

How to target your campaigns faster and more accurately
Planning to conduct essential maintenance on busy roads and rail networks? Proposing redevelopment plans for a busy public space? Then you've probably been obligated to inform or consult the public ahead of these works commencing.
Failing to make affected households aware of new developments does not just cause friction in the community. In some scenarios it can slow down the approval process, delay schedules and stretch budgets to their limits.
Ensuring the right people receive communications at the right time is a top priority. However, keeping communities informed with highly targeted mail is a huge undertaking. To help, many firms use postcode finder tools to build a database of accurate, relevant and valid addresses.
In this article, we discuss postcode finders, why they are so widely used, and how a Targeted Delivery and Mapping Platform like tellthem™ makes this essential process even simpler.

What is a postcode finder?
Postcode finders are popular pieces of software that allow businesses to find the addresses of properties within the radius of work sites. With this information, they can accurately determine where notifications have to be sent, and how many items need to be printed and delivered.
This means that instead of sending essential mail notifications indiscriminately in the vicinity of disruptive construction works or an upcoming development, every household that could be affected by a project is made aware of any potential disturbances.
Why are address finders used?
Often used to send highly targeted direct mail marketing pieces to new and existing customers, online postcode finders are also regularly used to plan communications that inform residents, businesses, constituents and stakeholders.
This is because postal code checkers offer several advantages:
No more guesswork
Address finders offer organisers the confidence and reassurance that the notifications they send will reach every letterbox in an area. No houses missed. No invalid postcodes. Total compliance with local outreach guidelines.
Increased cost-effectiveness
The ability to accurately gauge the number of addresses within the radius of a worksite does not just offer firms peace of mind over their obligations. It also reduces the amount of time and money teams spend planning and sending these vital communications.
By knowing every address in the area, this means you order only the exact number of mailings required, rather than overspending on print and postage by estimating.
Greater scalability
Postcode finders make informing communities significantly more scalable, as consulting specific groups requires substantially less time and resources than the manual, paper-based methods of old – important for firms whose proposals span nationwide.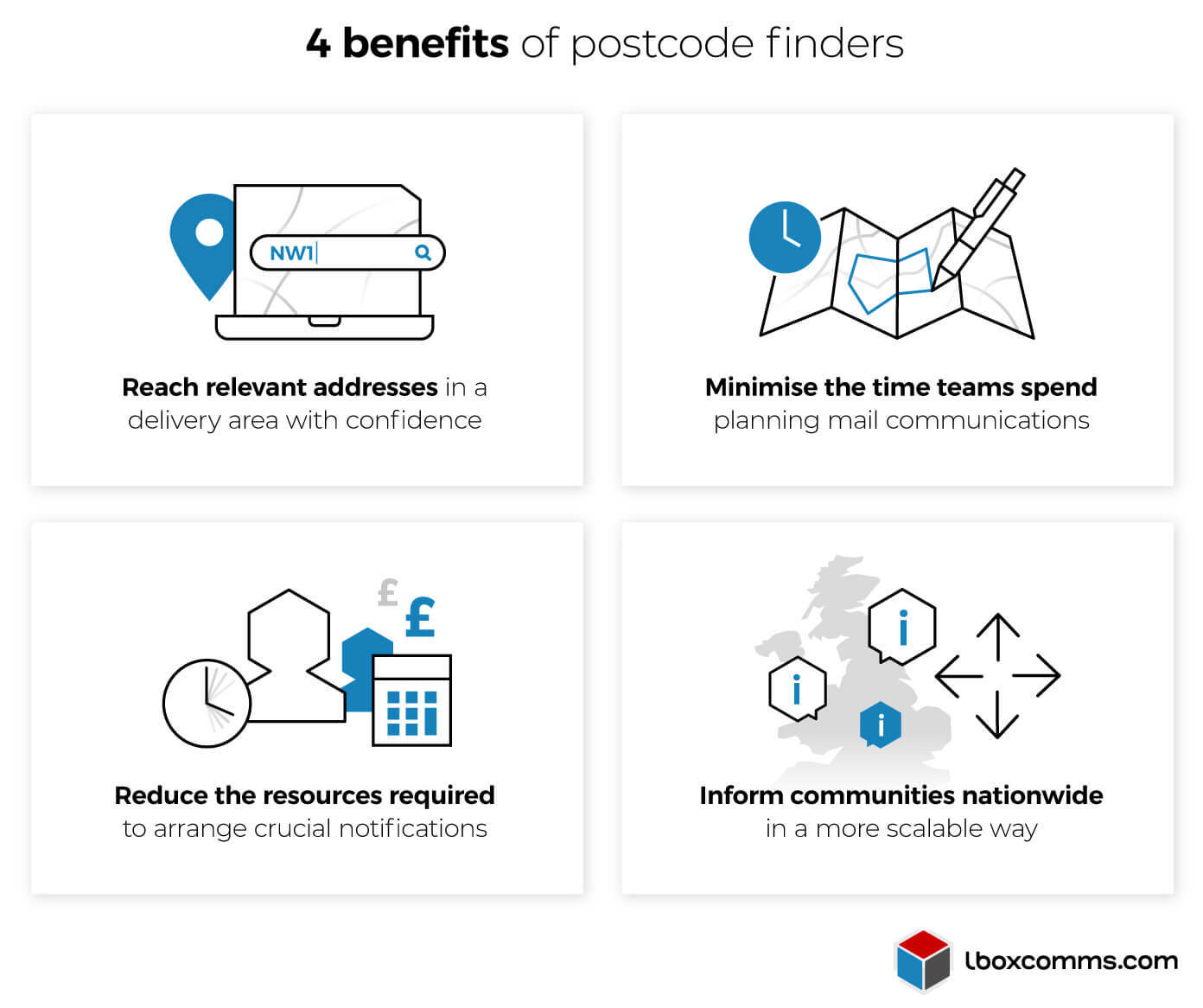 Examples of postcode finder tools
Royal Mail Postcode Finder
Consisting of more than 30 million postal addresses and nearly 2 million postcodes, Royal Mail's Postcode Finder is the go-to tool for finding UK-based addresses and postcodes.
Zoopla's Address Finder
Although Zoopla's address finder is mainly aimed at homeowners and prospective buyers, it can instantly count the number of properties within a designated postcode.
Postcode Checker
A tool such as Postcode Checker allows details such as streets and addresses to be instantly identified by dropping a pin on a map.
These are just a few of the most notable postcode finders out there. And while their specific capabilities differ, even the best of these resources carry significant limitations for people planning crucial mail communications.
The constraints of postcode finders
While tools like those mentioned above offer firms a faster, easier and more accurate way to plan and send crucial notifications when compared with traditional paper-based mapping, they are far from the best way to fulfil this essential task.
Address and postcode finders still require delivery zones to be mapped out by hand and households individually counted. This makes human error a constant consideration when building mailing lists – problematic at times that demand total accuracy and precision.
In addition to that, postcode finders rely on each postcode to be manually entered, and the addresses exported one by one. In a dense city like London, a single round of notifications could constitute hundreds or thousands of keystrokes, not to mention hours of tedious and costly work.
It is also important to note that finding addresses and creating a database represents just one step of a wider, more comprehensive process. In order to effectively inform communities, businesses still need to organise the production of their mail items and coordinate with postal services to deliver their notifications on time.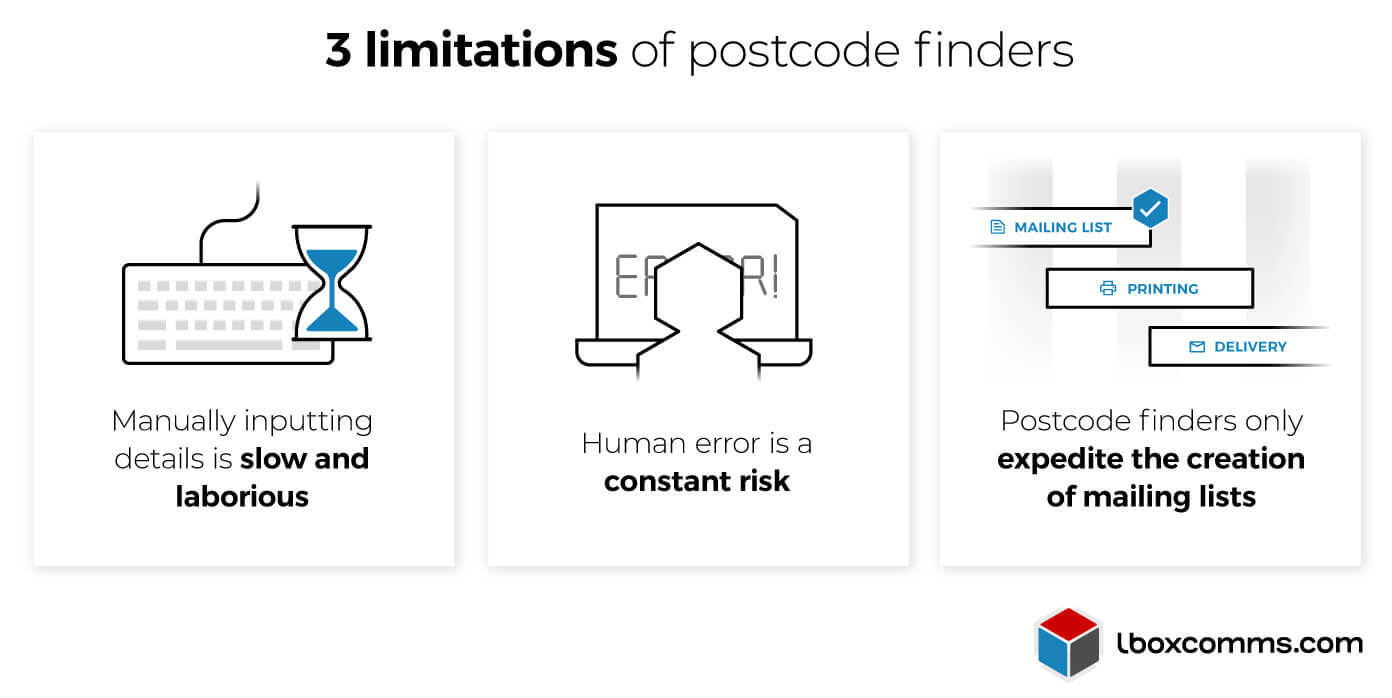 Scaled up across multiple jobs, it's plain to see the sheer amount of work that is still required to get targeted mail communications in recipients' letterboxes after using a postcode finder.
Why tellthem™ is the future of targeted mail communications

Countless firms across the UK rely on these imperfect, inefficient tools and processes to keep communities in the loop.
But what if there was a solution that could overcome these limitations? One capable of planning and sending accurate notifications to residents, businesses, constituents and stakeholders faster and simpler?
With tellthem™, our unique and free-to-use Targeted Delivery & Mapping Platform (TDMP), we give you the tools to map delivery areas with ease and arrange print and postage of your communications in minutes – all online, from a single platform, with no subscription cost.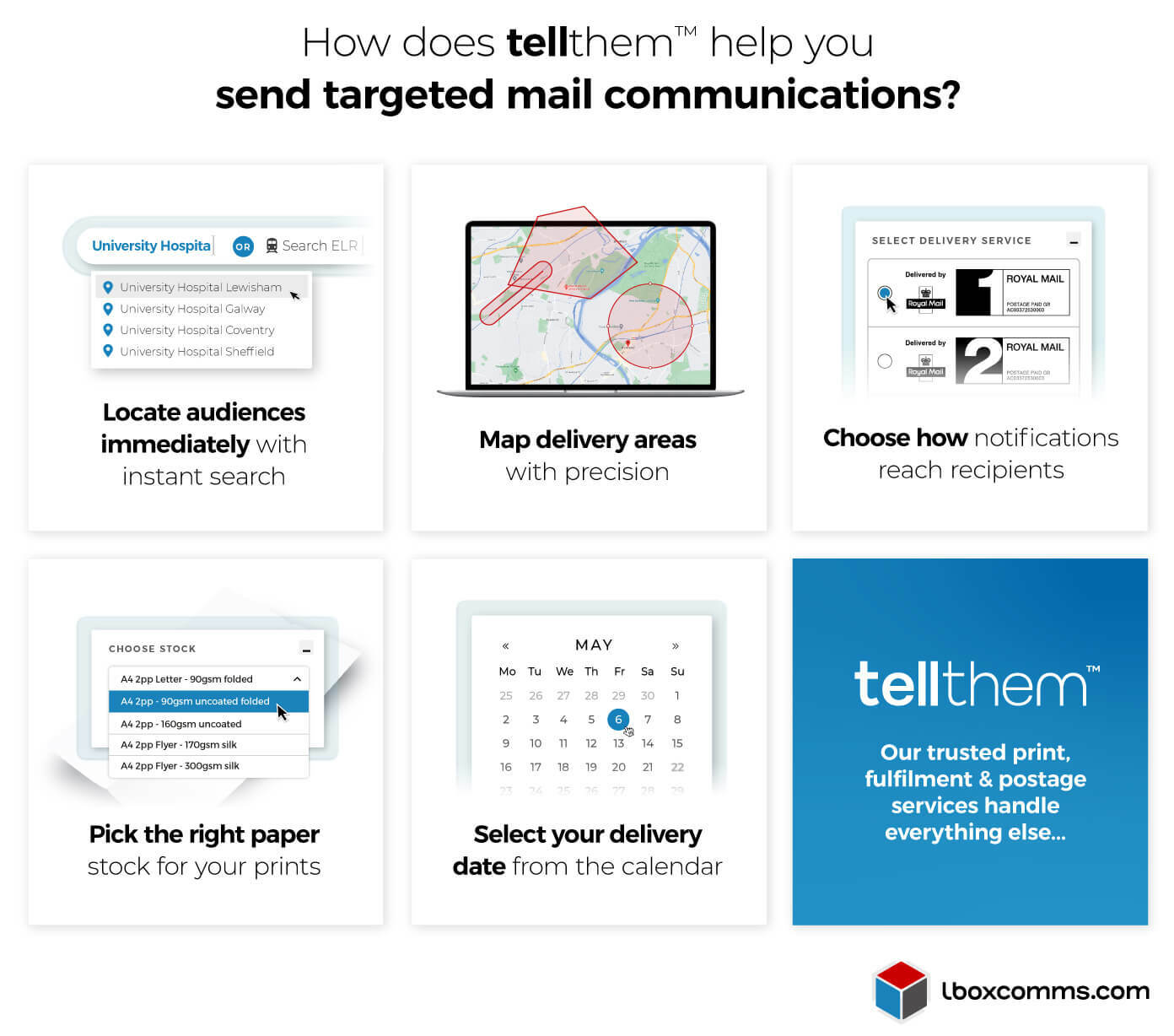 The hours you spend hand-drawing maps and coordinating print and delivery services are over. tellthem™ rolls these once tedious processes into a single platform, capable of organising all aspects in mere minutes. Welcome to a new era of speed, accuracy and efficiency.
Even better? tellthem™ is totally free to use. No subscriptions or hidden fees, you only pay for print, fulfilment and delivery upon order. Set up communication jobs or cost your consultations ahead of time, anywhere in the UK, with the precision to target single postcodes or specific sides of the street.
Want to learn more about tellthem™, the fastest, simplest way to get your communications and consultations in peoples' hands? Get in touch with our team, or try the free tellthem™ demo right now.
Or you can find out more about our other services below: