tellthem
Using Postcode Targeting for Crucial Mail Communications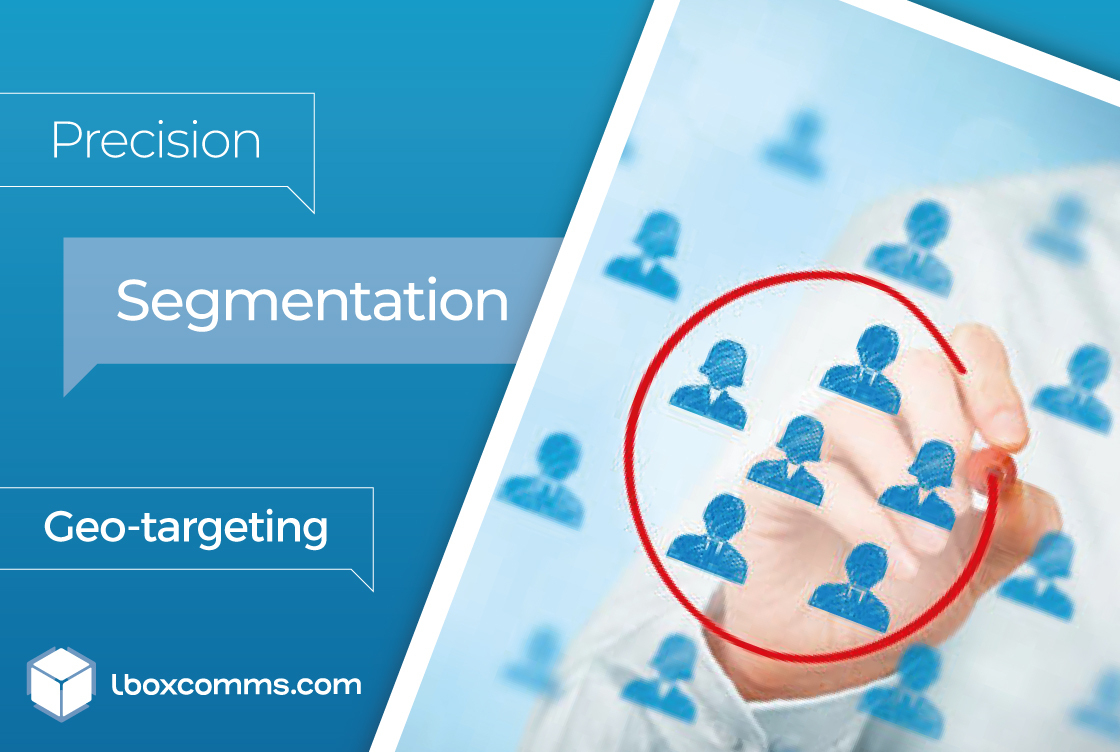 Key takeaways from this insight article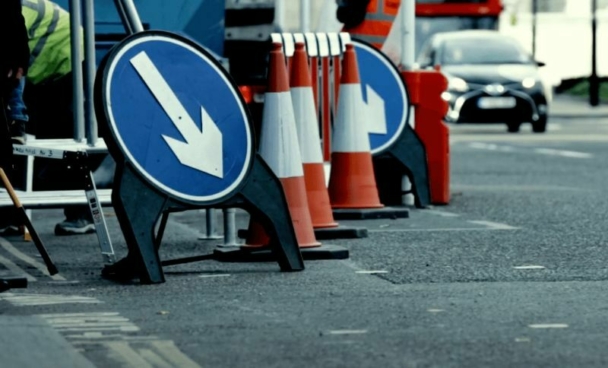 What you'll learn:
What postcode targeting and Postcode Finders are

The benefits of using these over traditional maps

The flaws that hold postcode targeting back

The differences between Postcode Finders and TDMP software
When construction or development works threaten to disrupt the daily lives of residents, businesses, constituents and stakeholders, mail communications are the best way to keep communities informed.
No matter if this is done as best practice or a legal obligation, it's crucial that everyone in the vicinity of a work site, or anyone who stands to be affected by upcoming events, gets the information they need.
Accuracy is essential. All relevant addresses must be reached to ensure you fulfil your requirements and disruption is minimised – no exceptions. Finding a way to target the precise community you need to reach is a top priority.
Postcode targeting is one of the most effective techniques to secure this much-needed accuracy. Below, we explain what it is, and how tellthem™ makes this possible in just a couple of clicks.
What is postcode targeting?
Rather than send out mailings indiscriminately to an area, postcode targeting – as the name suggests – enables you to identify and target addresses in specific postcodes, without infringing on strict GDPR laws.
Royal Mail's database consists of around 30 million postal addresses across the UK, as well as over 1 million postcodes. Using a tool like their Postcode Finder, you can find and collect the addresses you would need to reach if you are conducting construction works in the vicinity.
This makes postcode targeting vitally important for these types of mail communications. Because you are unlikely to have the personal details of households and stakeholders at your disposal, particularly if your projects are spread nationwide, this allows you to determine where you need to send mailings to and how many you need to produce.
Why use postcode targeting?
In circumstances where accuracy is paramount, postcode targeting can help make mapping resident communications significantly more precise and straightforward.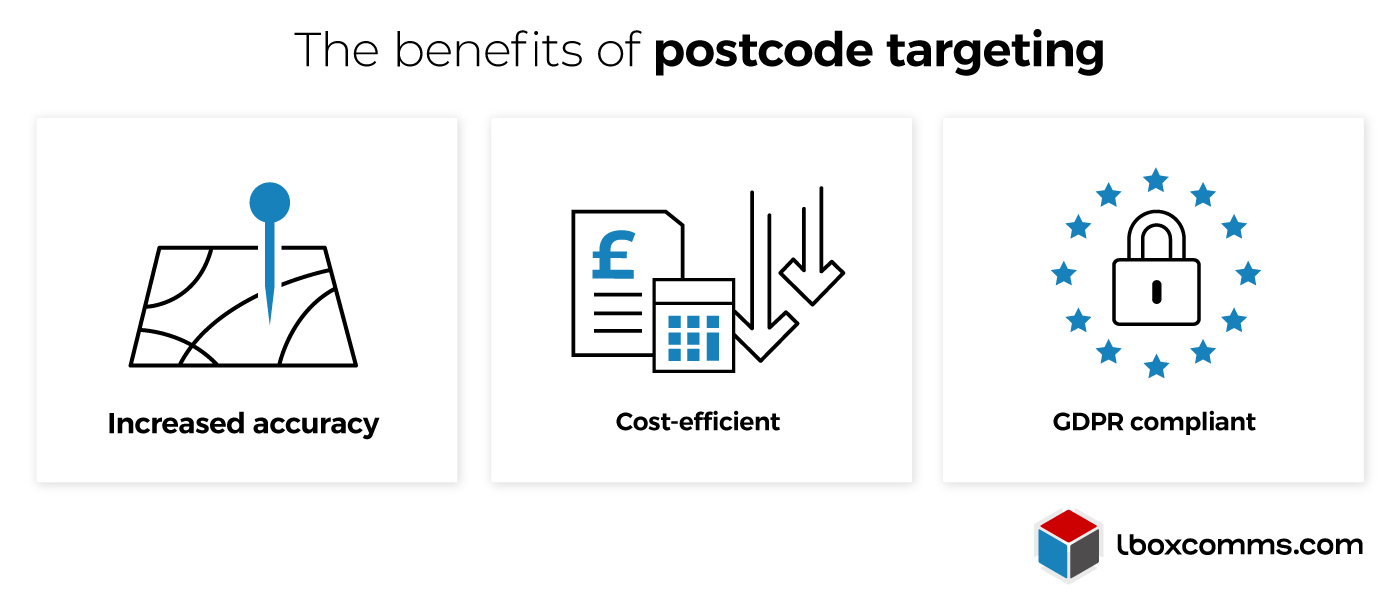 Increased accuracy
As noted, thanks to Royal Mail's comprehensive and up-to-date database, postcode targeting can help you find any address in the UK relatively easily.
This helps to ensure that no address is overlooked when you're identifying the households, businesses and more that you must inform. You can be confident that no letterbox is left unaccounted for, and that you have completely met your obligations.
Cost-efficient
When compared to acquiring geographic location data from third-party sources or manually looking through maps and address books to find the right addresses, postcode targeting is unquestionably a more cost-effective and productive approach.
Plus, Postcode Finder and similar tools are usually simple to use and provide quick results. This means you aren't having to jump through hoops to locate the data you're after. However, gathering it from there is an entirely different proposition… (more on that later)
GDPR compliant
The address information gathered from postcode targeting is GDPR compliant. Because you are only identifying the address and not the people living there, this is not considered personal data, so you can send information with complete peace of mind.
Limitations of conventional postcode targeting
When you compare this with the really old-school approach of having to dig through address books or vaguely drawing circles on paper maps, postcode targeting through a tool like Postcode Finder is far faster, easier and more accurate.
However, that doesn't mean it is the optimal approach to take. For instance, while searching for addresses on Postcode Finder is relatively fast, copying and pasting these into a spreadsheet or document to build your address list is anything but.
Having spoken to numerous people that have depended on this to build their target audience, several common words spring to mind. Slow. Mind-numbing. Tedious. Painful. Exhausting. That summarises the steps required to turn the information gathered from postcode targeting into actionable data.
Then, there is the cost aspect to consider. Sure, using Postcode Finder is free, but the hours one or more members of your team will waste compiling the addresses together isn't. They could be doing something far more productive with this time – or at the very least something more enjoyable!
Finally, while these postcode targeting tools will accurately locate all of the addresses in a specific postcode, what if you only need to target a single side of a road? Or just a handful of houses around a particular corner or point?
These tools will not often make it clear as to where the addresses you find are positioned, and that means to be safe you'll need to send mailings to all of them. This sends print and postage costs soaring, or leaves you resorting to Google Street View and other makeshift ways to pick out the most fitting addresses.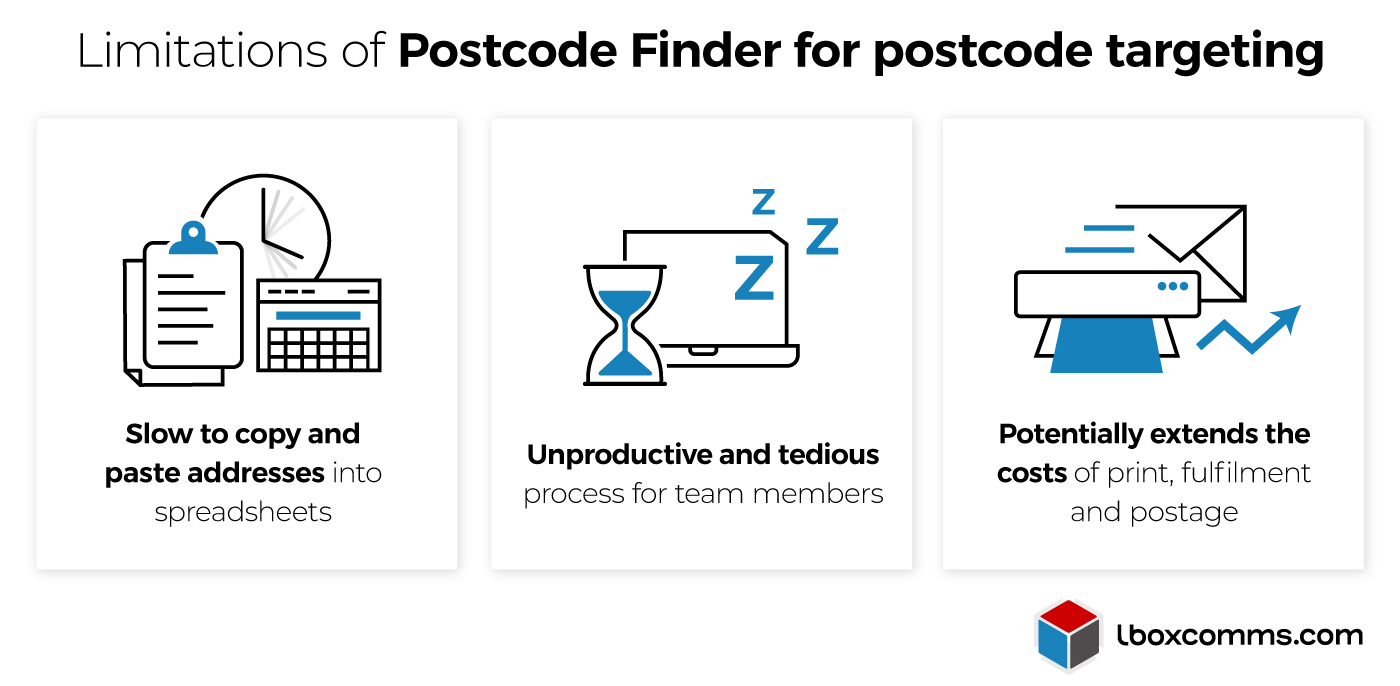 Introducing tellthem™, the smart way to inform communities
When you need to get vital information to the right addresses, often at tight deadlines, depending on hand-drawn maps and data painstakingly gathered from Postcode Finder is not going to be sufficient.
Scaling this up across multiple projects over the course of the year, these approaches could be costing you precious hours and resources – as well as offering no guarantees that you will reach every resident, business, constituent and stakeholder you are required to.
When you want to make this time-consuming process faster, simpler and more precise, tellthem™ is the answer. Our unique Targeted Delivery & Mapping Platform (TDMP) takes the concept of postcode targeting and supercharges it, making it practically effortless to identify relevant addresses ahead of construction works and other developments.
This is made possible by instantaneous search and intuitive mapping tools. By harnessing Google Maps, tellthem™ allows you to input a postcode and be directed to that area immediately. Plus, the versatile search bar empowers users to input any locational data they have to hand for their mail campaigns, including:

Roads and streets

Cities, towns and villages

Boroughs

Local landmarks like train stations and restaurants

what3words codes

From there, the 3 easy-to-use mapping tools – Polygon, Radius & Buffer Line – can draw custom delivery areas in seconds, capturing every address contained within that zone. Total precision for every job, and total ease of producing address lists. No copy and paste. No spreadsheets. No wasted hours or resources.
And, like Postcode Finder or similar tools, planning campaigns tellthem™ is absolutely free, and taken care of in a single online platform.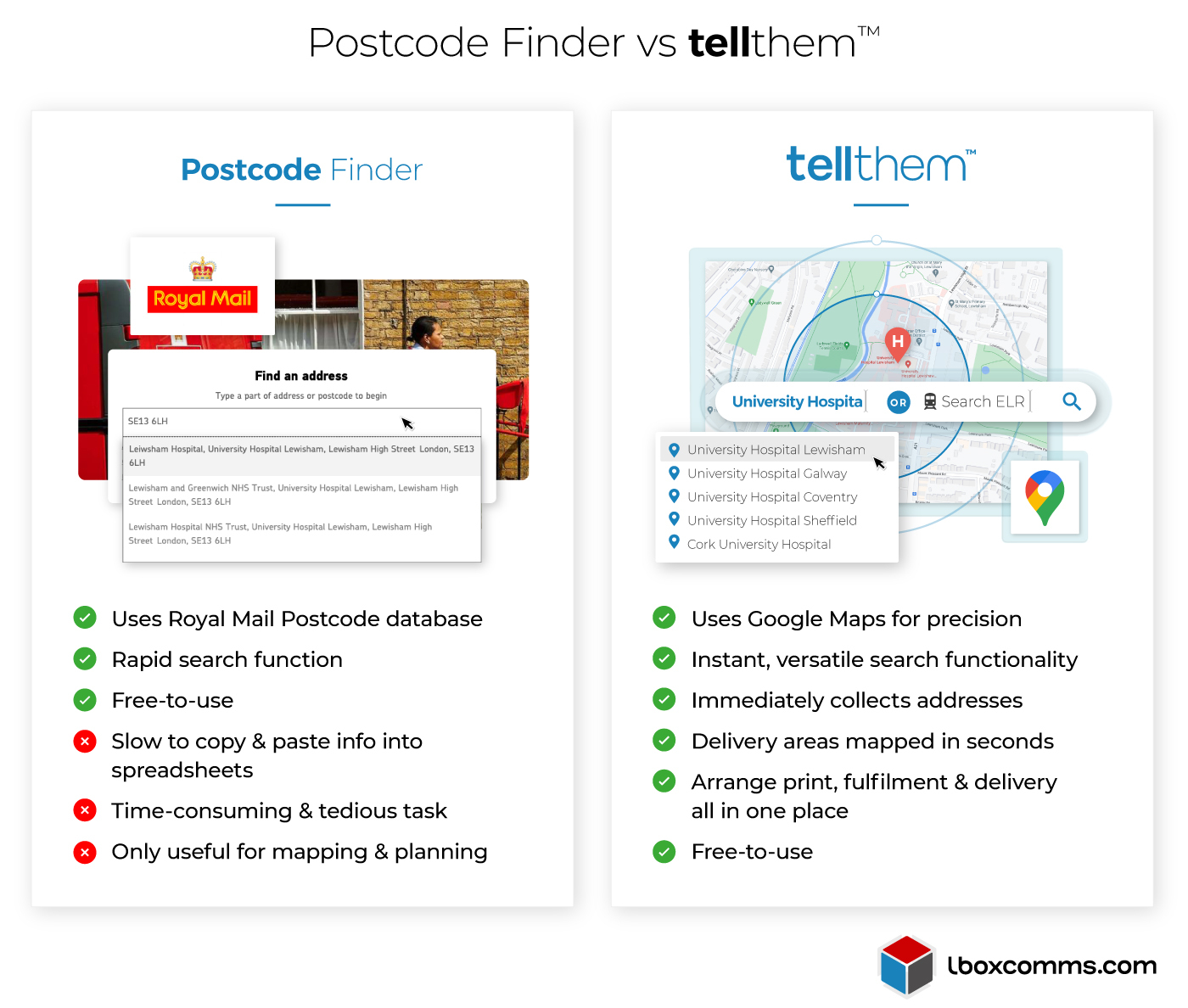 Deliver essential notifications with ease
Postcode targeting has undoubtedly made locating audiences for crucial mail communications simpler and more accurate than in years past. But with tellthem™, targeting addresses has never been so exact and straightforward.
And beyond mapping, this all-in-one platform makes every other aspect of mobilising mail campaigns faster and easier:

Arrange print, fulfilment and delivery of your mailings in a few clicks – no frantic calls trying to coordinate different providers

Choose from 1st and 2nd class Royal Mail delivery across the UK, or unaddressed delivery to anywhere inside the M25 – we take care of everything

Fast turnaround, high-quality print for any size and scale of mailings, with next-day delivery for orders up to 10,000+ items

All jobs are permanently saved to your dashboard, making it easy to repeat jobs and track progress
Works notifications reach affected addresses before disruption begins. Feedback forms and questionnaires arrive on time to gauge public opinion. Projects and proposals stay on track. With tellthem™, you have the tools to work smarter, not harder.
If you're ready to discover a faster, simpler way to get your communications and consultations in peoples' hands, get in touch with our team, or try the free tellthem™ demo right now.