Guides
4 Tips for Effective Political Leaflets & Direct Mail Campaigns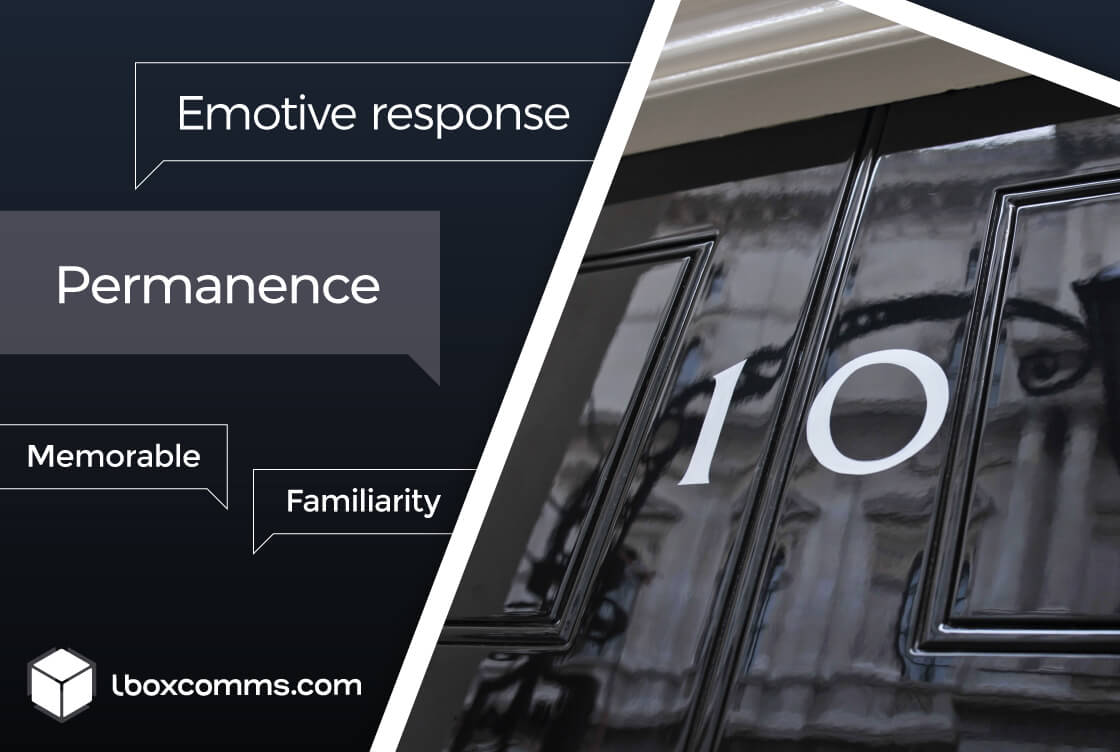 For decades leafleting, political flyers and wider forms of direct mail marketing have remained among the most effective ways to reach and engage constituents.
More and more focus is geared towards digital channels in this day and age, particularly to capture younger voters. Yet there is no questioning the impact that well-crafted, powerful campaign leaflets can have on peoples' political opinions, especially during election time.

They are more tangible and permanent than emails or digital adverts

They often provoke a greater emotive response

They are typically more memorable campaign materials

They are familiar, particularly among voters in certain demographics
At Lbox, our impartial leaflet distribution and comprehensive DM360 Direct Mail service help political parties and individual candidates get their message to households across their constituencies nationwide. And in the 25+ years we have been doing this, we have picked up a thing or two about how to make the most of your campaign materials.
Below we break down our 4 tips for crafting the best political leaflets for your election campaigns.
Tip #1 – Know the rules of political party leaflets
Before you start planning, designing and printing your political campaign materials, it is crucial you know what you legally can and cannot do. While distributing leaflets, flyers, brochures and more across the UK is legal in most cases, there are certain details you need to keep in mind when it comes to election direct mail.
First, do you intend your campaign to be hand-to-hand or door-to-door? If it is the former, you may need to confirm with your local council what the rules and regulations are. In the latter scenario, you should not require any special permissions.
Next, is the data behind your political campaign compliant with GDPR and other regulations? Good information handling is essential, especially when it comes to peoples' addresses. Anyone who specifically requests not to receive direct mail from you must be removed from your mailing list.
According to the Information Commissioner's Office (ICO), some of the key considerations for political campaigning include:

Transparency over the use of an individual's information and their preferences

Not collecting any more information than required for the purpose of a campaign

Not keeping information for longer than necessary to fulfil your purpose

Keeping information secure and deleting information when it has served its purpose
You can read the full list in ICO's guide to political campaigning. In addition to this, any election campaign leaflets, political pamphlets and similar materials must include an 'imprint'. An imprint informs readers of who is promoting this material and who they are doing it on the behalf of for complete transparency.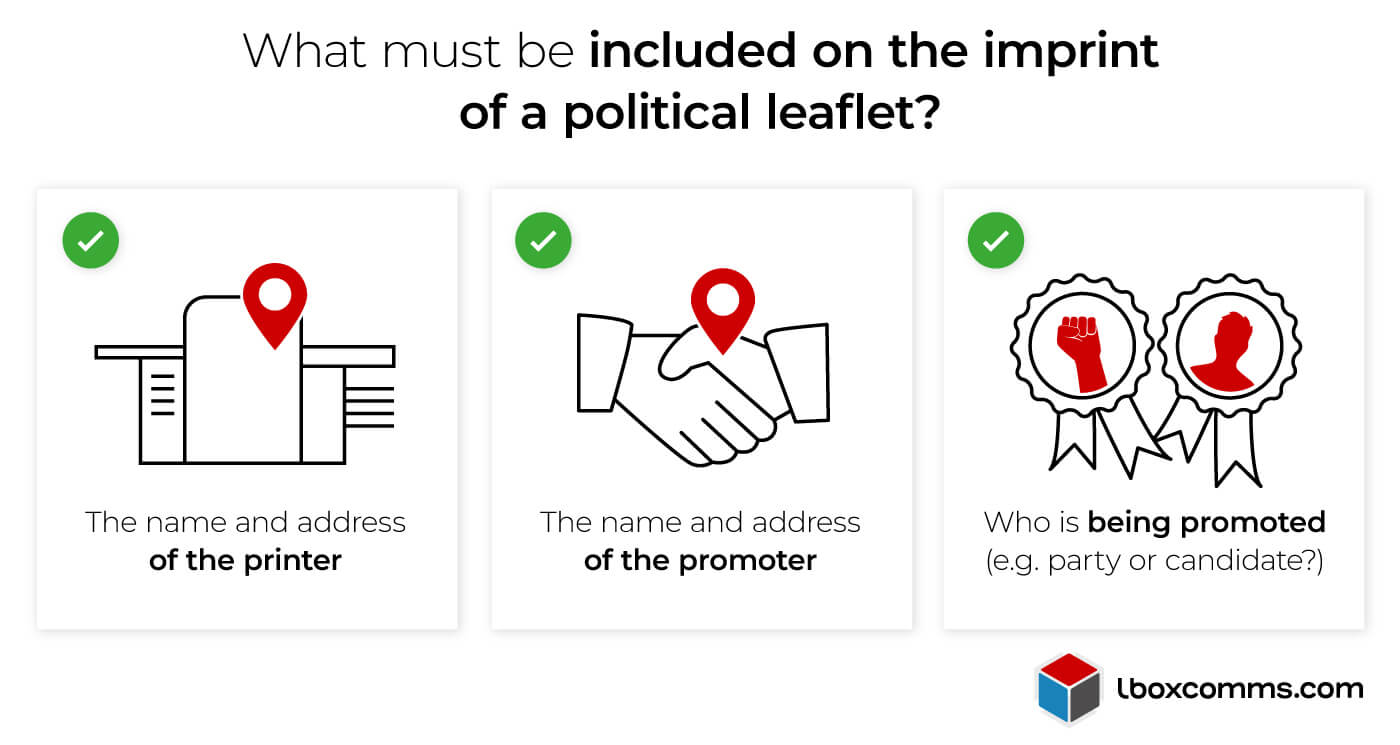 Working with an experienced leaflet distributor or direct mail service will help you avoid any compliance issues surrounding the data or design of your campaign flyers, so you can proceed with total peace of mind.
Tip #2 – Know the foundations of great election leaflet design
Effective political flyers know how to strike the perfect balance of words and visuals to leave a lasting impression on their constituents. While the layout of materials will change depending on the type of campaign you are promoting, there are some good fundamentals that you should be aware of that really connect with audiences.
Choose the right headline
The headline of any political flyer design is often the difference between someone picking your leaflet up or immediately binning it. So, make sure yours aligns with the following tips:

Centre it on a single policy, action or fact, rather than a more general statement of intent

Spell out what you or your party stand for – don't be vague

Make the case for your cause rather than sling mud at your opposition
Harness imagery and varied font sizes
Good election flyer design is easy-to-digest and visually impactful – not text-heavy and stale. Incorporate photos, graphs, design elements and more to keep your readers engaged throughout, and switch up the font style and sizing to maintain their attention.
Show candidates in action
Over 80% of people would prefer to see photos of a candidate in the constituency or ward that they hoped to represent over a studio photograph.
Make information digestible
Utilise graphs, charts and more to make facts, figures and other key information as accessible as possible, freeing up more room for other copy within your brochures.
Have clear calls-to-action
Ensure that the recipients of your campaign materials are fully aware of the next steps you want them to take. Whether that's to visit your website, follow your social channels or inform them when and where to vote, it's crucial this is crystal clear to all readers.
Be consistent in your branding
The best election leaflets are completely fitting within their brand guidelines. Especially for ongoing campaigns, you never want to confuse your audience on who is behind these messages. Staying strictly focused on your core colours, visuals and fonts will help form a consistent narrative with the voters you hope to attract.
If you ever want advice or support to maximise the visual impact of your campaign materials, consider using our DM360 Design Advisory service.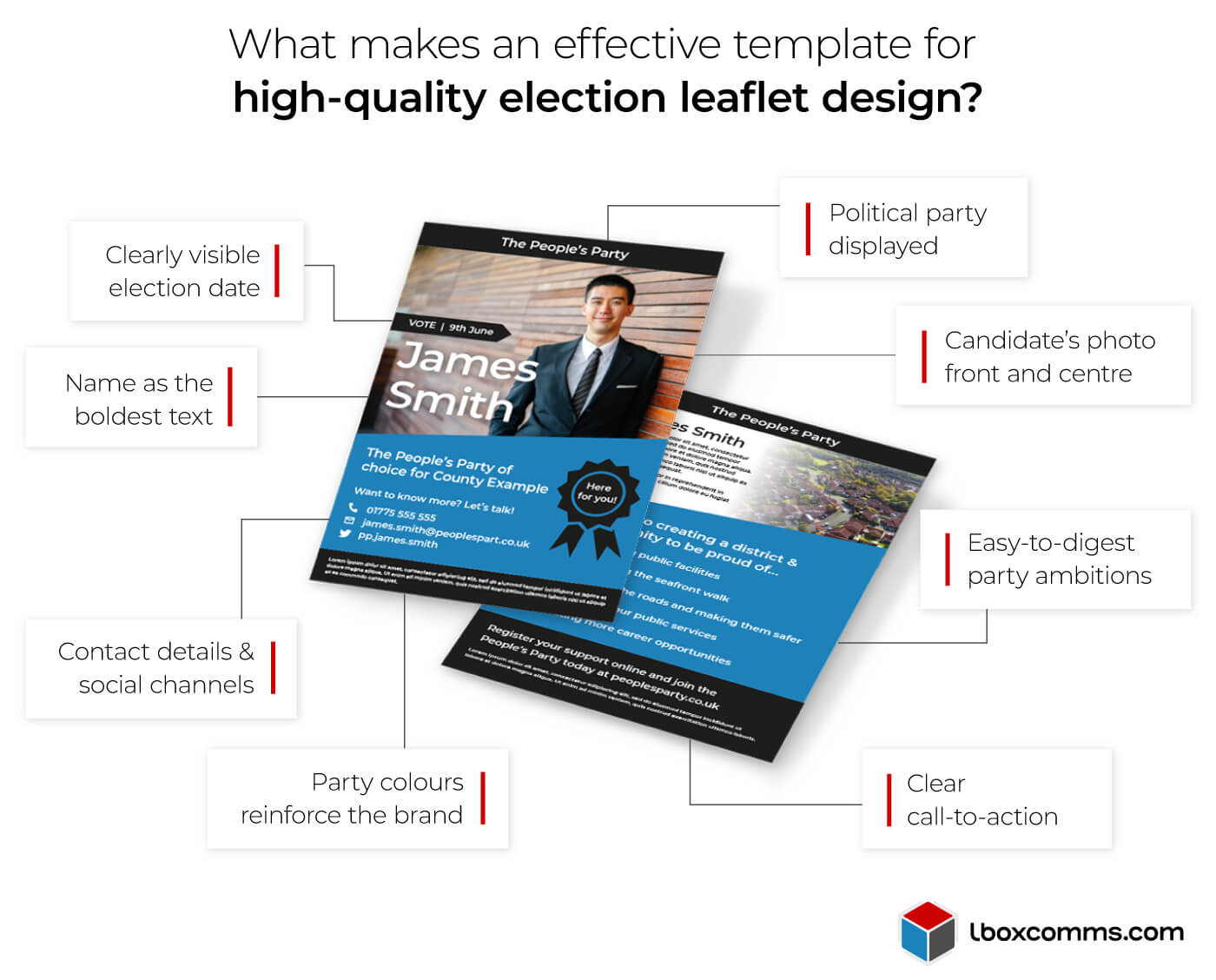 Tip #3 – Speak to specific audiences with every campaign flyer
Adding that personal touch to your political leaflets can make a big difference in how excited someone is to receive your campaigns and how willing they are to read them. Taking a more anonymous, templated approach is more likely to leave someone feeling cold, meaning they don't take your messages to heart.

Plus there are several ways to personalise your materials beyond a name and address, including:

Using multiple languages for specific audiences (e.g. writing in Welsh for political parties in Wales)

Adapting the visuals and messaging of your campaign to represent different communities

Incorporate personalised websites, QR codes and more where relevant to do so
Effective personalisation starts with great data. Our Data Sourcing & Management service identifies the data you need to reach audiences with total precision. From exact locations to specific demographics, your campaigns will always have clean, compliant and accurate data at their core.
For campaigners in London, our Selective Leaflet Distribution service can offer this same highly-targeted data at the heart of your campaigns.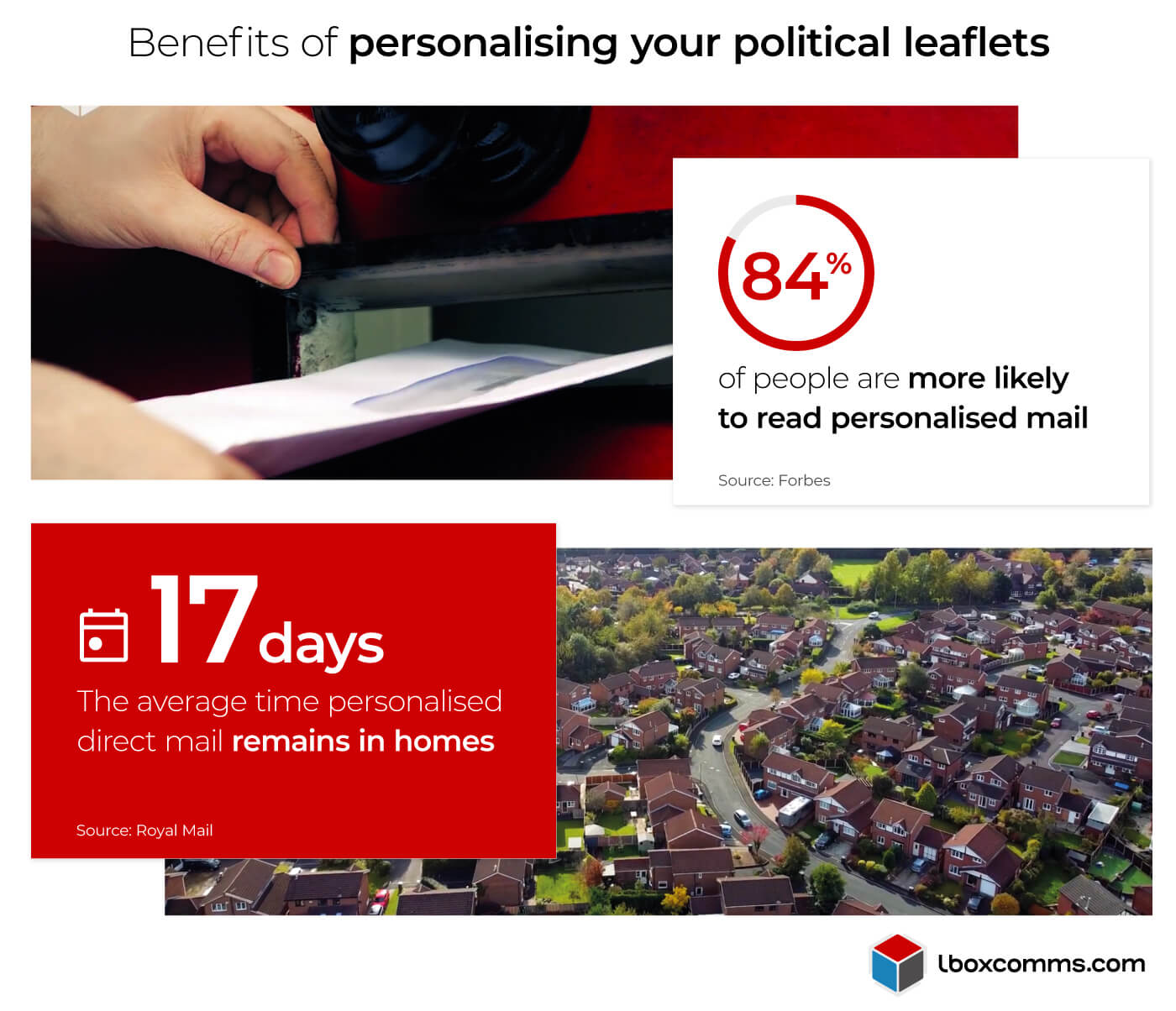 Tip #4 – Take the right steps to streamline your political campaign costs
Political pamphlets and direct mail campaigns already represent a cost-effective way to reach constituents, particularly around election time.
You may or not be aware that every candidate standing in a General Election or By-Election is entitled to a Royal Mail service known as 'Candidate Mail'. Simply put, this allows you to send one communication with no postage costs to every eligible person on the Electoral Register within their area.
However, if you are intending to send multiple materials out ahead of an election, working with a partner that takes every step to optimise the costs of your materials is essential to getting the most out of your campaign budget.
That's where we come in. At Lbox, we have over 25 years' experience handling leaflet distribution services for customers across London, getting election leaflets, pamphlets and more to any doorstep inside the M25.

Our uniformed, full-time distributors are GPS-tracked, giving you peace of mind that each door drop has been completed

Fast turnaround print, fulfilment and delivery ensures we meet deadlines while keeping costs under control

Our targeted leaflet distribution locates the households most likely to engage with your printed political leaflets

We are ISO 14001 approved, showing our commitment to environmental management, without compromising on quality
For campaigners outside of London, our direct mail service for political campaigns, DM360, manages your mailings from start to finish, adapts to your needs and delivers intelligent, cost-effective results at all times.

Relevant, targeted data sourced from leading providers

Practical design advisory from experienced experts

Efficient, high-quality print and fulfilment

Links to trusted delivery partners in the UK and beyond

Returns and suppressions handled on your behalf
Whatever your expectations and requirements for your campaign materials, we have the expertise and experience to meet them.
Problems solved. Deadlines met. Promise kept. Everything done smarter, faster, better. Get in touch to discover exactly what we can do for you.