tellthem
Letter Drops for Utilities & Telecom Works: All You Need to Know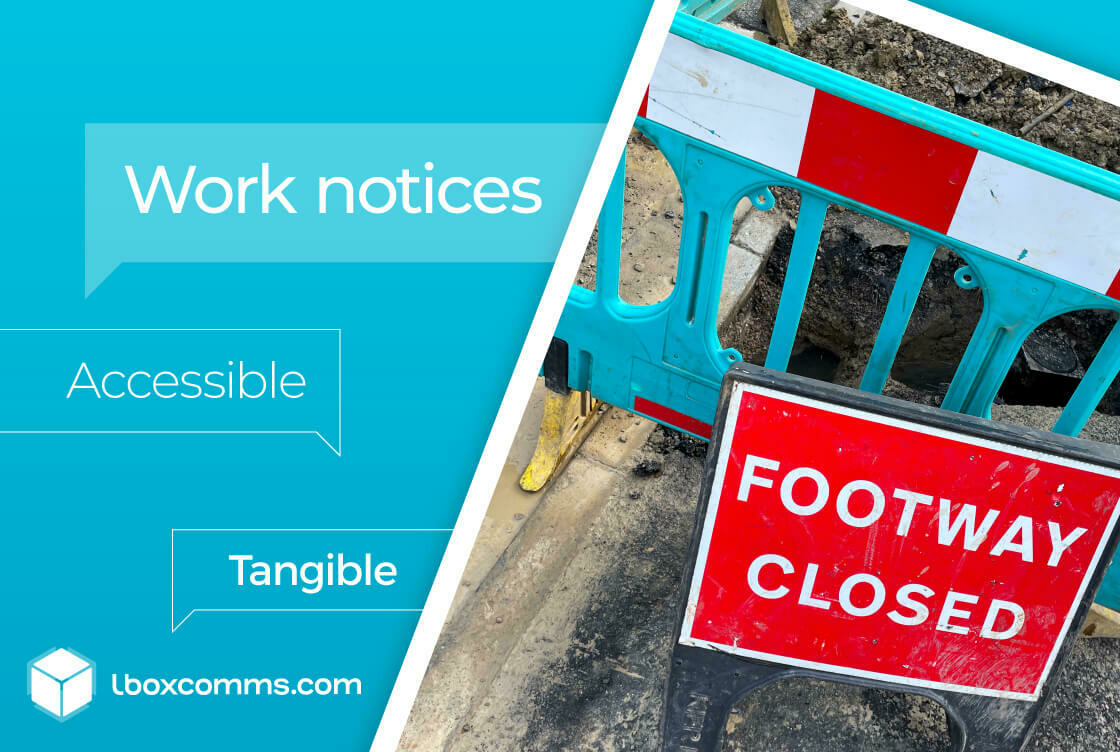 Key takeaways from this insight article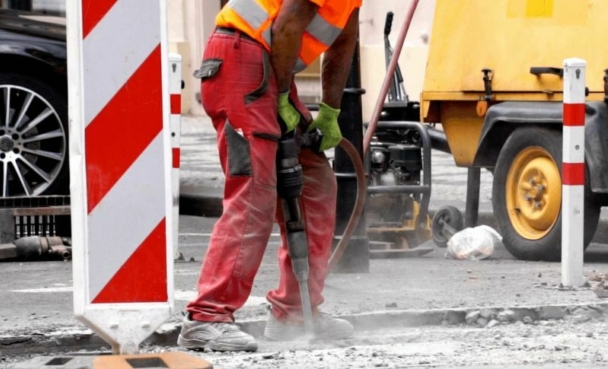 What you'll learn:
What types of mailing count as a 'letter drop'

Why letter drops are crucial ahead of utilities and telecoms works

What you should include in your letter drops

How to target and time your campaigns for maximum effect

The factors that influence the cost of letter drop campaigns
From temporary water and gas shutdowns to installing fibre optic cables, utilities and telecom works are vital to keeping many of our day-to-day essentials going.
Yet, these works can cause a lot of disruption if local residents, businesses and stakeholders aren't informed of what's going on. Good communication is crucial to minimising disturbances, addressing people's concerns, and supporting the safety of locals and those on-site.
A letter drop is the best way to notify the public about these works, putting this information right on their doorstep. Here we break down why this tangible, direct approach is better than digital alternatives, and how to ensure your letter drops are fit for purpose.
What is a letter drop?
A letter drop, sometimes referred to as a door drop, is a technique where mailings are delivered directly to people's mailboxes or homes.
As the name suggests, these resident communications are typically letters informing people of utility works in a clear, straightforward way. But materials could also take the form of:

Postcards

Leaflets

Flyers

Brochures

Catalogues
Why are letter drops crucial ahead of utilities and telecoms works?
Before network technologies can be installed, or public utilities can receive repairs, local authorities will often require firms to inform nearby addresses.
With the vast majority of people in the UK spending their time online, you might believe a digital approach is the most effective way to send these work notices.
But with email inboxes stuffed and the blink-or-you-miss-it nature of social media, digital communications are not the best way to distribute these must-know messages. Similarly, not every recipient will have access to a television, radio or mobile phone.
What unites all the address holders you need to reach? They all have a front door. As a result, letter drop communications are the only way to ensure that all necessary people are informed of your upcoming street works or developments.
While it is good to cover all bases if budgets and resources allow, letter drops are your foundation for unmissable local resident notifications.
Plus, letter drops carry several other advantages over digital mediums: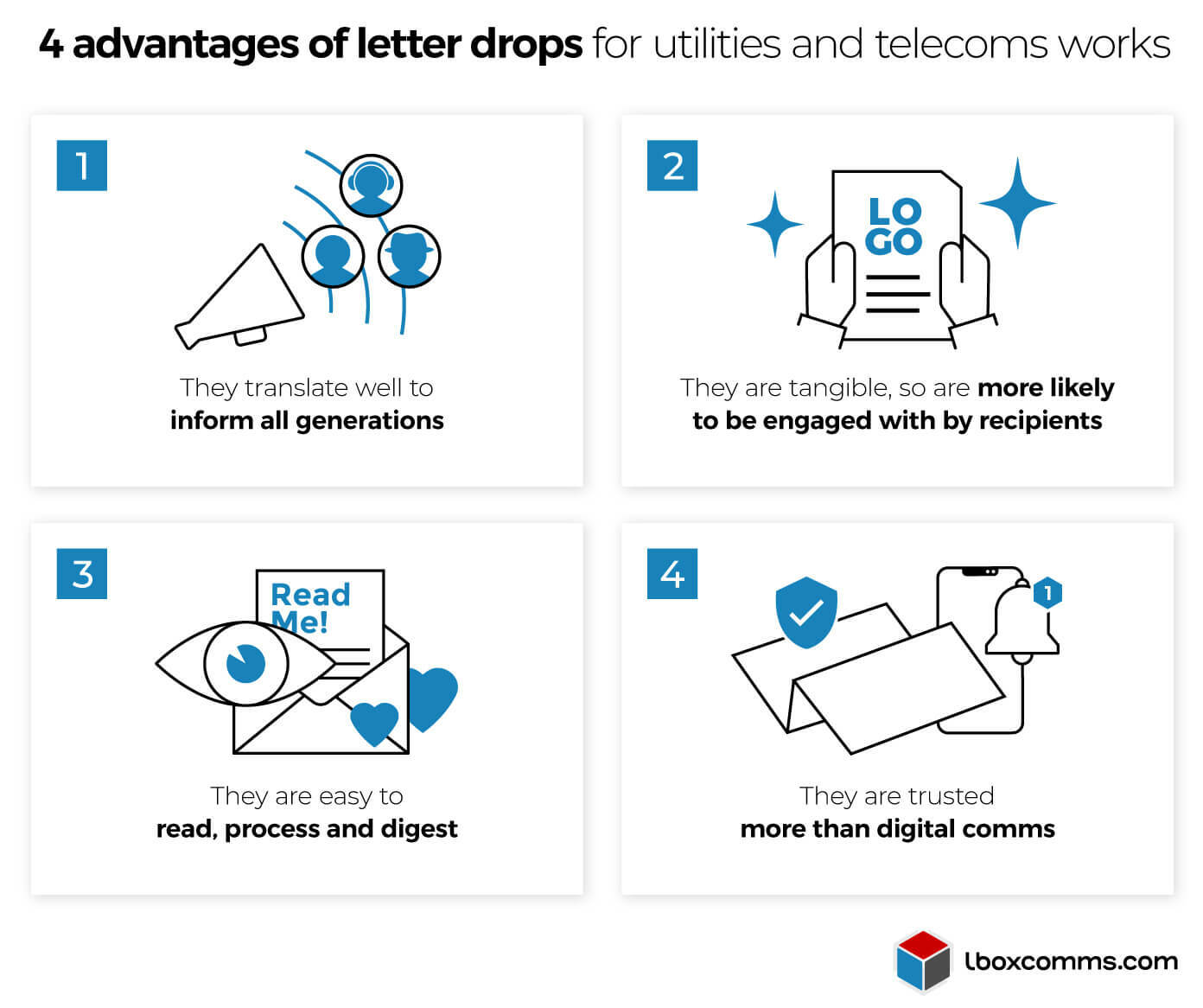 What should a letter drop include?
Of course, the exact contents of your letter drop will depend on the nature of your project.
If you're flushing water pipes of sediment, you may be letting homeowners know when their water supply will be temporarily shut off. If you're installing wireless communication networks or broadband cables, you will likely be informing locals about road closures, diversions and restricted access.
Whatever the nature of your planned works, there are several universal details you should look to include in your mailings:

The purpose of your project

The expected timeline, with specific dates and times

The scope of works, including any potential disruptions

Any safety instructions or information

Relevant contact details
Plus, if you intend to send a significant amount of content, images or designs may help to keep people engaged throughout.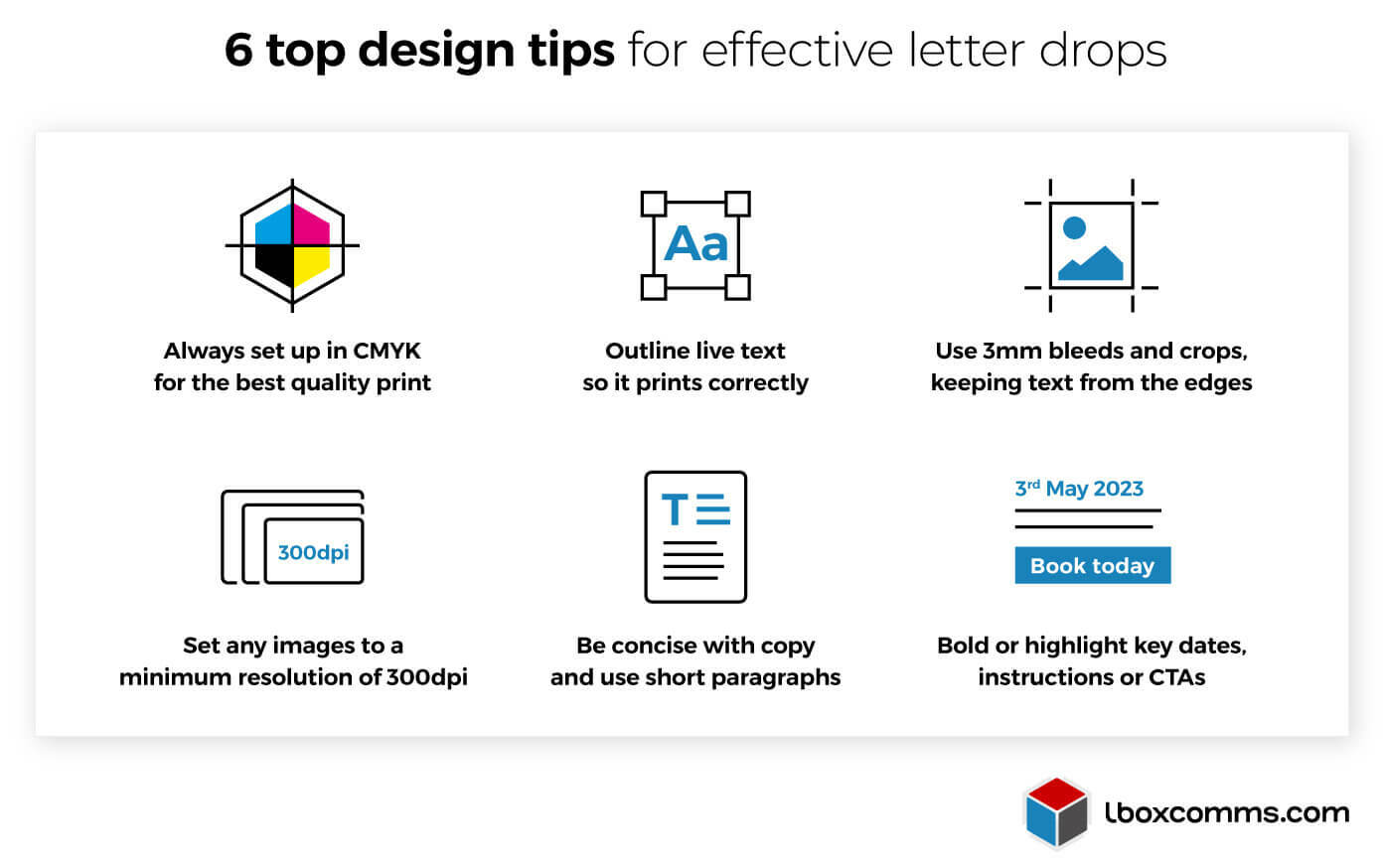 How do I target my letter drops to the right addresses?
Accuracy is vital when planning your door-to-door communications for utilities and telecoms. You don't want to leave anybody in the dark about developments that could disrupt their lives or risk their safety, and incur penalties for failing to meet your legal obligations.
But how do you achieve this precision? Drawing circles around paper maps, and hoping that your print/delivery partner can figure this out won't get the job done.
Postcode finders are an alternative solution, enabling you to identify all addresses in a specific postcode. Yet the torturous process of copying and pasting these into a mailing list one by one can take hours.
You could buy data from a reputable source, but this often carries a large price tag.
For the most accurate, quick and cost-effective way to establish your mailing list, a Targeted Delivery & Mapping Platform (TDMP) is the ultimate option.
This allows you to:

Instantly locate affected areas – and the properties around them – with the versatile search system

Draw digital maps in seconds around the specified area

Have a clear display of all addresses captured within these maps, which updates in real-time with any change in a map's size or shape
When is the best time to send your letter drop?
This will depend on the specifics of your campaign, but in most circumstances you should give residents at least a week's notice of any utility or telecom works in their area. This lead-in gives them time to read your mailings, digest how their day-to-day activity will be affected, and reach out if they have any questions.
Any later than this and your campaign could catch homeowners by surprise, with little time to absorb this information or what it means for them.
To catch people's attention, you may also aim for your mailings to arrive on a Tuesday, Wednesday or Thursday. Most recipients will be into the working week and can pick these up when they get home, and it avoids the Monday rush when people receive most of their weekly mailings.
Avoid sending your letters on a weekend if you can help it. Most will want to avoid this type of mail on a Friday, Saturday or Sunday. For your best shot at people engaging with and retaining your information, make sure your campaigns don't arrive on these days.
What is the cost of a letter drop for utilities and telecom works?
Several factors will influence how much your letter drops will cost to produce and send: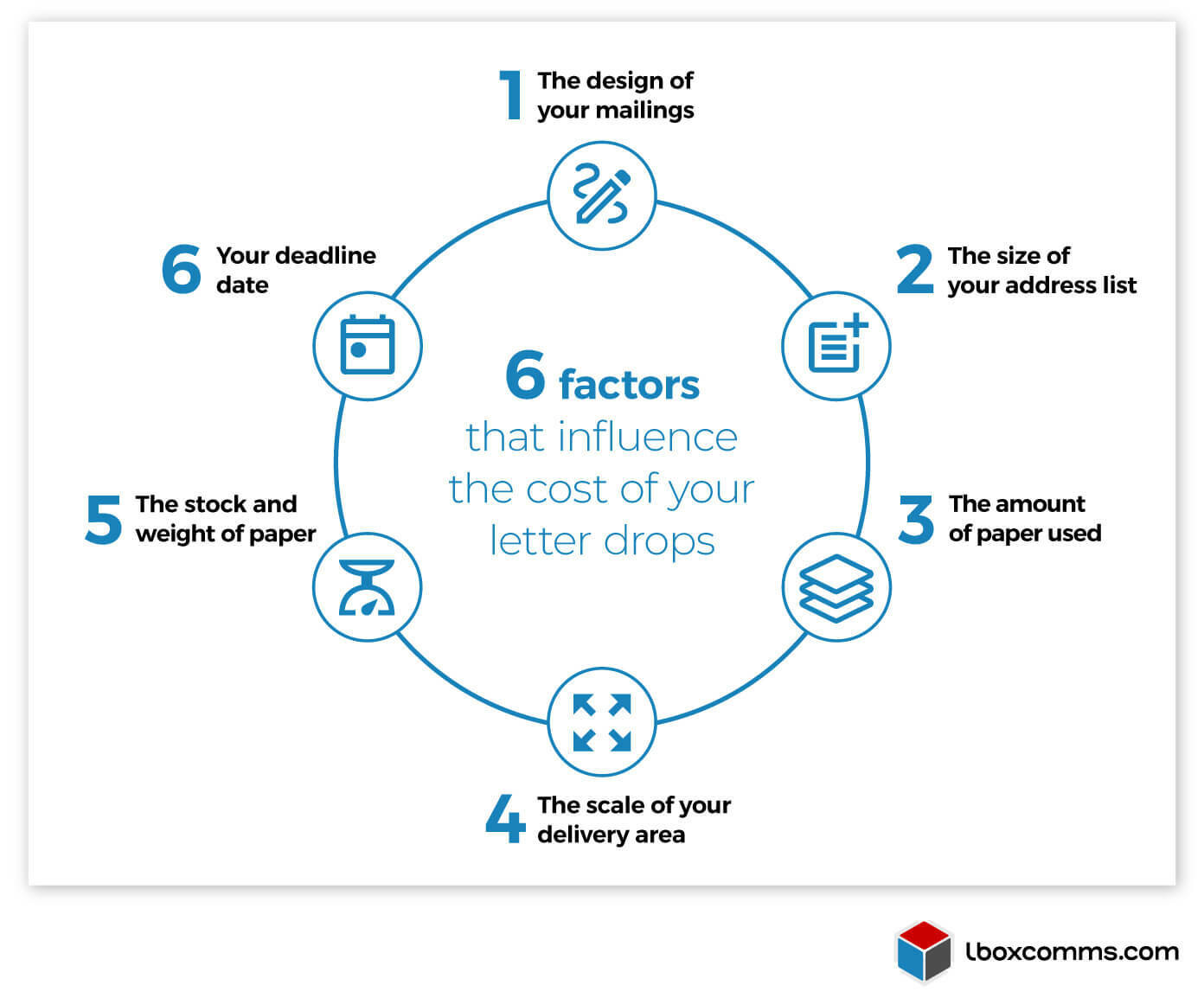 Make sure you work with a service that is 100% upfront about the price of their service, so you're not surprised by any hidden costs.
With a TDMP, any change to the size of your delivery areas, paper stock or delivery service is instantly reflected in your quote. This means that you know how much a particular letter drop or leaflet distribution campaign will cost you at all times – no surprises, no confusion.
Why tellthem™ is the choice for utilities and telecoms works
As we've outlined, letter drops are critical for the utilities and telecommunications industries, limiting the disruption and discontent your projects can generate.
And, to make your compulsory investment in these worthwhile, it is important you have a system that reduces the time, cost and effort these mailings take to plan – and a team you can trust to deliver these to the right people at the right time.
tellthem™, the free, one-of-a-kind TDMP, is the fastest, easiest and most accurate way to arrange and send your crucial mail communications:

Plan an infinite number of campaigns anywhere in the UK for free

Only pay for print, fulfilment and delivery when you order

Draw precise, custom delivery areas online in seconds

Property counts and costings update instantly

Choose from Royal Mail postage or unaddressed delivery
Unlock the power to map delivery areas and arrange print and postage of your campaigns in minutes – all online, with no subscriptions or limits.
Ready to tellthem™? Get in touch with our team today, or sign up for the free demo right now.