Direct Mail
How to Design Successful Direct Mail Advertising Campaigns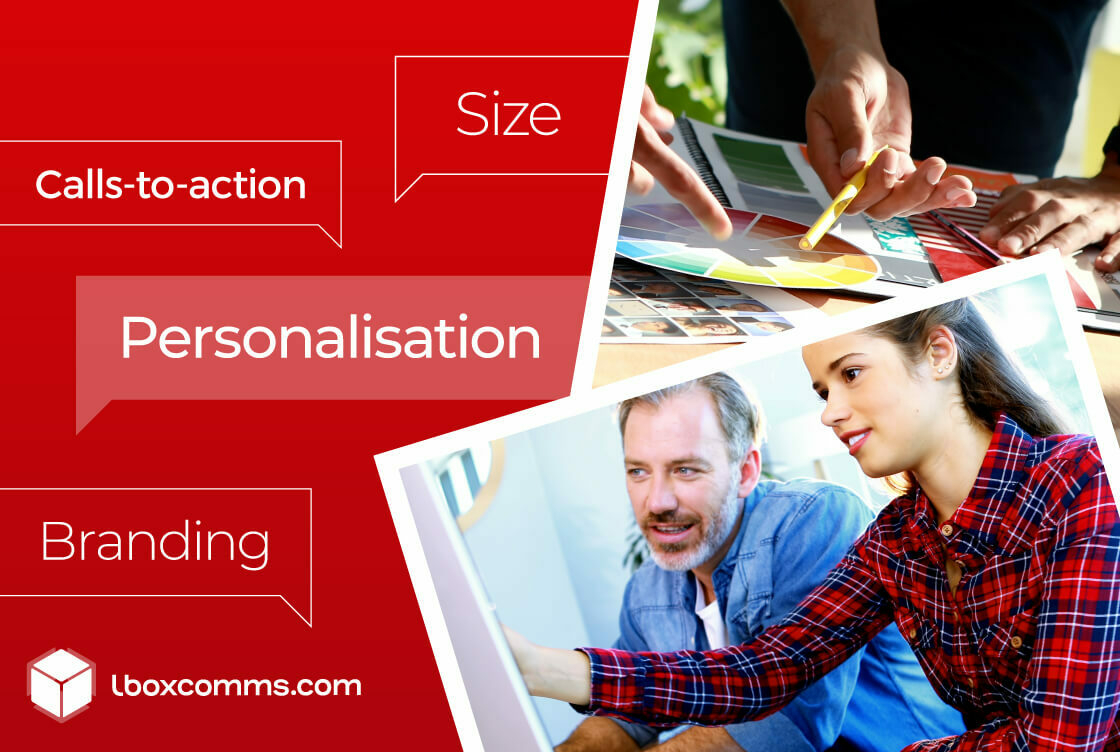 Engaging new and existing customers is the lifeblood of your business. And in today's overcrowded digital landscape, direct mail is one of the most effective ways to do this.
Used by organisations nationwide, the tangible and direct nature of mail marketing has the potential to cut through and generate real, positive results for your brand.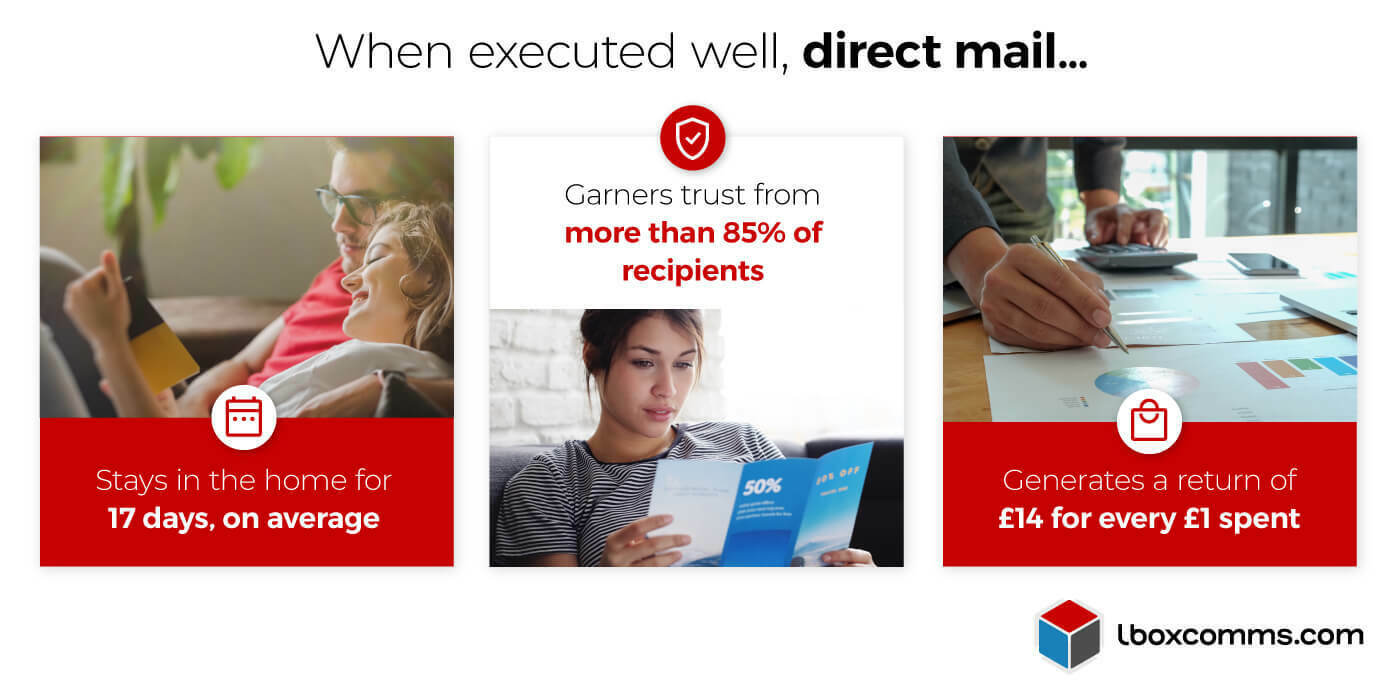 To unlock the most from this medium, you need more than just considered planning and management. Effective direct mail design is vital to inspire audiences to act. So, to help you drive success in your next campaign, we've outlined our 5 top design tips.
5 design tips for direct mail marketing success
1. Personalise the design of your direct mail
Your target audience should inform more than just the makeup of your mailing lists. Leverage the power of personalisation to tailor the look of your materials to better resonate with your customers.
Targeting recipients in a certain geographic area? Try to include recognisable photos of their community. Mailing long-time diners? Feature photos of their favourite dishes on their menu.
The foundation of good personalisation is segmentation, so take time to divide your audience into smaller groups based on traits such as buying habits, location, age, job or gender. Adding that personal touch can pay off and increase response rates by 135%.
2. Simplify your content and layout
Hard-to-read fonts. Huge blocks of text. Elaborate mail formats. When your mail marketing campaigns lean into gimmicks or overwhelm your readers, recipients tune out your message.

Use a straightforward typeface legible at smaller sizes – fonts that feature variation between letter shapes are best, such as Times New Roman, Arial and Calibri

Incorporate 'negative space' in your designs to allow elements like text, imagery and calls-to-actions room to breathe

Opt for straightforward, familiar formats like postcards and flyers to keep people focused on your products or services
When it comes to readability, direct mail marketing strategies have a significant advantage over digital advertising. By playing to this strength in your designs, you prime your campaigns for greater success.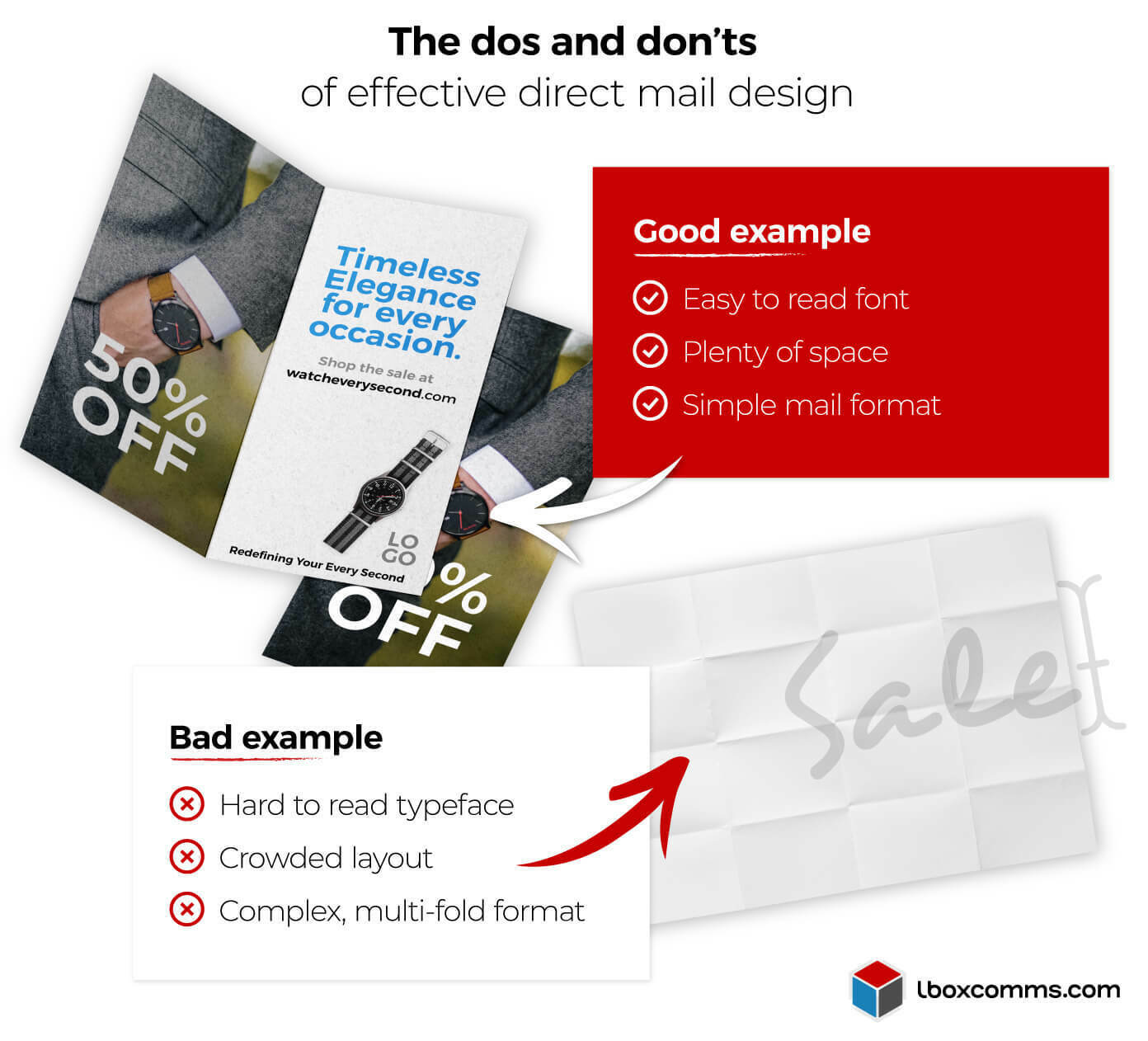 3. Prominently feature your calls-to-action
You never want your recipients to question what you expect them to do next. Your calls-to-action are a crucial stepping stone for potential customers, and it's key that yours stand out at first glance.
Try containing your must-read content in brightly coloured boxes, or highlight these in bolder text. QR codes and personalised URLs also make it quick and easy for your audience to transition to your website and digital channels, increasing the likelihood your readers act.
When as much as 40% of your campaign's success relies on the strength of your offer, it's vital that yours is as visible and straightforward as possible.
4. Send different-sized envelopes that break the mould
Although simplicity may be key to effective design, choosing unique sizes can be a simple, effective way of capturing the attention of your recipients and standing out in your audiences' pile of bills, bank statements and junk mail.
In fact, when executed well, oversized envelopes generate the greatest household response rate, grant you greater freedom, and open the potential for more creativity, unique branding and personalisation.
To ensure you're striking the right balance between cost and impact when using these often more expensive mailings, work with specialists to get direct mail design advice tailored to you.
5. Promote brand consistency with your bespoke items
To leave a lasting impression and echo in the minds of your customers, mailing out bespoke items like chocolates, key chains, and T-shirts can be highly effective.
But it is not just the contents of your packages that should be branded. Everything from the accompanying paperwork, to the packaging it's wrapped in should accurately reflect the look and feel of your company.
Why is this important? Bespoke items can leave a positive, lasting impression on your recipients. Make sure they're assigning those powerful emotions to your business the moment they open your mail.
How to test the success of your direct mail designs
While many of the most effective campaigns use these design tips in their collateral, what works for you may vary.
Does your audience respond better to emboldened CTAs? Which format appeals to your recipients? How effective is local imagery? Rigorous A/B testing helps you find out, and is what separates the best marketing mail from the rest.
The process of A/B testing is simple. Send two different designs to each half of your audience. One group receives the original version, while the other receives a modified version with a single change.
Making just one tweak at a time is crucial to this process, as it allows you to evaluate the effectiveness of individual adjustments.
Your next step is to then measure the success of your direct mail campaigns. This might involve tracking the number of people who visited your website after scanning a QR code, or determining which group called the provided phone number more.
Once the results are in, you should gradually repeat this process. This will allow you to build a picture of what works for you, and lead to more successful direct mail marketing campaigns down the line.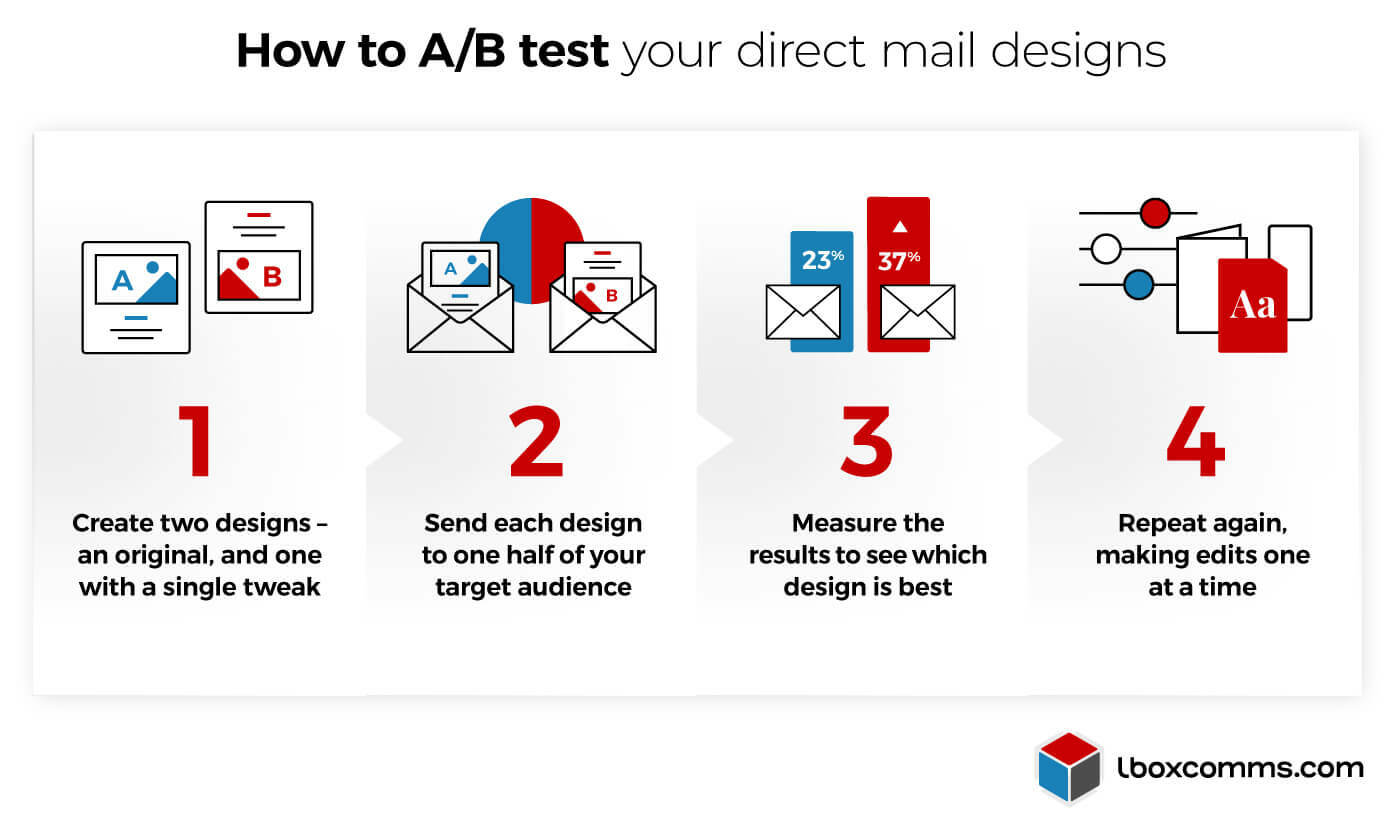 Take your direct mail designs to new heights with guidance from the experts
Great design is what inspires prospects to take action. But to get your direct mail campaigns in front of the right people, effective planning is an essential first step.
To help you focus on creating and testing for the best, most effective layout, you need a provider you can trust to handle other essential areas of your direct mail journey.
Whether you require reliable data to get your campaigns off the ground, or direct mail design advice to optimise the cost and impact of your promotions, DM360 Direct Mail is our full turnkey solution built around your campaigns.

Target the right postcodes through our precise geo-demographic data

Get professional guidance to balance the cost and impact of your mail

Print mail items on time, on budget, and to the highest standard

Get your direct mail fulfilled with speed and precision, either by machine or by hand

Post your messages to prospects at the right time and price

Have all returns and suppressions handled on your behalf

Ready to unleash the power of effective direct mail design in your next campaign? Get in touch to discover how DM360 can help.