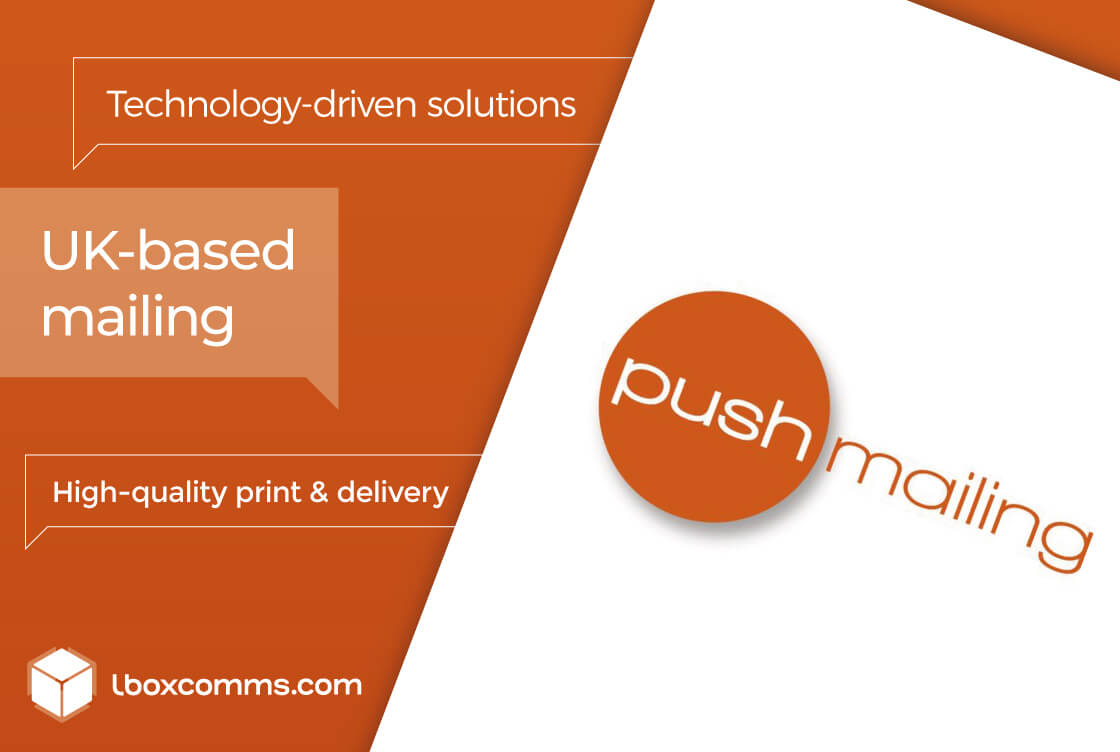 Acquiring a partner that will enable Lbox Communications to expand and grow.
Lbox Communications has officially acquired long-term partner Push Mailing, another UK-based mailing house specialising in direct mail print and fulfilment.
Lbox Communications remain focused on delivering efficient, proactive print and delivery for both unaddressed and direct postage services, with the acquisition of Push Mailing providing the company with additional capacity to grow the direct mail offering of the business.
The official acquisition was completed at the end of February 2021. Lbox Communications Managing Director, David King, has said, "Our business has changed and grown dramatically over the past three years."
"We have a laser focus on technology-driven client solutions backed up by 24-hour print and delivery services." King continues, "Push Mailing's setup and infrastructure mean we can expand this offering even further."
Acquiring Push Mailing fits into Lbox Communications' strategy to provide tech-led, flexible leaflet distribution and direct mail solutions. By purchasing Push Mailing, the combined business turnover will exceed £10 million and the two organisations will integrate together fully over the coming months.
The acquisition will allow Lbox Communications the opportunity to expand on mail and hand fulfilment services, data sourcing, management and cleansing, as well as improved print and delivery capabilities.
The acquisition of Push Mailing comes at a time when Lbox Communications' strategy to expand is evident. By purchasing one of their longtime mailing house partners, Lbox Communications now have the potential to invest more into the direct mail side of the business.
"It's hugely exciting for us to become part of such a dynamic, fast-growing company as Lbox Communications," says Push Mailing Managing Director, Miranda Crerar.
"They share the same values and commitment to providing the very best in customer service, and as one company, we can provide any business with the latest in data, print, fulfilment and postage solutions."
The opportunity to drive innovation in the direct mail market has always been one of Lbox Communications' mission objectives. Now, with the increased in-house capabilities and industry knowledge of Push Mailing behind them, the coming months will be pivotal for Lbox Communications, at a particularly significant time for the UK as lockdown measures ease.
"We have worked with Miranda and the team at Push Mailing as both a supplier and customer for over four years now," continues David King.
"Like us, they are focused on high-quality fast turnaround print and delivery. The acquisition of Push Mailing not only increases our capacity for existing clients but also provides exposure to the direct mail market, a move which seemed like a natural expansion for the business."
About Lbox Communications
Lbox Communications provide professional and flexible addressed and unaddressed mail solutions for clients, whether they require a few local leaflets, flyers or addressed mail to be sent, or an entire nationwide distribution campaign. This is supported by efficient 24-hour print and delivery and innovative campaign handling technology.
Lbox Communications' 25+ years of experience handling direct mail, leaflet distribution, and letterbox marketing campaigns has cemented them as a trusted, reliable and regular provider by companies such as Network Rail and Thames Water, as well as numerous London Borough Councils.
Media Contact:
David King
Managing Director
david@lboxcomms.com
0208 940 0666