Direct Mail
Direct Mail Marketing vs Email Campaigns: 7 Times Direct Mail Wins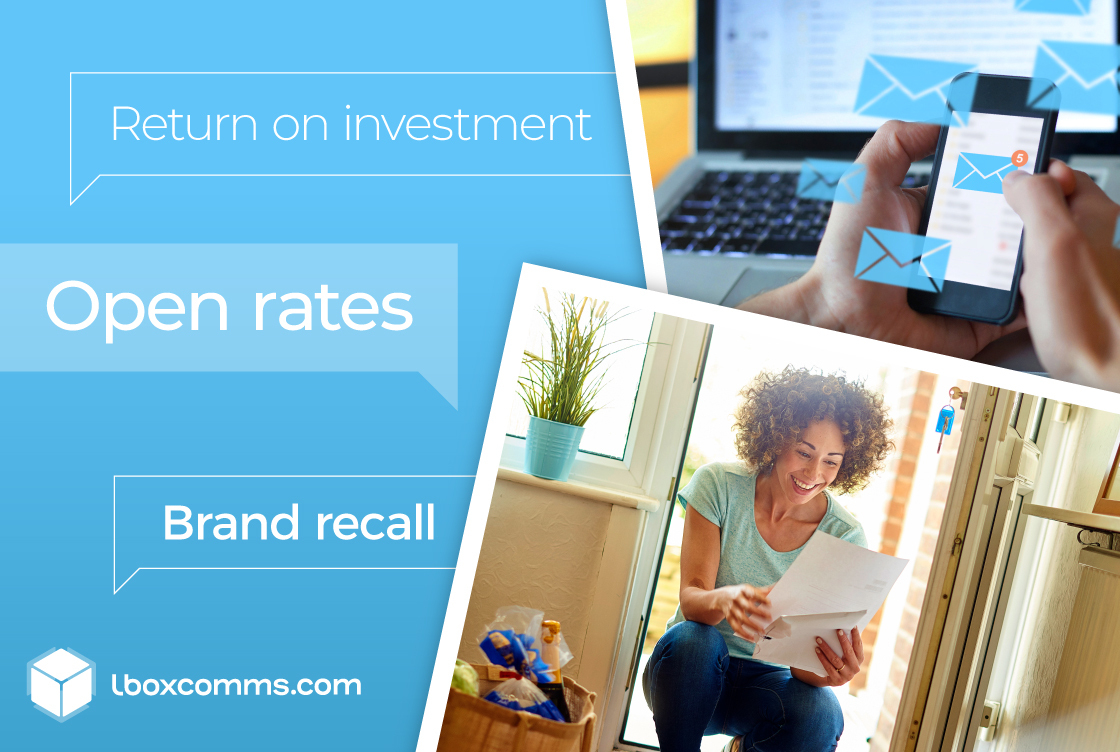 Key takeaways from this insight article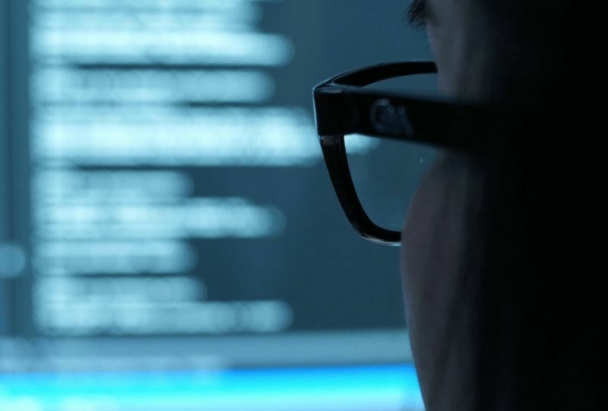 What you'll learn:
The options available for direct mail and email marketing campaigns

The metrics where direct mail outperforms email

Why a combined approach gives you the best of both worlds
Everything seems to be digital today, doesn't it? So much so that many feel the "fight" between email marketing and direct mail is a total mismatch. But this assumption prevents many marketers from realising that direct mail is in many ways much more memorable, engaging and effective than its digital counterparts.
So let's set the record straight. Below we break down 7 ways the "traditional" approach of direct mail cuts through crowded email inboxes to help you catch the eyes of both existing and potential customers.
What is direct mail marketing?
Direct mail is a form of marketing where physical materials are sent to prospects, often directly to their doors. These mail pieces are typically letters, flyers and other printed items, but they can include any marketing items sent through the post.
Main types of direct mail marketing
Letters

Postcards

Newsletters

Flyers and brochures

Magazines and catalogues

Coupons and vouchers

Greeting cards and invitations

Free samples

Branded items (T-shirts, pens, fridge magnets, etc.)
What is email marketing?
Email marketing enables brands to send vast amounts of promotional messages to their customer databases over email, often directing recipients to their websites or dedicated landing pages. It is one of the most actively used marketing channels, and many invest heavily in collecting email addresses and building subscriber lists.
Main types of email marketing
Digital newsletters

Lead nurture journeys

Promotional emails

Transactional emails

Re-engagement campaigns

Video emails

Confirmation emails
Direct mail vs email marketing: 7 key battlegrounds
Given the similarities between the two, it is no wonder direct mail is often compared to email marketing. Many even assume that email is simply the evolution of direct mail – a quicker, digitally-driven replacement for this "old-school" approach to marketing.
But when you actually compare direct mail with email, you soon discover that direct mail is not email's outdated, poorer cousin. On the contrary – in many areas, it is simply better.
1. Open rates
The objective of any mail marketing campaign – physical or digital – is to engage prospects. And that can only happen if they open your messages in the first place.
In this respect, direct mail marketing reigns supreme. In the UK, 73% of all addressed mail is opened by consumers – emails lag far behind, with an open rate of only 21.5%.
While email somewhat combats this disparity in numbers through sheer quantity sent, it illustrates the fatigue modern consumers have with their flooded inboxes, making a "traditional" letter appear novel and special in comparison.
2. Response rates
This fatigue is also demonstrated by the gulf in response rates between email marketing and direct mail: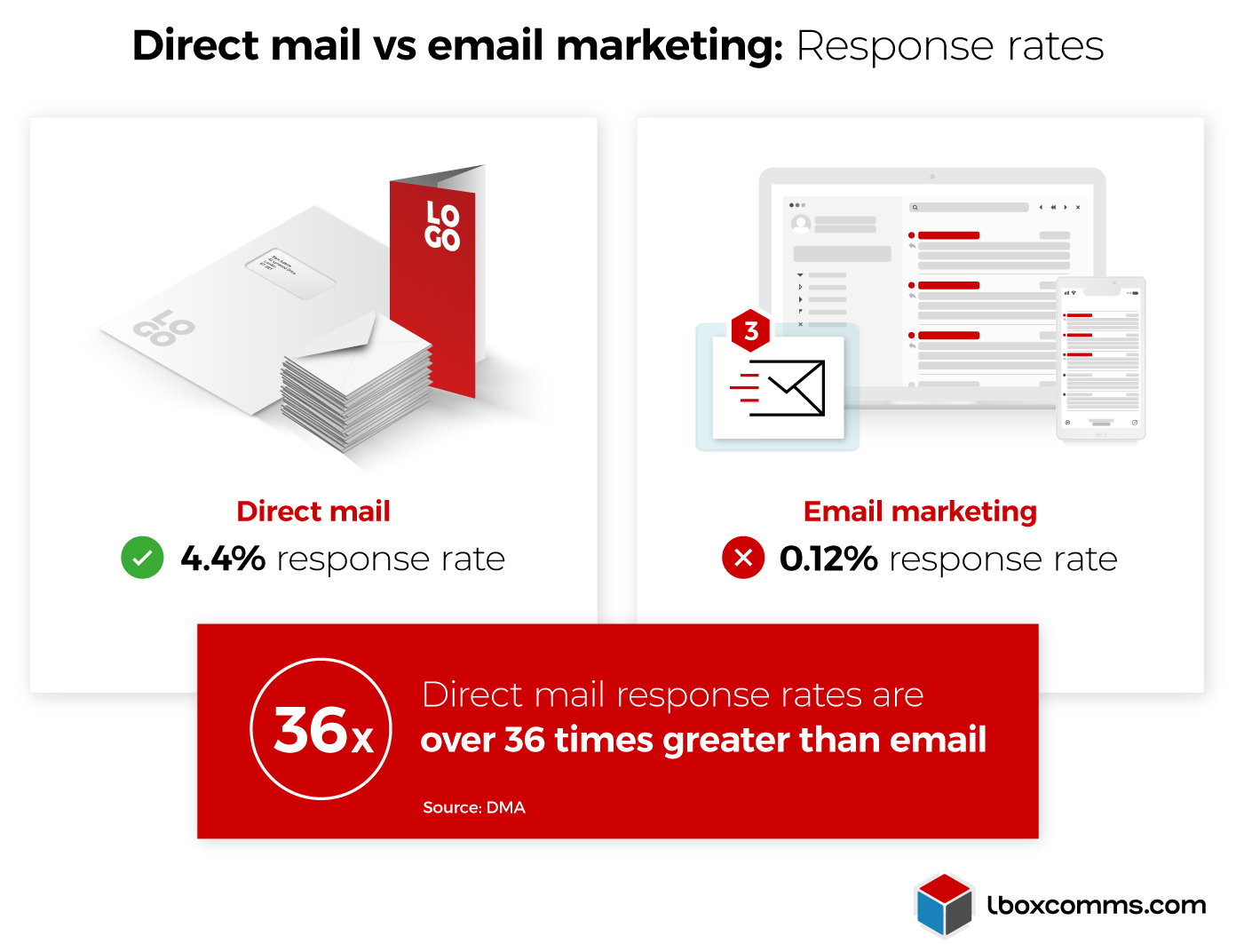 When a massive 94% of all direct mail is engaged within 28 days of it being sent, it is hard to ignore this medium as a golden opportunity to connect with consumers.
3. Lifetime value
Longevity is another area where direct mail shines over email. The average lifespan of a direct mail piece in someone's home is over 7 days. In comparison, a typical marketing email will sit in someone's inbox for only 17 seconds before it's discarded.
The exceptional staying power of direct mail makes it such an effective way to build brand awareness through multiple engagements.
4. Return on investment
Email marketing and direct mail are both among the most reliable ways to apply your marketing budget. According to the 2022 ANA Response Rate Report, direct mail campaigns (using letter-sized envelopes) delivered an average return on investment of 43%.
Email lagged slightly behind with an average of 32%, while both exceeded the results achieved by social media advertising, paid search, SMS and digital display adverts. Again this demonstrates how effective direct mail is at securing results – emphasised by the fact that 31% of direct mail items drive people to make commercial actions.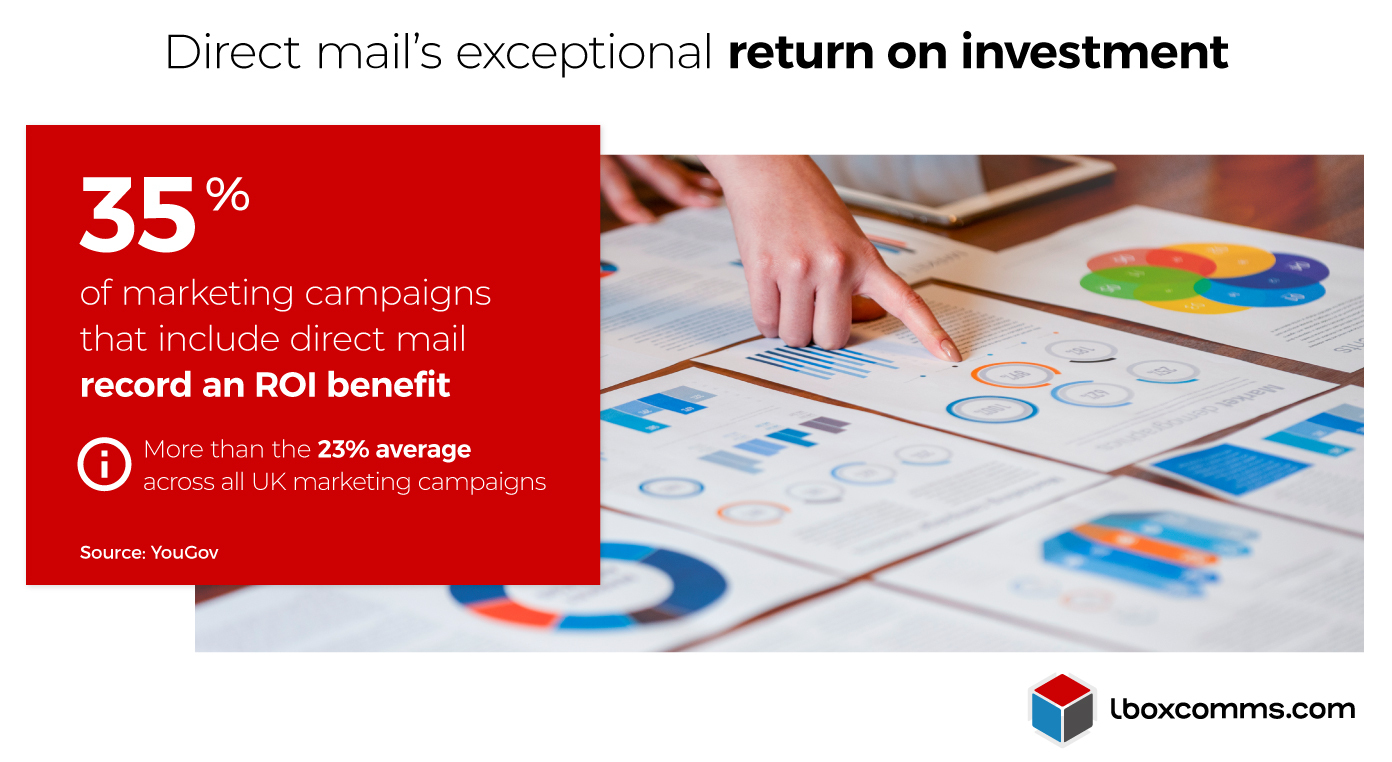 5. Brand recall
When it comes to leaving a lasting impression on prospects, a strong subject line only gets you so far.
Print has a much greater emotional appeal than digital media – recipients are more likely to remember your brand when they pick up your postcards than when they see you in their inbox:

6. Consumer trust
In addition to being memorable, direct mail marketing is also highly trusted in comparison to email marketing. While "fake news" on social media and cybersecurity threats make people wary about what they read online, 87% of consumers describe physical mail as believable – just 48% say the same about emails.
On top of this, mail is the second-most trustworthy source of information for Gen Z (behind search engines). To build strong bonds with your target audiences, direct mail is the ideal way to make them feel both reassured and valued.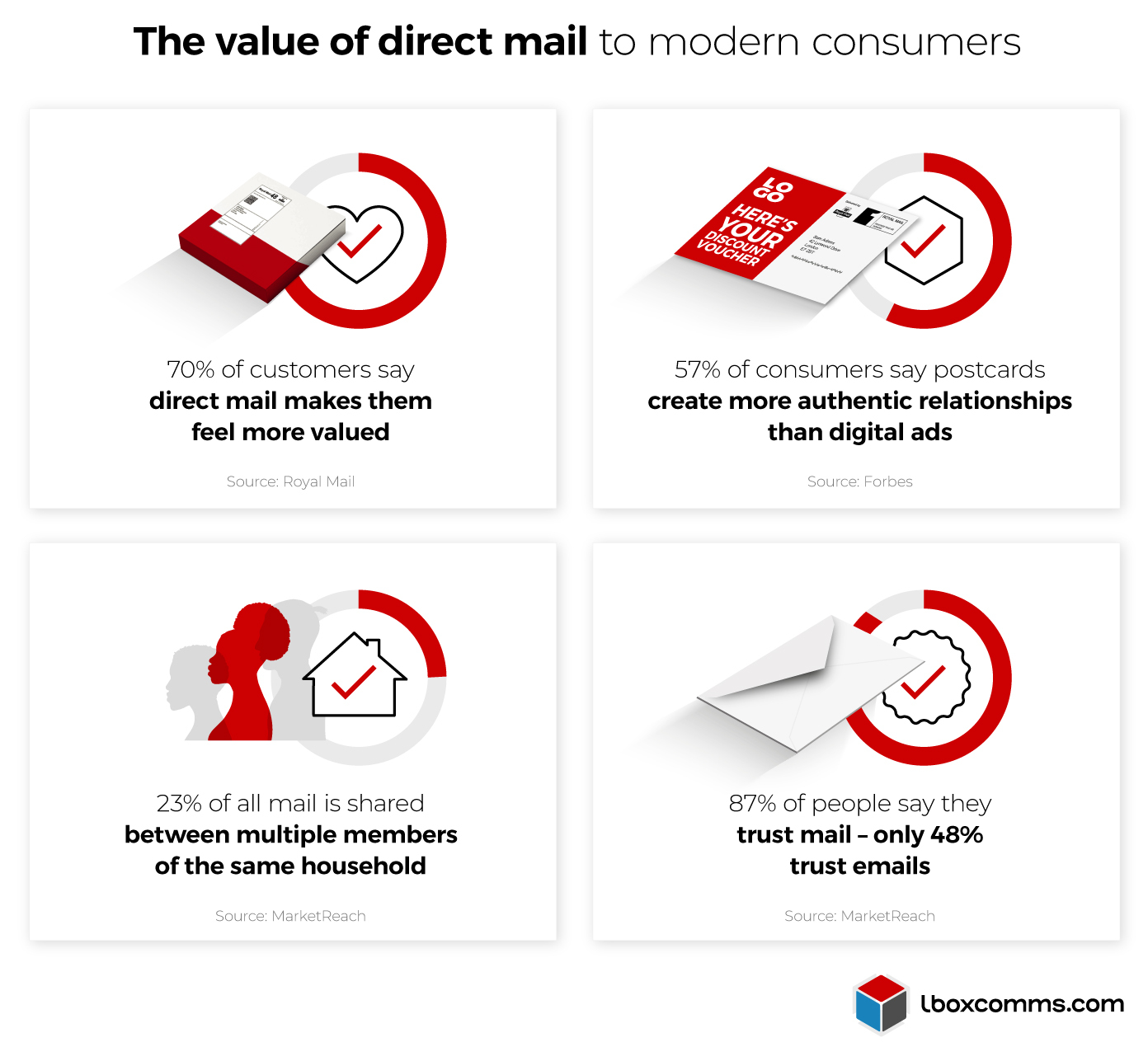 7. Data protection
Speaking of trust, data protection is something marketers must be alert to in any campaign. Email lists must be developed in a GDPR-compliant manner, or you could risk substantial fines and significant damage to your brand's reputation.
Comparing email marketing and direct mail from a GDPR perspective, the latter is much less likely to require explicit consent. As the processing of personal data for direct marketing purposes can be considered to be in a recipient's "legitimate interest", this approach offers more freedom and flexibility than emails.
But it's best to be safe – using a trusted data sourcing and management service to collect mailing addresses will ensure your direct mail campaigns meet all necessary regulations.
The best of both worlds: Using direct mail and email marketing
By highlighting the ways that physical mail outperforms emails, we hope this has helped emphasise that direct mail is not a marketing dinosaur. But, actually, the great news for marketers is you don't have to choose one medium over the other. In reality, a blend of both often generates the best results:

72% of consumers prefer to connect with brands through multiple channels before making a purchase (Source: Lead Forensics)

Consumers' brand recall jumps 40% when a direct mail piece follows an email (Source: Canada Post)

Marketers report conversion rates of 40% when digital and direct mail are combined (Source: Lob)
By embracing multi-channel marketing, you can raise the performance and ROI across all of your campaigns.
Discover the true potential of direct mail marketing
When done right, direct mail has the potential to trump almost any digital marketing channel. But the best campaigns need more than compelling copy, great visuals and clear calls to action – they must be accurate, efficient and reliably delivered.
That is where we come in. DM360 Direct Mail provides expertise at every stage of the direct mail journey, working around your needs to maximise the impact and ROI of your marketing.
Our 6 distinct direct mail marketing services enable us to manage your campaigns from start to finish, or slot in wherever you require our support. Our process. Your way.

The data you need to reach audiences with total precision, gathered from trusted sources

Practical design advice that cuts down costs while preserving the "wow" factor

Rapid, high-quality digital and lithographic printing

Meticulous machine and hand fulfilment for all your items

Working with leading postage carriers, including Royal Mail, to make your mailings as cost-effective as possible

Returns and suppressions managed at the end of every campaign
Are you ready to go beyond direct mail? Get in touch today and let us know how we can help you.